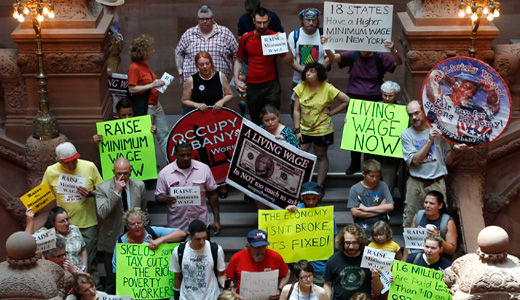 From Pittsburgh to Peoria to Portland and from Washington to Detroit, workers came out this week to demand a hike in the federal minimum wage.
The minimum wage campaign, stepped up last week by the Service Employees and Jobs With Justice – with the AFL-CIO and other unions joining in – intends to win three 85 cent increases in the current $7.25 hourly federal minimum for this year and the next two years and then regular increases indexed to inflation. There has not been any increase in the minimum wage since 2006.
Thousands of people attended the rallies July 24 at 34 locations across the country combined. Speakers included local politicians in Toledo, Ohio, and minimum wage workers in many cities. Clergy and union leaders also joined in, with particularly pointed comments coming from Bob Soutier, president of the St. Louis Central Labor Council.
After voicing labor's strong support for the increase, Soutier noted Sen. Claire McCaskill, D-Mo., backs the hike. But all three Republicans vying to oppose her this fall opposed increasing the minimum wage. The moderator in a republican primary debate asked the three GOP candidates to name the federal minimum wage figure – and they couldn't.
The four Chicago rallies, one of which was a humorous street theater in front of a Wal-Mart just west of the Loop, were later combined into one mass march that drew more than 1,000 people. The crowd descended on the Chicagoland Chamber of Commerce, demanding its members – many of whom employ minimum-wage workers – support the minimum wage increase.
The Chicagoans had a political angle, too: They began with a "trolley tour" of Dunkin Donuts shops, emphasizing Bain Capital's exploitation of its minimum-wage workers. Presumed GOP presidential nominee Mitt Romney owned and ran Bain.
Elsewhere, including Kansas City, Mo., Peoria, Ill., and Minneapolis, advocates marched to local offices of Republican lawmakers – Sen. Roy Blunt and Reps. Bobby Schilling and John Kline, respectively — to demand they back the minimum wage hike. Besides SEIU and Jobs With Justice, unionists at the rallies came from the UAW, the Teamsters, Workers United, the Teachers, and the Steelworkers, among others.
At Kline's office, more than 50 demonstrators appeared, some holding signs challenging the lawmaker – who chairs the House Education and the Workforce Committee – to live on the minimum wage, which works out to $290 a week.
Rep. George Miller, D-Calif., the top Democrat on Kline's GOP-run panel, and
Senate Labor Committee Chairman Tom Harkin, D-Iowa, have introduced the minimum wage hike bill, but it's expected to go nowhere in this Congress. That didn't stop the advocates.
"One hundred fifty people turned out in 106-degree heat" for the St. Louis march said Lara Granich, director of Missouri Jobs With Justice, who helped put together the demonstration there. "That's where Bob Soutier called out the GOP," she added.
That's also where minimum wage restaurant worker Joe Wicks told the crowd that earning the minimum at a chain restaurant often meant he had to "choose between
gas for my car and groceries for my family." He also pointed out that restaurant workers survive on the "tipped minimum wage." That's $2.13 an hour in almost all states – Missouri, at $3.63 is an exception – and it hasn't been raised in 20 years.
"The economy is getting worse, and people need help," said Dezirai Jones, a Savage, Minn., resident who works for minimum wage at a local restaurant. Rep. Kline "doesn't know what it's like to make minimum wage. Even if he tried he would find it hard and a real eye-opener," Workday Minnesota reported.
"Minimum wage is basically impossible to live off of," added Mallory Curran of Lakeville, Minn., a single mother who is separated from her husband but unable to afford a divorce.
In Cleveland, a minimum wage cable TV installer told how must work 20 hours a week of overtime to pay the rent and keep food on his family's table – and that's at Ohio's higher minimum of $7.70 hourly.
"We talked about how we should keep the pressure on" Congress even if it doesn't raise the minimum this year, said Cathy Kaufmann of SEIU1199Ohio Hospital and Health Care Workers, who helped organize events in Cleveland, Cincinnati and Toledo. Added Cleveland organizer Anthony Caldwell: "The speakers seemed to be relatively optimistic" about the chances of raising the minimum wage this year.
"It isn't a Democratic issue or a Republican issue. It's a non-partisan issue," he said. "It's kind of a no-brainer. The wealthiest have seen their wages go up again" ever since the official end of the Great Recession, Caldwell added. "But everybody else is stagnant. Raising the minimum wage will spur growth in our communities."
A minimum wage worker who puts in 40 hours a week barely takes home $15,000 a year, while the average CEO of a Fortune 500 company earns more than twice that in a single day.
According to the National Employment Law Project there is not a single state in the nation where a full-time minimum wage worker could afford a two-bedroom apartment.
Photo: Protesters rally for a raise in the state's minimum wage on the Great Western Staircase at the Capitol in Albany, N.Y. Mike Groll/AP