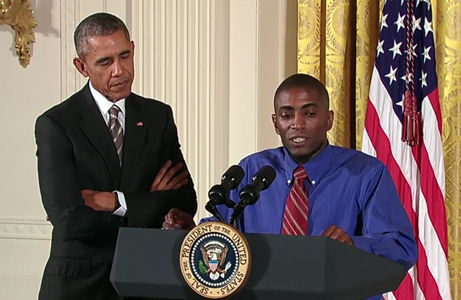 WASHINGTON – At the White House Summit on Worker Voice last week President Obama declared: "If you're not at the table, you are on the menu."
He was quoting Lee Saunders, president of the American Federation of State, County and Municipal Employees, one of many top union leaders attending the day-long session. Also participating were organizers of low wage workers, researchers, academics, several business leaders, Vice President Joe Biden, Senator Al Franken, D.-Minn., and Representatives Nancy Pelosi, D-Calif, Gregory Meeks, D.-N.Y., and Frederica Wilson, D.-Fla.
No one mentioned the Trans Pacific Partnership, a trade deal pushed through by Obama and adamantly opposed by organized labor because leaders say it will cost jobs and lower occupational safety and health standards. Many observers here postulated that the President held the Summit now in order to maintain labor support for his administration.
Obama acknowledged that workers' rights have been weakened by anti-union laws and policies, but throughout the Summit he repeated his opinion that the main culprit has been "the combination of globalization and automation" that allows corporations "to do more with less." He said what's needed is a "refashioning" of the "social compact so that workers are able to be rewarded properly for the labor that they put in."
Obama suggested that employees and employers work together to create a new "culture" on the job that allows workers to have a voice.
He agreed with U.S. Labor Secretary Tom Perez, Summit moderator, who said that "there are many different kinds of worker voice."
Nevertheless, Summit participants responded with sustained applause when Sarita Gupta, executive director of Jobs with Justice, said "the strongest form of workers' voice is having a union on the job."
Vice President Biden agreed.
"It's a simple proposition," he said. "With the ability to sit on the other side of the table with employers and collectively bargain, you have some power. At the end of day, that's how progress is made."
Biden continued: "Business has declared war on labor's house. Everything has been done to undermine workers being represented by people sitting across from employers. The deal used to be that the more workers produced, the higher their wages got."
But that's changed, said the Vice President. "Between 2003 and 20013 corporate American made $4.6 trillion dollars. They used 54 percent of this to buy back their own stock and 37 percent to pay dividends. That leaves 9 percent to pay for everything else, including workers' wages and training. This happened because collective bargaining has been undermined."
Biden said, "There's a great resurgence taking place in the American economy, but we can't keep the average American out of benefitting. That's why we need more protection for workers' rights."
Robert Hathorn, who works at the Nissan automobile plant in Canton, Miss., gave first hand testimony that his rights, and those of many other Nissan employees, are being trampled. He said he joined the effort to win collective bargaining representation by organizing a UAW local at the plant.
The company will not allow him to do this. Although Hathorn does the same work as many others at the plant, management has classified him as a "temporary" employee, an "independent contractor," with virtually no rights under current law. He was fired for engaging in union activities, but was able to win his job back.
Hathorn is among a growing number of workers known as "perma-temps," or "on demand" workers. So are nannies, child care workers and domestic workers.
During the "conversation with the President" segment of the Summit, Obama said he has no ready-made answers for guaranteeing that perma-temps have a voice or that they receive livable wages and benefits. Same goes for people who choose to freelance in many industries.
What's more, the President said, he has no ready-made plans for helping workers as a whole to win a more effective voice. He urged Summit participants to submit ideas to him over the next several months.
The last person to speak from the audience during the "conversation" segment was Gustavo Torres, executive director of Casa de Maryland, an organization that advocates for and provides services to newly arrived immigrant workers.
Torres said "Having a voice comes from having power. With a voice, we can share the wealth."
President Obama closed the Summit on Worker Voice by saying, "I see this as the beginning of the conversation, not the end."
Photo: Fast food worker Terrence Wise at the Summit on Worker Voice at the White House in Washington, DC, on Oct. 7. Jobs with Justice.