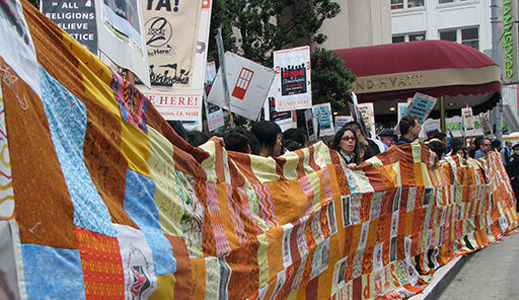 SAN FRANCISCO — In a landmark settlement with implications for all Hyatt workers, the Hyatt Fisherman's Wharf hotel here has withdrawn its appeal of California Occupational Safety and Health Appeals Board citations related to housekeeper injuries, UNITE HERE Local 2 announced Jan. 14.
Calling the settlement "unprecedented in the hotel industry," Local 2 said the agreement commits Hyatt to take specific steps to keep workers from being exposed to unsafe conditions that cause housekeeper injuries.
Nenita Ibe, who has worked at the Hyatt Regency Santa Clara in nearby San Jose, Calif. for 10 years, called the settlement "a great victory for Hyatt housekeepers. Hyatt is being forced to pay attention to the injuries housekeepers get at work," she said. "I've seen so many of my co-workers in pain. Now, Hyatt will have to listen to what housekeepers have to say. Hopefully, Hyatt will make the required changes so housekeepers won't get hurt on the job."
Pamela Vossenas, a health and safety expert with UNITE HERE, said, "This is a groundbreaking settlement if effectively put into place by Hyatt. Not only does it make clear the need for monitoring ergonomic hazards of housekeeping tasks but it also specifies tools and work practices to reduce housekeeper injuries and secures a voice in the job for housekeepers' health and safety."
The settlement requires that the hotel conduct a job hazard analysis, provide housekeeper safety training, ensure availability of bed-tucking and long-handled tools and modify current housekeeping carts, and explore the feasibility of reducing the difficulty and number of bed-making tucks, which are particularly associated with repetitive strain injuries.
The union says that the requirement that the hotel chain set up a Housekeeping Committee to make recommendations about housekeeper safety, including non-management housekeepers picked by their fellow workers, shows how important it is for hotel workers to have a voice on the job.
The struggle against housekeeper injuries has been going on for years. In 2009, workers at Hyatt and other hotels around the country launched the Hope Quilt campaign, with the giant quilt touring the country with its colorful squares depicting the stories of housekeepers, mostly women, who often facing crippling injuries as they cope with growing mounds of fancy bedding and other cleaning requirements.
In 2010, Hyatt housekeepers in 10 cities filed complaints with Occupational Safety and Health Administration (OSHA) agencies about repetitive motion and other workplace injuries.
Last July, a press conference of hotels workers, labor leaders, women's rights activists, LGBT leaders, NFL football players, students and others launched a global boycott of Hyatt hotels, particularly aimed at the hotel chain's low wages and abuse of workers.
In December, a national week of actions at Hyatts in cities around the country called for the addition of a hotel worker to the company's board of directors.
An organizing drive is ongoing at the Hyatt Fisherman's Wharf, and contract talks that started at the city's Grand Hyatt and Hyatt Regency Embarcadero hotels in 2009 are still in progress.
Photo: The Hope Quilt. Marilyn Bechtel/PW