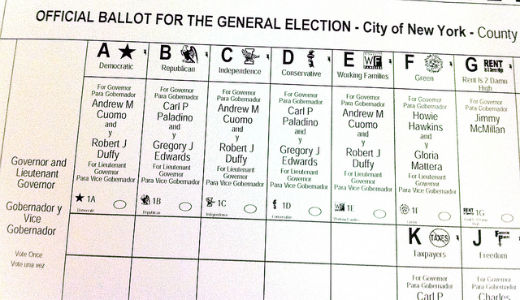 NEW YORK — On Election Day, voters in this state strongly rejected the Republican tide that swept much of the country – but they went a step farther in statewide races by giving more than 100,000 votes to the Working Families Party.
The WFP, now in its 12th year, was formed in 1998 when New York City and state labor unions and community organizations decided they needed an independent political party that would specifically fight for the needs of working people, through which they could operate.
Because of New York's "fusion" voting system, in which candidates can run on the lines of more than one party, people can vote for the political party that most represents their point of view, while at the same time ensuring that their vote goes to a candidate who can win.
Most recently, people who wanted to support working families and the fight for equality were able to vote for Democratic gubernatorial candidate Andrew Cuomo, but send a message that they reject his move rightwards, by voting for him on the Working Families Party line.
As of press time the number of votes received was still not certain. However, it is clear that the "magic number" of 50,000 was passed. If a party gets more than that number of votes in the race for governor, it is automatically afforded ballot status in each election until the next gubernatorial race – when it must again muster 50,000 votes.
There had been some concern that the WFP wouldn't reach this number, partially because a minor scandal around its record keeping brought an investigation by the federal government. Though the U.S. government found nothing, and dropped the case, it was feared that the public perception of the party had been tarnished.
"Good news on a rough morning," the WFP's Facebook page said Nov. 3. "Thanks to you, the WFP received well over 100,000 votes on E-day."
The number of votes is so high, in fact, that many are speculating that the WFP may move up a slot, from row E to row D, on the ballot. For third parties in this state, it is generally considered best to be closest to the two main parties.
The party, which, aside from electoral politics, has been involved in numerous fights of interest to regular New Yorkers, including the struggle to stop budget cuts, demanding that this city's transit system not face cuts or fare hikes and the fight against dangerous drilling, enlisted a number of well-known figures, including musician Pete Seeger, to record videos asking people to vote its line.
"If there's something you want to give me for my birthday that will really cheer me up," actor Matt Damon said in his own video, "vote for the Working Families Party."
"If you want more of this," he said, holding up a 2008 Obama "change" sign before putting that down and holding up a WFP logo, "you have to vote this."
Damon is from Massachusetts (where progressives also found a silver lining post-Election Day) – Boston. Known as one of the most fervent supporters of the Red Sox in a town that is known to be one of the most fanatical about sports, Damon issued a challenge.
"If 200,000 of you vote Working Families, I'm going to shoot another video wearing this," the Good Will Hunting star said – holding up a Yankees cap. "I'm serious."
"Not sure yet if we got enough to make Matt Damon wear that Yankees hat," the party's Facebook page currently says, "but we'll count every last vote."
Photo: The Working Families Party is currently on row E. However, it may have taken enough votes to move to row D. (Jeremy Zilar // CC BY-NC-ND 2.0)