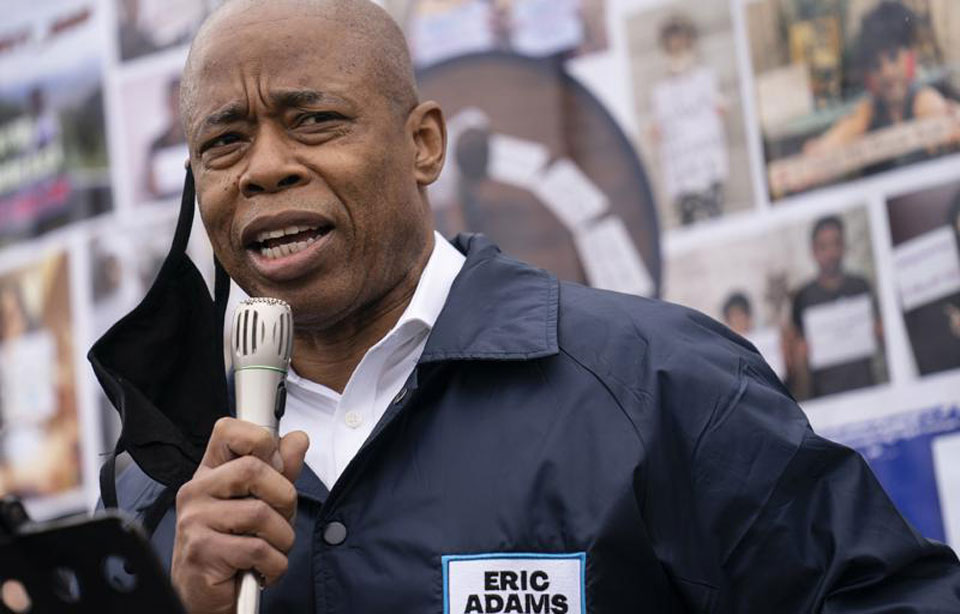 NEW YORK—Some candidates in the race for New York mayor have embraced important sections of the progressive movements' demands, but no particular candidate has a clear path to victory. While a few candidates have referenced working-class upbringings, most are entering the political field from upper management positions in the business and non-profit worlds, or as top government administrators. Only two have served as elected officials with records that can be evaluated. None have emerged as leaders from labor or community struggles on the ground.
Working people are confronted in this election with real estate power, a police force controlled by the right wing, and the big business media currently working to smother popular demands for major police and criminal justice reform under a suffocating pile of front-page reports about a supposed epidemic of rising crime.
No incoming mayor, however, will be able to ignore the labor and democratic peoples' movements. In the event of a Wall Street-supported mayor, they will have to reckon not only with grassroots forces demanding social progress but a likely increase in the number of progressive and socialist-minded city council members. Brad Lander, a consistent voice for labor and community in the city council who is now running for NYC comptroller, also stands a good chance to become the next person to manage the city's budget.
The mayoral race is a crowded field, and it will also be the first time city voters encounter a brand new ranked-choice voting system in the Democratic primary.
How ranked-choice voting works
The new ranked-choice voting system will allow voters to vote for five of their top favorite candidates, in order of preference. Least favored candidates will be eliminated from the race and voters' second, third, fourth, and fifth choices will then be automatically applied to the next round if their top choice is eliminated.
The run-offs will be automatic, to prevent the low turnout typical of run-off elections. But this also means that individual voters and organizations will not be able to make a second choice based on a concrete outcome of the first round. Instead, they have to make tactical choices based on projections suggested by available polling data.
The ranked-choice voting system gives working people greater potential to simultaneously lend strength to the most progressive figures in the race while isolating Wall Street-backed figures.
However, lacking broad popular education around the new system, many working-class voters are likely to arrive at the ballot box feeling surprised and confused about their strange looking ballots. At the same time, the extremely large number of candidates in the race undermines the advantages of this new system.
A recent NY1/Ipsos poll shows 16% of New Yorkers are undecided about their number one choice.
Top contenders among 13
Thirteen candidates have thrown their hats into the race, besides others who already dropped out or didn't qualify. Venture capitalist Andrew Yang and former police officer and current Brooklyn Borough President Eric Adams are the top contenders in the race. Both candidates' campaigns have received major support from Wall Street and are celebrated in the corporate press. Kathryn Garcia also quickly became a top contender after she was endorsed by the New York Times.
Yang has engaged in open attacks on the United Federation of Teachers and advocated strongly for charter schools. Yang became a millionaire during his stint as CEO of GMAT and Kaplan, Inc., for-profit education services corporations that have made their billions through test prep development. Test prep lies at the core of corporate attacks on public education and teachers' unions. The Alliance for Quality Education warns against a Yang administration, which would represent a major setback for students, teachers, and parents who recently secured major funds in the NYS budget for education after two decades of struggle.
Besides his role as a profiteer in the push to privatize education, Yang began his career as a corporate lawyer and then as Vice President of a healthcare startup. His much celebrated proposals for a "universal basic income" during his Presidential run, which were used as a "silver bullet" solution for every problem, evading popular demands around other issues and serving as the progressive veneer for a corporate program, have been reduced for New York City to a paltry $2000 per year (breaking down to $44 per week) for those living in extreme poverty.
While Adams has support from Wall Street, his is also one of two campaigns receiving a large degree of support from organized labor, including SEIU 32BJ, which is leading the fight to unionize the fast food industry in the city. A poll from early May showed 47% of Black voters supporting Adams as their number one choice. Adams, who is Black and has a working-class background, with experiences of racist police violence himself, entered the force as a transit police officer before it was merged with the New York Police Department, with the intention of advocating for changes to the department. He frequently spoke out as an officer against racist profiling and police brutality. Since that time, he was elected as a New York State Senator, and then as Brooklyn Borough President.
Over the course of the mayoral campaign, however, Adams has launched equal criticisms against the Black Lives Matter movement and the racist police violence it is struggling against. He has also dismissed demands from the movement that significant funds be diverted away from the bloated $6 Billion NYPD budget and toward anti-poverty, mental health, educational, housing, and other community services. An Adams administration may be friendly toward labor but is unlikely to implement community-led demands around housing and police violence.
Kathryn Garcia is a former New York City Sanitation Commissioner for the de Blasio administration and was Chief Operating Officer in the New York City Department of Environmental Protection during the Bloomberg administration. As for labor support, Garcia has only been endorsed by sanitation workers' unions. García has expressed support for the privatization of the New York City Housing Authority, which many public housing residents have strenuously organized against. She opposes a rent roll-back and advocates for both police reform, and increased police presence in local communities and public transit, claiming that these two goals are not at odds. A García administration might implement some positive measures on environmental issues but would likely prove an obstacle to struggles for the right to housing and an end to racist police violence. García also lacks accountability to organized labor.
Labor and community candidates
New York City Comptroller Scott Stringer, former non-profit CEO Dianne Morales, and civil rights attorney Maya Wiley, to varying degrees, have committed themselves to implement policies demanded from activists in the labor and Black Lives Matter movements. Stringer and Morales have responded best to housing movement demands. Morales has been the most unapologetic in giving full support to these community demands, despite an imperfect record in some aspects of her professional career, but has not emphasized labor issues in her program.
Initially, Stringer and Morales were two of the strongest progressives in the race. Stringer began his race with a major base of labor support. Morales was backed mainly by grassroots community organizations.
Morales and Stringer each oppose privatization of public housing, preferring to fight to fund it with money from the state and federal government, and each has refused campaign donations from landlords and real-estate developers. Morales supports a rent rollback, and Stringer has said he would consider it.
Scott Stringer, who began a career in politics immediately after college, has served as an elected official on the New York City Council, in New York State Assembly, as Manhattan Borough President, and as New York City Comptroller. He has a fairly consistent record of aligning himself with labor and community organizations and implementing pro-working class and democratic policies and is a household name in city politics. This is most likely the reason why a large chunk of prominent progressive organizations within the labor and democratic movements initially threw their weight behind his campaign.
In addition to Stringers' large base of union support, Morales and Stringer each initially earned support from labor and community organizations like the Professional Staff Congress, United Auto Workers Region 9A, the Working Families Party (who also endorsed Wiley), New York Communities for Change, Citizen Action, and Sunrise Movement NYC.
Wiley is endorsed by 1199SEIU representing mainly health and home care workers, and more recently by the New York State Nurses Association (NYSNA). She is also endorsed by Democracy for America, New York Progressive Action Network, and Progressive Women of New York (the latter two groups also endorsed Morales, initially.)
Challenges for labor and community
The hopes that Stringer, Morales, and Wiley can collectively isolate the moderating, Wall Street-backed campaigns of Yang, Adams, and Garcia have been greatly damaged by the possibility that Stringer sexually assaulted Jean Kim in 2001 while she was working for his NYC public advocate campaign, and made sexual favors the condition for supporting her future political career. UFCW Local 1500 and all the above mentioned community organizations that originally endorsed Stringer have since withdrawn their support.
Another woman, Teresa Logan, has also come forward in the past week to say that Stringer made unwanted sexual advances toward her while she was working at a bar he co-owned in 1992.
The lawyer involved in both of these cases, Patricia Pastor, has worked for many years for anti-union real-estate construction companies, bringing conflict of interest into the equation. Stringer is the only candidate who has included wage and benefit standards for construction and maintenance workers in his affordable housing program.
The timing of the accusations has closed the door on the possibility of a full investigation, but any potential opportunism on the part of Ms. Pastor does not automatically show that the allegations are untrue. However, it does highlight how lack of representative leadership creates the potential for serious harm to working-class and democratic movements.
If allegations of Stringers' sexual assault and exploitation are true, he has greatly damaged working people's prospects in this election, and in either case, Wall Street is celebrating. Unless it becomes clear that Stringer did not engage in sexually exploitive and abusive behavior, he cannot be recommended by progressive organizations for a vote.
Shortly after the Stringer allegations, controversy began to swirl around Morales' campaign, with vague allegations of abuse against her staff. Details were lacking, the campaign director who made the accusations resigned in protest and encouraged the remaining staff to unionize mid-campaign. Morales initially suppressed this unionization effort, but later said she would negotiate. Some organizations then withdrew their support for Morales, including the Working Families Party, which is now supporting Maya Wiley.
The problems surrounding the Stringer and Morales campaigns have demoralized the city's progressive community organizations. Organized labor has been less affected by these controversies.
In the wake of these problems, civil rights attorney Maya Wiley is beginning to receive support from organizations that had previously supported Stringer and Morales. Wiley has become a definite contender in the race.
Like Morales' and Stringers' programs, Wiley's program includes re-allocating $1 Billion from the NYPD toward community needs, removing police from schools, mental health, homelessness, and substance abuse issues, decriminalizing sex work, and refusing donations from police unions, and giving greater power to the Civilian Complaint Review Board. She has also uniquely promised to appoint a civilian police commissioner and to "end city funding for legal defense of 'egregious' police behavior."
Wiley opposes privatization of public housing, but also opposes a rent rollback, and will not refuse campaign donations from landlords and real estate developers. Wiley is likely to take positive positions on healthcare and policing, and perhaps on labor, but seems unprepared to fully tackle the housing issue.
The New York State Nurses Association endorsed Wiley as their number one choice, and Adams as their number two.
Other candidates in the race
Other better known contenders include former Citigroup Vice President Ray McGuire and former HUD Secretary Shaun Donovan. Donovan served under the Obama administration. He supports the housing privatization plan but has voiced stronger support for police reform measures than Adams, McGuire, and Yang in a Mayoral forum with Communities United for Police Reform.
Lesser known figures in the race include defense attorney Isaac Wright Jr., former JPMorgan Chase managing director Art Chang, attorney Aaron Foldenauer, artist Paperboy Love Prince, and CEO of a small general contracting firm Joycelyn Taylor, who champions her origins growing up as an NYCHA resident with working-class parents. Paperboy Love Prince and Joycelyn Taylor have each put forward a progressive vision for NYC's future. These, however, have little chance of surviving the first round.
Summary
Given the overall situation, labor and community organizations, and other democratic forces have not been able to establish definite unity in their approach to the Mayoral race.
With Yang and Adams ahead in the polls early in the race, sections of the labor movement likely calculated that an Adams administration would be preferable to Yang, and made a defeat of Yang their main priority. Placing Adams as a 4th or 5th choice and leaving Yang off the ballot would accomplish the same feat.
With Stringer and Morales weakened, Adams remains a top contender with some accountability to labor, despite his pro-cop rhetoric and support from Wall Street. Yang and Garcia do not have the same level of obligation toward labor, and also offer little to no concessions toward police reform, housing, or education justice movements.
Wiley's support from healthcare workers is also notable, in addition to her support for stronger measures against racist police violence.
A more unified and proactive approach to the elections could help to strengthen labor and community organizations in future election battles. Rather than each union local and community organization separately reacting to those individuals who step forward to run for office on their own initiative, joint effort by the labor movement as a whole, together with community organizations active on the ground around key issues, will be important to collectively identify candidates from their own ranks that will best represent the interests of working-class and poor people. Unified action on the part of labor and democratic movements and organizations can generate the power necessary to install government officials capable of implementing a people's agenda.