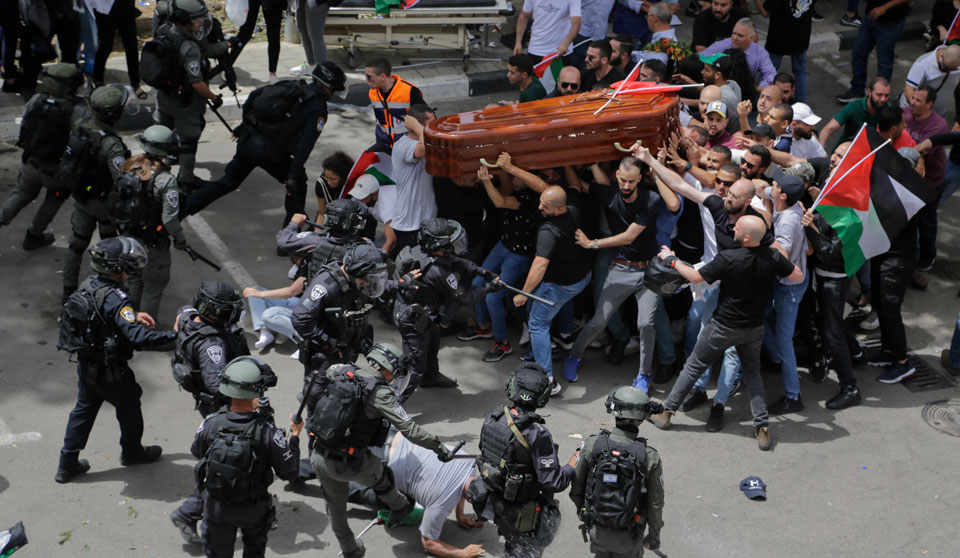 Outcry over an Israeli riot police assault on mourners carrying the body of journalist Shireen Abu Akleh mounted over the weekend, with the United Nations, European Union, and even the U.S. expressing concern.
Abu Akleh was shot dead by an Israeli sniper on May 11 while reporting on an Israeli raid on a Palestinian home in the occupied West Bank.
Huge Nakba Day demonstrations in Gaza and the West Bank Sunday, marking the establishment of Israel in 1948 and the forced expulsion of around 750,000 Palestinians from their homes, saw demonstrators pay their respects to the slain journalist.
In Gaza City, speakers said Abu Akleh "for whom the church bells rang and for whom Muslim hands were raised in prayer," symbolized Palestinian unity across faiths and communities.
At Tel Aviv University in Israel, three students, all Palestinian citizens of Israel, were arrested after being attacked by a far-right group that objected to their peaceful Nakba Day demonstration, university professor Amal Jamal said.
Israeli authorities promised on Saturday to investigate the conduct of their officers at the funeral, which saw police charge mourners and attack them with batons, beating pallbearers so that Abu Akleh's coffin almost fell to the ground.
Stun grenades were fired into the crowds, and police later smashed one of the windows of the hearse to which the coffin was transferred on its way to the funeral ceremony at the Cathedral of the Annunciation of the Virgin in Jerusalem.
The Archbishop Desmond Tutu Foundation said the scenes were "chillingly reminiscent" of attacks on anti-apartheid revolutionaries' funerals in South Africa.
Israeli police said that they would seek to "draw lessons" from the incident after U.S. Secretary of State Antony Blinken said that he was "troubled by the images of Israeli police intruding into the funeral procession." On Friday, the U.N. Security Council issued a rare unanimous demand for an "immediate, thorough, transparent, and impartial" investigation into Abu Akleh's death.
Legal submissions have been lodged with the International Criminal Court charging that Israel systematically targets journalists working in Palestine and that its failure to properly investigate their deaths amounts to a war crime.