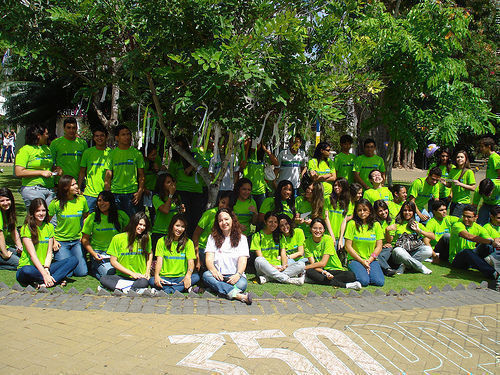 Brazil: Landmark climate legislation is passed
President Lula da Silva last week signed into law the "National Policy on Climate Change." The legislation requires a 39 percent reduction in fossil fuel emission by 2020, and represents a first among developing nations in meeting promises made at recent Copenhagen climate summit. Implementation, however, will depend on decrees the president will have to issue affecting several industrial sectors after scientific and ministerial consultations. Da Silva also vetoed three provisions of the bill passed by Brazil's Senate in November: one calling for complete abandonment of fossil fuels for energy production, another requiring government funding for alternative energy solutions, and the third prioritizing small hydroelectric facilities. Brazilian Greenpeace Director Sérgio Leitão expressed doubts that the bill would end up meeting projected targets, according to Treehugger.com.
Cuba: Government rejects terrorist designation
The Foreign Affairs Ministry last week condemned recent U.S. anti-terrorist regulations tightening inspections of passengers arriving by air from Cuba and 13 other nations. The statement cited Washington's "merely political" motivation aimed at fortifying its blockade. Cuba's "impeccable record" in rejecting terrorism was noted. The Ministry praised an article by Eugene Robinson in the Washington Post, labeling as "ridiculous" the Reagan government terrorist designation of Cuba in 1982. U.S justifications came under fire. Multinational agreements, for example, had led to the presence in Cuba of Basque separatists and Colombian insurgents. In the 1960s and 70s, Cuba had legitimately offered "political asylum" to U.S. Black Panther activists and others.
The Cuban government and others point out the hypocrisy of the United States for its refusal to honor extradition requests for "hundreds of criminals, assassins, and terrorists" resident in the United States. Such cases include anti-Cuba terrorists Luis Posada Carriles and Orlando Bosch, many say.
The statement condemned U.S. presumption in certifying the anti-terrorist bona fides of other nations, especially when Washington grants impunity for those "confessing responsibility for horrendous acts."
Guadeloupe: General strike may repeat
"The government is backsliding, returning to profit-making," declared labor leader Elie Domota, recalling last year's settlement of a paralyzing 44 day strike over high prices. Another general strike will begin, he said, on Jan. 20, a year to the day when the earlier strike began. Protesting high fuel prices, Domota called for oil purchases from Venezuela rather than from French oil giant Total. In an interview, he accused the Paris government of economic discrimination against black workers. Banks, leery of possible economic collapse, are demanding borrowers pay 5 percent "risk premiums." Tourists are being told to not expect refunds in case of a strike, reports Earthtimes.org.
Spain: Unemployment is Europe's worst
Over 1.5 million newly unemployed people in 2009 brought Spain's total to 4.1 million, or 18 percent of working age people. That's tops in Europe with its national average of 9.8 percent. Presently only 50 percent of working age women have jobs. Unemployment is projected to recede to eight percent by 2015. The figures released by the National Statistics Institute serve to discredit Prime Minister José Rodriguez Zapatero's primary focus on job creation. An opinion poll last week put support for Zapatero's Socialist Party at 38.5 percent with the rightwing Partido Popular surging at 45.6 percent. Ironically Spain recently took on the European Union's rotating six month presidency with the announced objective, according to the Financial Times, of fostering European economic recovery.
Sudan: Food comes in, food goes out; people starve
The UN World Food Program last year imported food for 5.9 million Sudanese on the edge of starvation. Shortages stem from destruction of infrastructure and small farming by violent conflict, reports the Toronto Star. Some 2.1 million acres of Sudanese farmland, however, are set aside to produce wheat, rice, and other crops for Saudi Arabia, China and South Korea. Industrial agriculture has recently taken shape there through purchase or long term lease of large tracts funded privately or by governments. The World Bank estimates that 125 million acres, mostly in the global south, are given over to supplying food for many cash flush countries. Ethiopia last year opened up 7.5 million acres of farmland for lease, while 13.7 million Ethiopians require emergency food aid.
Thailand: Army deports Hmong refugees
"The army has always sought to be in charge of Thailand's foreign policy with regards to its immediate neighbors," Human Rights Watch told Inter Press News. Late last month the Thai military returned to Laos over 4,300 Hmong men, women and children who, according to Gen. Worapong Sanganetra, "volunteered" to leave. Some 5,000 troops used 100 buses and trucks to make the transfer. A 2006 military coup in Thailand led to a rapprochement with the Laotian government resulting in consensus a year later that refugees were "illegal migrants."
Yemen: Humanitarian crisis looms
The European Commission's approval last month of $24 million in food security aid brought the 2009 total to $69 million for a country increasingly coming under U.S. purview as a terrorist threat. Some 40 percent of rural Yemenis live in poverty, and half of children under five are malnourished, according to the EC announcement.
IRIN news reported the World Food Program as feeding 150,000 Yemeni people displaced by war between Houthi rebels and government troops. Most are children, one in ten being severely malnourished. Afflicted by nighttime sub freezing temperatures, refugees are living in tents, deserted houses and five camps operated by the Red Cross and Red Crescent.
Photo: Brazilian young people participate in 350.org last year, calling attention to climate change and carbon, a greenhouse gas, reduction. http://www.flickr.com/photos/350org/ / CC BY-NC-SA 2.0