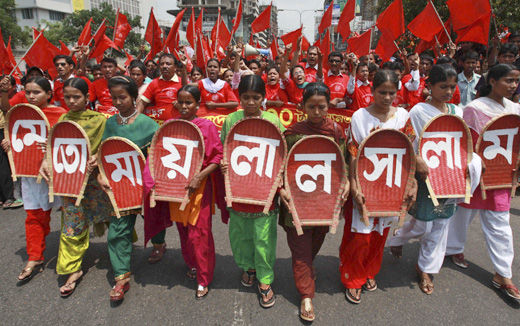 Cuba: Economic reforms apply to health care
Basing its account on the official document "Necessary Transformations in the Public Health System," Agence France Presse recently reported on governmental plans to re-organize, compact, and regionalize health services. The projected changes parallel overall economic re-adjustment plans calling for the elimination of 500,000 state sector jobs. Between 50,000 and 100,000 of some 600,000 health workers are regarded as "superfluous," although, according to the health minister, doctors are not included in the group. The plans call for health workers either to be relocated to areas of personnel shortage or to accompany health teams working abroad, some programmed to generate income. Health authorities are prioritizing clinical modes of diagnoses while de-emphasizing expensive laboratory investigations. Together, the health and education sectors consume 46.7 percent of Cuba's national budget.
Bangladesh: Textile workers launch massive strike
Police fire killed four textile workers on December 12. Tens of thousands are striking to force owner compliance with a government order raising the minimum monthly wage from $23 to $43. Many senior workers were incensed at still being locked into entry pay levels. Earlier pay increases date back to 2006 and 1994. In one area, foreign owners were forced to close 300 factories. The garment industry employs 3 million Bangladeshis, 80 percent women. Its $12 billion income accounts for 80 percent of the country's export total, reported the Financial Times. On December 13, a fire in a ten-story factory not necessarily connected to the strike caused 24 deaths and wounded dozens. A garment factory fire in February killed more than 20 workers.
Costa Rica: Opposition protests U.S. troops
At the government's request, the Legislative Assembly began consideration on December 13 of renewing permission granted earlier this year for U.S. military operations in Pacific and Caribbean territorial waters. Authority stems from a 1999 bi-national treaty directed toward drug -trafficking. The proposal is for 46 warships, 42 armed helicopters, and at least 4000 troops to undertake patrols for six months beginning January 1, 2011. Docking, long term use of harbors, and crew member shore leaves would be allowed. Representatives of four political parties demonstrated outside the Assembly as deliberations began. Protester Víctor Emilio Granados opined that anti-drug operations don't require such a large military force. "Costa Rica would be converted into the largest U.S. naval base," warned Luis Fishman, quoted by Prensa Latina
Spain: WikiLeaks reveals talks on AFRICOM hosting
On December 8, the El Pais daily released WikiLeaks documents showing that in 2007 former U.S. ambassador Eduardo Aguirre initiated negotiations as to placing the headquarters of AFRICOM, the U.S. military command in Africa, in Spain. On receiving Alan D. Solomont as U.S. ambassador last January, President Jose Luis Zapatero expressed his government's enthusiastic acceptance of increasing U.S. troop presence at its. base in Rota aimed at "serving the objectives of AFRICOM." The Pentagon also seeks access to two additional Spanish ports for nuclear – powered naval vessels that AFRICOM would deploy. The report on Librered.net suggests that Spanish receptivity to hosting AFRICOM represents an attempt to regain U.S. good will lost when Spanish troop were withdrawn from Iraq in 2004.
Japan: Peace Conference centers on removal of foreign bases
The 2010 version of the Japan Peace Conference took place on December 2-5 in Sasebo City, Nagasaki, where a large U.S. naval base is located. Among the 1200 delegates present were peace movement leaders from South Korea, the United States, and the Philippines. Underlying themes of the event were abrogation of the Japan – United States Security Treaty, removal of U. S. bases from Japan, and solidarity with the anti-base movement in Okinawa. Both candidates last month for Okinawa governor took positions opposing U.S. bases on the island, the Japan Press Weekly reported. A full day of the conference was devoted to discussion of the threat to peace posed by belligerent posturing in the Korean Peninsula.
Egypt: Defeated opposition takes to the streets
Members of the opposition Muslim Brotherhood and Wafd parties staged street demonstrations in Cairo on December 12. At issue were the results of parliamentary voting on November 28 and December 5 when President Hosni Mubarak's NDP Party took 80 percent of the contested seats. The Muslim Brotherhood gained one seat, in contrast to 2005 when its candidates won 20 percent of the votes. Claiming widespread fraud, verified by neutral observers, both minority parties boycotted second round voting. A group of 100 former parliamentarians have organized a "parallel parliament, "inviting the participation of a wide range of regime opponents. On the agenda, according to Al Jazeera, is the planning of economic and social reforms and actions aimed at de-legitimizing the new parliament.
Photo: Bangladeshi garment workers marching at this year's May Day rally in Dhaka, Bangladesh. Letters read: "We salute you, May Day." Pavel Rahman/AP