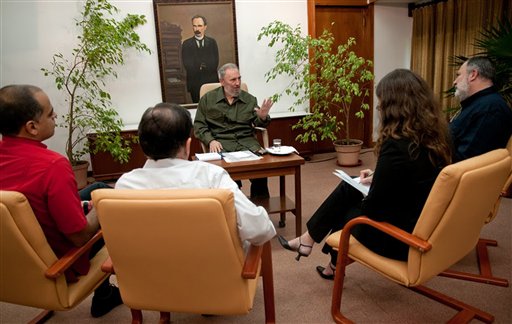 Cuba: Fidel Castro waits on Obama
Interviewed by visiting Venezuelan journalists on August 8, former President Fidel Castro discussed possible U. S. and Israeli nuclear war against Iran, his recurring theme recently. "Nobody else can pull the trigger," he said referring to President Obama, whom Castro pointed out "is not an assassin." The day before, he told National Assembly delegates that Obama represents the "one hope" and "will have to take this decision on his own." Castro predicted that war over Iran would cause millions of deaths on both sides, adding that as "fate would have it, the U. S. president would be a person of African and White, Mohammedan and Christian descent. He will not give such an order." Quoted by TeleSUR, Castro suggested, "Neither imperialists nor revolutionaries can reach their objectives through arms."
Bolivia: Improved economy permits new borrowing
The August 9 visit of World Bank official Felipe Jaramillo with President Evo Morales and his financial and development aides coincided with World Bank recognition of Bolivia as having risen to the level of "middle income countries" seen as worthy of increased international investment.
Four years of rising income derived from natural resources extraction has enabled the government this year to expand international borrowing to $10 billion, up from $2.6 billion borrowed over the previous four years. International lenders have granted longer terms for debt repayment and eased unilateral conditions marking previous agreements. Under the government's "National Development Plan," new funding will be divided among the "productive sector" – 17.5 percent, infrastructure – 44.2 percent, social projects – 29.3 percent, and "multi-sector" – 9.1 percent.
Australia: Uranium mining reopens wounds
"Why should we pollute our country for money," asked aboriginal leader Geoffrey Stokes recently. He was denouncing plans by BHP Billiton Corporation to open a $15.6 billion uranium mine in Western Australia. On taking power in Western Australia state two years ago, the right-wing Liberal Party abolished that state's prohibition against uranium mining. The Anti-Nuclear Alliance of Western Australia reports 100 corporations now are prospecting for uranium there. IPS news indicated that uranium mining has over decades proved devastating to aboriginal peoples and the environment. Observers say a Labor Party loss in upcoming federal elections may open up uranium exports to India, still not signed onto the Nuclear Nonproliferation Treaty. Australian uranium reserves are the world's largest.
Kenya: New constitution gains approval
By a 67 percent vote, Kenyans voted approval on August 5 of a new constitution supported by allies of President Mwai Kibaki and by forces loyal to Raila Odinga who suffered defeat in the chaotic 2007 elections. Odinga later joined the government as prime minister in a 2008 power-sharing arrangement mandating a referendum vote on a new constitution. Expanding women's rights, the new charter dealt with divisive issues like corruption and patronage, land ownership, and tribalism. It undertook to limit the power of the presidency by establishing a supreme court and a senate. Implementation will proceed over five years. Fears of violence similar to that marring the elections three years ago proved groundless, Al Jazeera reported.
United Nations: Climate agreement has grim prognosis
UN-sponsored climate talks ending August 6 in Bonn, Germany, went nowhere. Participants had hoped to shape a deal that would be acceptable at the climate summit set for Mexico in November. Disparate views between rich and poor nations on reducing greenhouse gas emissions shipwrecked an earlier summit in Copenhagen. Consensus on methods and objectives for reducing emissions is still lacking, the Associated Press reported. In fact, "No one expects an agreement to be completed in Cancun." Nations remain unable to commit to bringing emissions to 12-18 percent below 1990 levels, despite UN recommendations in 2007 that 25-40 percent reductions are required to avoid the worst effects of climate change. Another preparatory meeting is set for Tianjin, China, in October.
France: Expulsion of Roma follows European trend
In line with actions taken by other Western European countries, President Nicholas Sarkozy announced July 29 that 300 camps occupied by Roma people would soon be destroyed. Throughout Europe laws aimed at expelling Roma without documents are in preparation. Of 12,000 German Roma soon to be deported from Germany to Kosovo, half are children who grew up there. In Britain, forced evictions signal eventual deportations. Europe's 10 million Roma people constitute the region's largest ethnic minority. Many moved from Eastern Europe to the West following European Union expansion. Amnesty International, joined by other human rights groups, has leveled charges of human rights abuses. EU officials say legal protections do exist but are ignored by governments, reports the UK Guardian newspaper.
Photo: In this photo released by the state media Cubadebate web site, Cuba's former President Fidel Castro, center, speaks during an interview with a group of Venezuelan journalists in Havana, Aug. 8. In background, a painting depicting Cuban independence hero Jose Marti. (AP/Cubadebate, Roberto Chile)