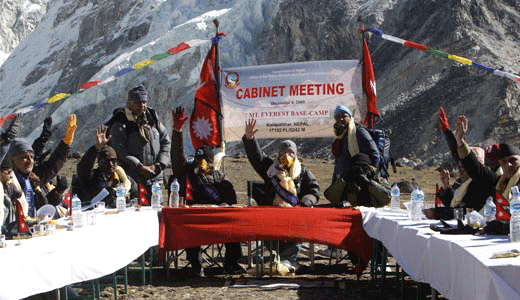 Nepal: World's highest cabinet meeting sends message
Speaking to the BBC, Nepal's Prime Minister M.K. Nepal last week wanted "to stress one point: that the Himalayas are a global treasure." His 21-member cabinet had just gathered at 17,000 feet, on the approach to Mt. Everest, to endorse the "Shara Matar (Top of the World) Declaration" that Nepal would read at the Copenhagen climate summit the following week. For Buddhist monk Nawang Tenge, "Nature is God. But we are not treating our God fairly." There was no rain or snow last year, he pointed out, and "temperatures go up with every passing year." The Prime Ministers characterized the mountains as "the water towers of Asia, feeding its largest rivers and nourishing hundreds of millions of people downstream."
Russia: Union federations will merge
According to Boris Kravchenko, president of the All-Russia Confederation of Labor, his 1.3 million-member federation of steelworker, autoworker, and service employee unions will be merging with the slightly smaller Russian Labor Confederation, centered in the transportation industry. Last week he identified the unification conference set for early next year "as the most serious event in the past 20 years in terms of labor organization." The impetus for the merger is joblessness – 7.7 percent in October – and waning union influence in shrinking industries. The new formation will be dwarfed by the 26 million- member Federation of Independent Unions of Russia.
Israel: Army does target civilians
The Israeli Defense Force has adopted a new combat doctrine with two basics: no Israeli casualties and maximum civilian havoc. This finding of the Public Committee against Torture in Israel came out of its analysis of "Operation Cast Lead," Israel's 22-day war in Gaza beginning December 27, 2008. The group's report, released Dec. 2, claims the military converted "suffering into an essential element of its combat." Civilian infrastructure is destroyed to undermine enemy authority. The report asserts that the IDF "cast a moral stain upon us." Not only do its actions promote international isolation and subject soldiers to possible war crimes charges, but they "may even endanger our continued existence in the Middle East."
Uganda: Anti-gay bill promises heavy penalties
An anti-homosexual bill is on the verge of passage by the Ugandan government. It calls for life in prison for a single homosexual act and possible execution for multiple infractions or homosexual sex with minors. Failure to report homosexual persons to the police would entail jail terms, reports alternet.com. With widespread domestic political support, the bill has provoked international political and religious opposition, notably from the Canadian and British prime ministers. A few Ugandan religious officials, while supporting the bill, have denounced its death penalty provisions. Quoted by Guardian.co.uk, Anglican Canon Gideon Byamugisha referred to "state-legislated genocide against a specific community of Ugandans."
The Swedish government last week announced plans to cut $50 million in annual development aid should proposed anti-homosexual legislation become law.
Venezuela: Communist Party joins with new international journal
The Communist Party of Venezuela recently announced affiliation, through its theoretical journal Open Debate, with the newly formed International Communist Review, an electronic publication published in Athens. Articles appearing in the first issue, dated Dec. 1, are accessible at www.iccr.gr. They are translated into English, Spanish, and Russian. A print version in English is anticipated. According to the Popular Tribune web site, communist parties with shared theoretical and ideological positions will use the journal to analyze reverses following the Soviet collapse and current impediments to class based struggle. The goal they proclaim is ideological and political unity. Joining Open Debate editors in the venture are counterparts associated with similar journals in Belgium, Greece, Hungary, Spain, Latvia, Luxemburg, Mexico, Russia and Turkey.
Cuba: Famous blogger has help
Blogger Yoani Sánchez, purveyor of bad news about the Cuban revolution, heard directly last month from President Barack Obama. Her blog "provides the world a unique window into the realities of daily life in Cuba," he opined. Sánchez has gained multiple awards recently, and cash prizes.
Analyst Hernando Calvo Ospina of rebellion.org last week noted that Yoani Sánchez returned from stays in Switzerland and Germany with funding sufficient to use computer facilities in Havana hotels. Her server, located in Germany, normally refuses to host bloggers. The domain for her blog is registered through "Go Daddy," an entity the Pentagon utilizes for cyber war. Among Cuba's 700 bloggers, government critics among them, only Sánchez benefits from funding, world recognition and access to U.S. computer technology. Her blogs are immediately translated into 18 languages, a reach achieved only by the UN and EU.
Photo: Nepal's Cabinet meet in the Himalayas. Gemunu Amarasinghe/AP