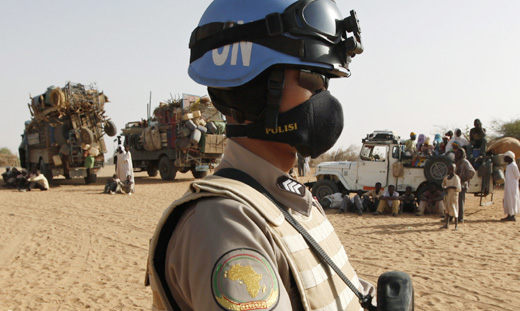 Sudan: Darfur fighting re-ignites, civilians lose
Fighting between the government and rebels in the Darfur section of Sudan has displaced 40,000 people over two months. According to the UN's IRIN news agency, forced migrations mounted while the world's attention focused on Southern Sudan's recent independence referendum. Human rights groups say both sides are targeting civilians based on their ethnic identification. Meanwhile UN peacekeeping forces and humanitarian agencies are barred from areas of crucial humanitarian need. A Medicins Sans Frontieres hospital, caught in crossfire, had to be abandoned. Fighting has caused 300,000 civilian deaths since 2003, the UN reports. "Peace can only be achieved through an inclusive political process, not through the use of force," declared regional UN Special Representative Ibrahim Gambari.
Colombia: Sintracarbon mine workers win wage hike
Sintracarbon, the union representing 4000 mineworker employees at Cerrejon, the world's largest open pit coal mine, had been negotiating with the mine's multinational corporate owners since early December. The issues, as reported by Reuters, included salaries, pensions, the status of contract workers, and redress for the company's maltreatment of local indigenous people displaced during mine expansion. On January 28 the mineworkers overwhelmingly voted to launch a strike. On February 6, however, they accepted a final company offer of a 6.5 percent wage hike, thereby forestalling the shut down of a mine that supplies over 30 million tons of high quality coal annually to European countries and China.
Iraq: Social demands trigger street protests
This February, hundreds had been demonstrating nationwide for days. One organizer, quoted on thenational.ae website, predicted "a revolution of the hungry and the jobless in Iraq, just as there was in Egypt." Protesters cite the 45 percent jobless rate. food shortages, official corruption, and the flaunting of wealth by a tiny minority as reasons for the street action. In reaponse to the protests Prime Minister al Maliki announced he'd not seek a third term. Police in the southern town of Hamza killed one demonstrator and wounded more after their headquarters were stormed. University professor Nidal al Sarmad gave this analysis "The change the Americans brought has brought us a new set of thieves, a new set of dictators, not justice and freedom." Al Maliki added he would return half his salary.
Switzerland: No safe haven for torturers
Switzerland may have a reputation as a very safe place for visitors, but dangers there were enough to make former U.S. President George W. Bush change plans. On February 12 in Geneva he was to have keynoted a charity event which the sponsoring Keren Hayesod group was forced to cancel. Bush would have faced streets protests along with criminal allegations of torture. Human rights organizations cited by Reuters attributed that action to Bush's desire "to avoid our case," a reference to their 2500-page report on Bush's role in torture and abuse of prisoners at Guantanamo. The message from human rights groups is: "If you're a torturer, be careful in your travel plans."
Australia: Undocumented refugees seek justice
"The Australian government appears determined to join the front ranks of the heartless," says the Guardian newspaper as it condemned a recent Australian-Afghan accord expediting asylum applications. While the immediate objective of persuading detained Afghans to end a hunger strike was successful, observers anticipate renewed efforts toward mass forced repatriations or deportation to detention centers in third countries like East Timor. "Offshore processing" of migrants has increasingly relied on arguments of improving conditions in Afghanistan to justify asylum denials. Two months ago the Australian High Court ruled that such decision-making procedures violated Australian law. The decision revived efforts to send "unprocessed" refugees to third countries. Suicide attempts betoken migrants' despair: a Myanmar refugee set himself ablaze on January 30.
Cuba: More CIA links to Posada revealed
A February 6 report from Trinidad and Tobago detailing U.S. intelligence files on Luis Posada, now on trial in the U.S. for lying to immigration officials, is big news in Cuba. http://www.newsday.co.tt/sunday_special_report/0,135310.html
Released in 2007 by the National Security Archives, the files relate to the in-flight bombing October 6, 1976 of Cubana Airlines Flight 455 off Barbados. Trinidad and Tobago Deputy Police Commissioner Dennis Ramdwar's statement October 28, 1976 is included. Ramdwar documents his investigation of Venezuelan citizens Freddy Lugo and Ricardo Lozano, who confessed to placing the bomb and being Luis Posada employees. Ramdwar reported Lozano as saying http://www.gwu.edu/~nsarchiv/NSAEBB/NSAEBB202/19761026_ramdwar.pdf
"He was a member of the CIA, that he was recruited by the CIA in Venezuela between 1970 and 1971." Lozano then recruited Lugo for the CIA. The Newsday report also documents the two men's complicity in bomb attacks on Cuban consulates and air travel facilities elsewhere in the region.
Photo: UNAMID peacekeepers patrol near trucks loaded with new arrivals of displaced Sudanese at a refugee camp outside the Darfur town of al-Fasher, Sudan. (Nasser Nasser/AP file photo)