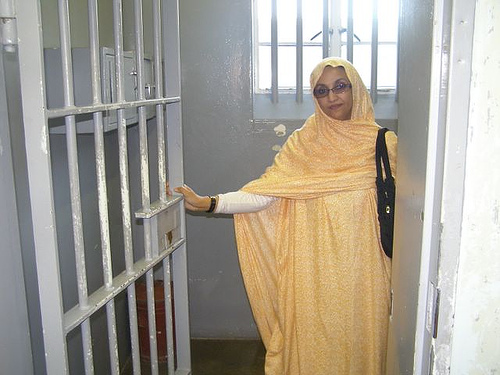 Western Sahara: Morocco relents, hunger striker returns home
After taking Aminatou Haidar to a hospital on Dec. 17, Spanish authorities removed the "Saharan Gandhi" from the Canary Islands to Western Sahara. Morocco had blocked her from entering the contested region on November 14 because she insisted on Western Saharan, not Moroccan, nationality. Officials sent her to the Canary Islands after seizing her passport. There the mother of two conducted a hunger strike for 32 days, until Morocco, under growing international pressure, allowed her unconditional return. United Nations Secretary-General Ban Ki-moon told a reporter "the United Nations needs to do more on political negotiations." Morocco seized the former Spanish colony in 1975, provoking armed rebellion, and has refused to implement a UN ordered independence referendum
Iraq: Executions loom
Amnesty International warned earlier this month that the government is preparing to execute over 900 prisoners in the weeks prior to parliamentary elections next March. Their appeals are exhausted, and the Presidential Council has approved their death sentences. The Bertrand Russell Tribunal Committee claimed they are denied access to lawyers, and "none of the condemned had a fair trial." Iraq's rate of executions is one of the world's highest. The government restored the death penalty after the U.S Coalition Provisional Authority abolished it in 2003. Iraqi prisoners, say critics, are subjected to torture, overcrowding, removal to secret prisons, and demands placed upon families for ransom.
Chile: Survey estimates views on democracy
The Chilean based Latinobarómetro polling organization last week released its annual public opinion report, based this time on 20,204 people surveyed in 18 countries. Notable results include: 58% of Hondurans opposed the June 28 coup while only 24 percent of all Latin Americans were favorable. Most Hondurans approving were "more educated and older." Venezuelans ranked third, behind Uruguayans and Costa Ricans, in affirming their country as "totally democratic." Tops in crediting their own country's fairness in distributing wealth were 34 percent of Bolivians, Venezuela's 32 percent, and 28 percent in Ecuador. Most Latin Americans – 92% – think "marches, protests, and street protests are normal in a democracy," up from 63% in 2008.
Canada: Flunking grades at Copenhagen
"Canada is the dinosaur at these talks," said Canadian David Cadman, president of the international local government group hosting a conference at the recent Copenhagen climate summit. He blamed the government, intent upon "protecting Canada's fossil fuel sector," for violating commitments undertaken according to the 1997 Kyoto Protocol. That binding agreement calls for six percent greenhouse gas reductions by 2010. Yet conservative Stephen Harper government promises cuts of only three percent under 1990 levels by 2020. It rejects 1990 as the base year while emissions have risen 34 percent since then. We "see them (the Canadians) as criminal," said Ugandan activist Kodili Chandia. Alberta tar sands oil production is tagged as the world's biggest single industrial source of carbon release, according to analyst Stephen Leahy.
Indonesia: Censorship backfires
The Alliance of Independent Journalists last week threatened a constitutional court challenge if the government enforces its ban on presentations of an Australian anti-war movie showing Indonesian military atrocities prior to the 1975 East Timor invasion. Government censorship prevented showing of the little-known film at a film festival earlier in the month. Since then sales of pirated DVD versions have skyrocketed. The journalists' group, that began as a Suharto-era clandestine free speech movement, has been showing the motion picture throughout the country. "We are trying to scrap legacies of the dictatorship piece by piece," according to a spokesperson cited by AP. Previous constitutional court rulings have lifted restrictions on other films about East Timor and rebellious Aceh province.
Cuba: Austerity budget up for approval
In preparation for this week's plenary session of the National Assembly, delegates heard from permanent legislative work commissions and government ministries as to income, expense, and subsidy figures for 2009, plus projections for next year. Recommendations from nationwide discussion groups will enter into expected Assembly approval of the 2010 national budgetary law. "Plans have had to be readjusted to implementation marked by strict rationality, savings, discipline, and organization," according to Cubadebate.
Parliamentarians learned that after expanding 4.1 percent in 2008 and 1.4 percent this year, the economy is projected to achieve one percent growth next year. Reports were heard that electricity and petroleum use fell in 2009, that the 30,000 new houses were constructed (100,000 were targeted) and that 58 percent of 600,000 hurricane-damaged housing units have been repaired. While foreign industries operating in Cuba fell to 258 from 362 in 2007, investments in foreign-based enterprises increased. Emphasis is being placed on infrastructure improvements serving passenger and cargo transport.
Food production and processing both gained in 2009, although the crucial need for food import reductions remains. Radio Havana reported recently that in Las Tunas, milk and rice production was up last year and that 150,000 acres of land have been leased out to private farmers under a new program aimed at utilizing idle farm land.
Photo by Saharauiak. Aminatou Haidar visits Nelson Mandela's prison cell in South Africa in 2006. http://www.flickr.com/photos/sahara/ / CC BY-SA 2.0