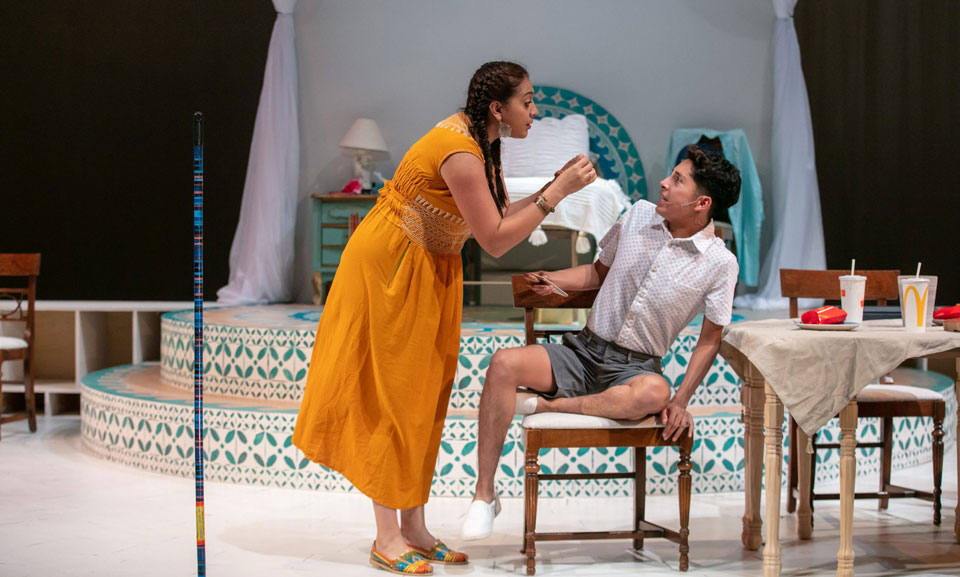 LOS ANGELES — A wonderful experience awaits you at the Latino Theater Company now through June 26. It's the poignantly touching new comedy Sleep with the Angels by multiple award-winning resident playwright Evelina Fernández (A Mexican Trilogy, The Mother of Henry) in its world premiere production. LTC artistic director José Luis Valenzuela, who happens to be the playwright's husband, directs. It's a regular family affair: the star of the show, an Indigenous Mexican Mary Poppins named Juana, is Esperanza América, the playwright's daughter. And the itinerant Musician on guitar, whose strumming provides frequent sonorities throughout the play, is Robert Revell, married to Esperanza América. The original songs were collectively written and composed by the family members.
Before you cry "Nepotism!" consider that LTC is now in its 37th year. Los Angeles audiences have warmly adopted this theatrical family, looking forward eagerly to their every next project. One thinks of those traveling family companies in many countries that brought live plays to small communities—the musical star Plácido Domingo came from such a family that specialized in Spanish light opera called zarzuela.
Magical realism has become almost the reigning esthetic in Latin American culture. When a sudden windstorm kicks up, just as Molly (Elia Saldana), a busy attorney recently separated from her husband John (Randy Vasquez), is in desperate need of a childcare provider, Juana blows in through the front door. She has recently arrived from Mexico and is looking for work. Her only bonafide, maybe not entirely reliable, is that she's the gardener's niece. It may or may not be a perfect match, but there's no time for references and urgency takes precedence. Within minutes Molly and her two adolescent kids, teen angst-filled Cindy (Victoria Tamez) and 13-year-old, gender curious Alex (Saul Nieto) are swept up into Juana's mysterious, mystical, captivating ways.
On the face of it, Sleep with the Angels centers around the lives and problems of two working women improbably thrust into each other's arms. The absurd and weird give way to great sitcom-worthy laughs that are timed at least every couple of minutes apart. But "before we realize what's happening," says Valenzuela, "it has us thinking about serious issues: immigration, homophobia, parent-child relationships, marriage. The magical part is learning to be a real human being, and the complexity of that."
Beyond those themes are others that resonate in one way or another amongst immigrant families everywhere: how much tradition from the Old Country remains, what of it is worth holding onto and what can be discarded, how much of the language and values remains, at what point does one start thinking more like an "American" is expected to think? What is success, and at what price? What stands in the way of empathizing with our neighbors without the right papers? Do we actually know anything about them, and do we even care to?
And is it really true that if you tie the little baby Jesus figure from a statue of St. Anthony to the leg of a chair, you will find something that's gone missing? Or that hanging a red thread on your forehead will cure hiccups? Here's your chance to find out!
Additional characters are played by Eduardo Roman (the gardener Pablo and Molly's boss Lou); and Tina D'Marco portrays both Molly's mom and Lou's wife. The cast all play well together, obviously enjoying themselves and grateful for the chance to show what they've learned about life to their audience.
The creative team for Sleep with the Angels includes set, lighting and costume designers Emily MacDonald and Cameron Jaye Mock; sound designer John Zalewski; choreographer Urbanie Lucero; and casting director Blanca Valdez. The stage manager is Henry "Heno" Fernandez.
The stage set itself almost deserves its own review. It's designed to highlight different staging areas in Molly's home, including Alex's bedroom set off by a circle of diaphanous curtain, as well as a heavenly perch upon which Juana's visage appears as an honored memory after she has left the family employ. The lighting design perfectly captures the magic of Juana's Indigenous talents, thunder and lightning storms, apparitions. A very funny recurring joke involves the steaming herbal teas that Juana prepares for appropriate functions—one to make you happy, one to make you shut up, another to make you tell the truth.
It all sweeps by in one long intermissionless act, one entrancing scene after another, up-to-date belly-laugh humor sidled up against pathos-laden personal stories as only theater veterans of several decades' worth of experience can do. Fernández clearly loves her people, and is not afraid to poke some gentle fun at their superstitious folkways, as each character comes to know themselves better. Anyone attending this play will become a kinder human being by the time they leave the theater. What I found especial reassuring is that unlike a sitcom, not all is neatly wrapped up in a pretty sentimental bow by the end. Life goes on, with all its challenges.
Sleep with the Angels plays on Thurs., Fri. and Sat. at 8 p.m. and Sun. at 4 p.m. through June 26. The Los Angeles Theatre Center is located at 514 S. Spring St., Los Angeles 90013. Parking is available for $5 with box office validation at Joe's Parking structure, 530 S. Spring St. (immediately south of the theater). Street parking is also available in the area. Or take Metro: The nearest train stop is Pershing Square (two blocks west of the LATC) or the 33 bus that goes east on Venice Blvd., turns north on Main and will let you off at 5th St., one block away from Spring. To purchase tickets and for more information, including up-to-date Covid-19 safety protocols on the date of each performance, call (213) 489-0994 or go to www.latinotheaterco.org, where you will also find up-to-date Covid-19 safety protocols.
With only four performances a week, there aren't that many left! You know what I think would be a terrible shame? If theater lovers see "Latino" in the company's name and believe that only Latinos are meant to enjoy this play. Not true at all! It's for everyone! And for the non-Latinos amongst us, Sleep with the Angels is a splendid introduction to the universal range of issues that affect not only the Latino community but all of us, just seen through a Latino lens. Córrale, córrale! Hurry, hurry, and check out this great play before it closes. Tell 'em People's World sent you!