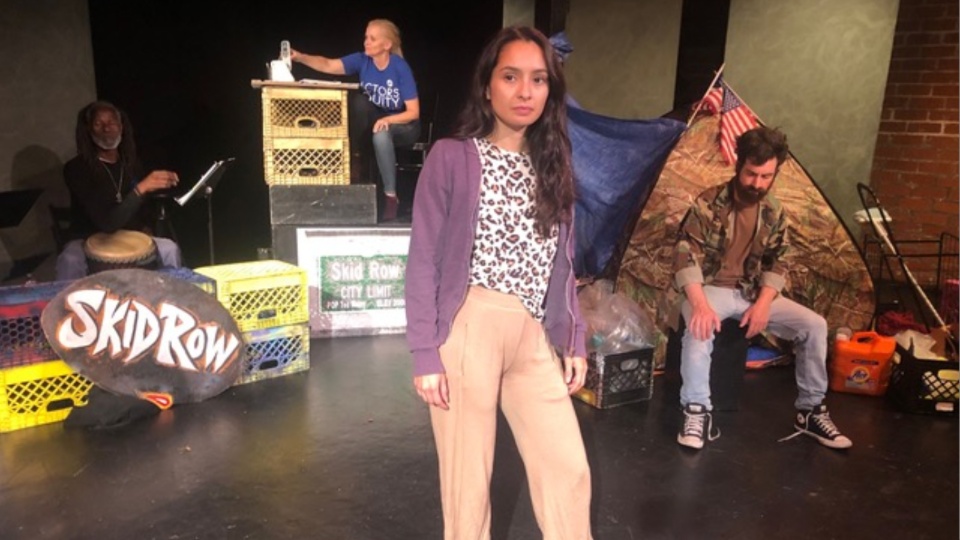 LOS ANGELES – The Hudson Theatre is currently staging a world premiere musical Because It's Sunny in L.A. (Especially on Skid Row). Written and produced by Thaddeus Nagey, in the hope of creating awareness of the homeless population in Los Angeles, the show opened on June 3 (seen June 9) and runs through June 24.
As the arts world, and in particular the theater world, opens up to fair representation of previously marginalized communities, this landmark musical play addresses the systemic humanitarian crisis of homelessness not only in Los Angeles but nationwide. It follows the lives of five homeless characters and their stories of survival on Skid Row. The aspiration is to inspire change and to transform the way people think and feel about homelessness, from which thousands of people die on our streets every year.
In a program note, playwright Thaddeus Nagey, a member of Actor's Equity Association, recounts the genesis of his work:
"I first started writing this playbook in 2018, (not actually knowing I would write a full-length play) as a long poem describing the experience of what it was like to process & honor human remains (and the humanity that comes with it) in the Air Force during the Iraq and Afghanistan wars. I had just come out of homelessness & hospitalization in 2016 & went through bridge & section 8 housing, leading up to and during graduate theatre school. While attending, I learned that a staggering 53,000 enrolled CSU students were homeless. Subsequently, I got involved as an acting coach, stage manager, & writer, helping skid row artists in downtown L.A. as a volunteer and intern. I became attuned to the issues of homelessness through personal experience, academic studies, & hands on working with artists that were suffering from poverty and homelessness. Without a lot of support, I started writing poetry, scenes and music and submitted them to the Kennedy Center College Theatre Festival in 2019 & was personally invited to the festival, subsequently winning a BEST PLAY award at the Festival. Ultimately, I wrote this play because I wanted people to learn about the issues of homelessness in a compassionate way through theatre, a form of community engagement, where people drop their guards, listen, & open up their hearts & minds."
In the multi-talented cast, Alikhan Lochin gives a star turn as rap artist Abbott, a young man who has survived on the streets for years trying to land the occasional gig as a spray can artist. Lorinda Hawkins Smith, playing Costella, is the queen of her Skid Row "White House," managing contact between residents and outside agencies. If civic-minded people drop off water, food, clothing and personal supplies, it's her task to distribute them to those who need them the most. It's likely no coincidence that these characters are so close in name to the famous old comedy duo of Abbott and Costello, who often played much put-upon working men constantly getting into trouble with the authorities.
Betzi Marroquin plays a Mother at her wits' end, attempting to exercise what little authority she has left over her freethinking daughter Vanessa (Veve Melendrez). Iron Donato plays a street character Darryl as well as a police officer with a trained lack of compassion for those he encounters on the street, making arrests as he pleases.
As Carmen, a coldhearted developer focused on making millions off of luxury condos in the high-rises for which she's getting approval from City Council, emelle is the chilling personification of greedy capitalism that cares not a hoot for what happens to the folks on the street. "A one-bedroom starts at three million…. The Mayor assures me this project is a go." Los Angeles is crawling with such real-life characters. (Breaking news: Another L.A. City Councilmember, Curren Price, is now being charged with exactly this type of lucrative collusion.)
And as James, a talented guitarist and songwriter who's trying desperately to find some peace and quiet so he can catch up on sleep in his tent, we have none other than Thaddeus Nagey himself. Adam Kreindle supplied the prerecorded voiceover for an audiobook that plays intermittent excerpts of a smarmy, obnoxious self-help guide to being an effective leader who knows how to manage others to achieve your vaunted goals.
More than one of the actors has experience living on the streets. Aside from Nagey, Iron Donato identifies himself as "a Skid Row Artist, Poet, Singer, Photographer, Dancer, Producer & homeless advocate. 'For those in poverty that seek positivity,'" he writes, "'I dedicate my life to help those in need. Together, we mend wings, sing, & restore dignity. Embracing empathy, kindness, humanity, it's my destiny.'"
Because It's Sunny unfolds over the course of a dozen or so scenes depicting different aspects of life on the streets of L.A. And with the introduction of each character we learn something of their backstory, how they wound up, and how society simply throws decent people to the gutter. Lost jobs, no health insurance, rising rents and eviction, of course, are frequent threads in these accounts, not to mention drugs. At times, where shelter from the elements and some temporary housing might be offered, social workers often encounter homeless people who frankly prefer their "freedom" on the street, their "escape from oppression," as the play's performers express it, even if it's near impossible to find a toilet. Tales recount lives lost to starvation, typhoid and rats.
Narrators studded throughout the audience break into the action from time to time with statistics—and questions. "California has the sixth-largest economy in the world. Who's gonna help us?" And on the theater walls, a constantly refreshed slide show augments our visual knowledge of Skid Row, decrepit tents silhouetted against gleaming skyscrapers.
Skid Row denizens often have their property seized if they don't clear out in 24 hours. Municipal codes to that effect are always being revised and passed—not to make life any easier for the homeless but to clear the sidewalks of human obstacles to rent-paying residents and profitably employed downtown workers. Children are taken from parents, and the police presence is ubiquitous: Their crimes, including outright murder, go unreported and untried. Living in your car is already considered one step up from total homelessness.
As Costella says, she is "a 24-hour protester," well aware that her very agency of holding onto her street corner is a constant act of resistance. "This is a genuine recovery community." The residents bond to create a Skid Row Neighborhood Council mounting a demonstration calling for affordable housing for all. They call out the billions of dollars "crushing our works, our homes, our town."
As the real estate lady sings, "They must disperse because the money always comes first," residents answer, "Nowhere to go when the rain starts to flow"—giving the lie, as everyone living here knows, to the saying that "it's always sunny in L.A." When the streets are drenched, your tent and everything you own can be swept away in the stream.
"If you can't afford rent," some Ayn Randian sage declaims, "you should be homeless!" as the patriotic anthems swell.
"Do I deserve to be alive?" the veteran asks, he who unloaded thousands of dead bodies from planes returning from Baghdad and Bagram. He's gone through times when he survived on an apple, an orange and two slices of bread per day. "Is there a god?" he implores.
As the minutes pass, it seems more and more of the questions posed are addressed not just hypothetically to the deaf sky but directly to the audience. A woman dies in front of us and the cop, who is not a medic, is unauthorized to touch her or intervene. "It happens all the time," he mutters. And her daughter speaks out—as much to us as to the cop—saying, "You just stand there and do nothing watching me die…. My mother was hungry, my mother is dead. What's wrong with this country?"
It's reassuring to see an updated version of the old agitprop theater on an L.A. stage. It has some of the drawbacks of that genre—preachiness, almost caricatured personalities—yet these flaws can certainly be explained and justified. Still, I wonder, in such an in-your-face production, if all the right questions are being asked. Do we come away clear-minded about what purposes such widespread, visible misery serves? Certainly the U.S. has the material resources to resolve a problem of these dimensions within six months' time, with all the supportive services you could shake a stick at. But we don't, and there's little will to do so. Is that desperation meant to show low-paid, subminimum wage workers that they could be even worse off than they are already?
Why does the wealthiest nation that's ever existed on earth have a glaring problem like this? How do other advanced countries deal with the causes of homelessness, and obviously far more successfully? I don't know, maybe these questions are so self-apparent they don't even need to be asked so boldly. They are certainly implied in the course of a riveting 95 minutes.
As I was wrapping up this review I heard a radio news report about L.A. Mayor Karen Bass's efforts on homelessness, her signature issue, the one voters trusted her with in her election a few months back. Without assuming too much too soon, it appears that her program has been working so far: 13,000 people now housed who weren't a few months ago, and other developments for permanent housing. With fingers crossed, we shall see.
The musical is written and produced by Thaddeus Nagey, who co-composed the score with Tim Poulin. Karesa McElheny directs—she also provided set, costume and lighting designs—with musical direction by Garth Herberg. Ray Lewis and Marcos Mayes create magically mesmerizing intoxication on drums and percussion. Elizabeth Ellie Rodríguez is the choreographer. Poster art and graphic design are by AwildOun. The sound design is by Tim Poulin. Nagey also helped with light and visual design, as well as set and costume design. Artwork by Diane Prozeller is on display at performances of the musical.
The one-act Because It's Sunny in L.A. runs through June 24, with performances on Sat., June 17 at 5 p.m., Sun., June 18 at 6:30 p.m., Fri., June 23 at 8:30 p.m., and Sat., June 24 at 5:30 p.m. The Hudson Backstage Theatre is located at 6539 Santa Monica Blvd., Los Angeles 90038. Online tickets can be obtained here.
We hope you appreciated this article. At 

People's World

, we believe news and information should be free and accessible to all, but we need your help. Our journalism is free of corporate influence and paywalls because we are totally reader-supported. Only you, our readers and supporters, make this possible. If you enjoy reading 

People's World

 and the stories we bring you, please 

support our work by donating or becoming a monthly sustainer today

. Thank you!