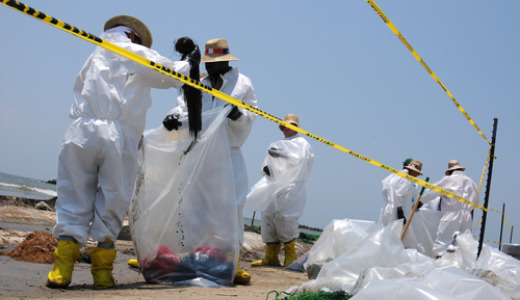 Oil washed ashore on Florida beaches today as the toll across the Gulf Coast continued to mount: tens of thousands already out of work, countless sea birds and brown pelicans mired in oil, fisheries shut down, cleanup workers falling ill and scientists warning about dangers to the health of the general population.
Lifelong shrimp farmer David Dixon sits idle at his bait shop in St. Bernard Parish, La., as federal authorities have closed nearly a third of U.S. Gulf of Mexico waters to fishing. His shrimp boat, docked in back of the shop, has been turned, like hundreds of other shrimp boats, into an oily boom boat.
"It's the only work available," he said. "It's not what we want to do but when they call us we'll do it because there's nothing else." He was referring to BP's enlistment of area fishermen and their boats in laying protective booms against the advancing oil.
Dixon said he worries about the long-term health effects of working amidst the oil and dispersants.
Scores of cleanup workers are falling ill and at least nine have been treated at Louisiana's West Jefferson Medical Center. Dr. Robert Chudgen, a physician there, said, "They are suffering from irritated skin, nausea, difficulty breathing and dehydration." BP at first tried to dismiss reports of illness among cleanup workers, suggesting food poisoning was the cause.
Many medical experts say there are long-term dangers for the entire population in the area, including possible blood, lung and genetic disorders.
Oil came ashore on Pensacola Beach in Florida, part of the Gulf Islands National Seashore, which advertises "the world's whitest beaches."
Keith Wilkins from Florida's Escambia County emergency management said tar patties were thick along the Pensacola beach, often not more than a foot apart. No cleanup crews were anywhere in sight along the beach, Reuters reported.
In Gulf Shores, Ala., the surf brought oil, and a strong petroleum smell tinged the air.
Meanwhile BP said a cap has been placed atop its blown-out Deepwater Horizon well and has been collecting some oil. Robots a mile beneath the Gulf put the inverted funnel-like lid in place.
A top BP official said this morning that the dome should capture 'the vast majority' of leaking oil, though some seepage will continue in a best-case scenario."
Live video footage, however, is showing what appears to be an unimpeded flow of oil into the Gulf.
Some of the most right-wing politicians in the Gulf seem to be reconsidering their open support of BP.
Mississippi's Republican Gov. Haley Barbour, who just last week encouraged residents and tourists to frolic in the oil-tainted waters off his state's coastline, has been quiet this week. The governor, who received $1.8 million in campaign contributions from BP, had defended the company in the first weeks of the crisis.
Bloomberg News said in an editorial that "Republicans' embrace of offshore drilling and their skepticism of 'big' government may hamper the party's efforts to gain politically from President Barack Obama's handling of the disaster in the Gulf of Mexico."
Federal regulators late yesterday rescinded two new offshore drilling permits – less than 24 hours after authorizing them – as part of the temporary halt to oil and gas exploration in shallow Gulf of Mexico waters. Oil and natural gas producers drilling in 500 feet or less of water will be able to resume operations once they resubmit plans and comply with new safety standards the government will soon be issuing.
Photo: A Health Safety and Environment worker collects pieces of an oiled snare boom so it can be disposed of safely May 29, in Port Fourchon, La. Hundreds of HSE workers contracted by BP and under the direction of the U.S. Coast Guard are cleaning up oil from the Deepwater Horizon/BP oil spill, which began washing up on beaches here one month after the drilling rig exploded and sank. U.S. Coast Guard photo by Petty Officer 3rd Class Patrick Kelley.