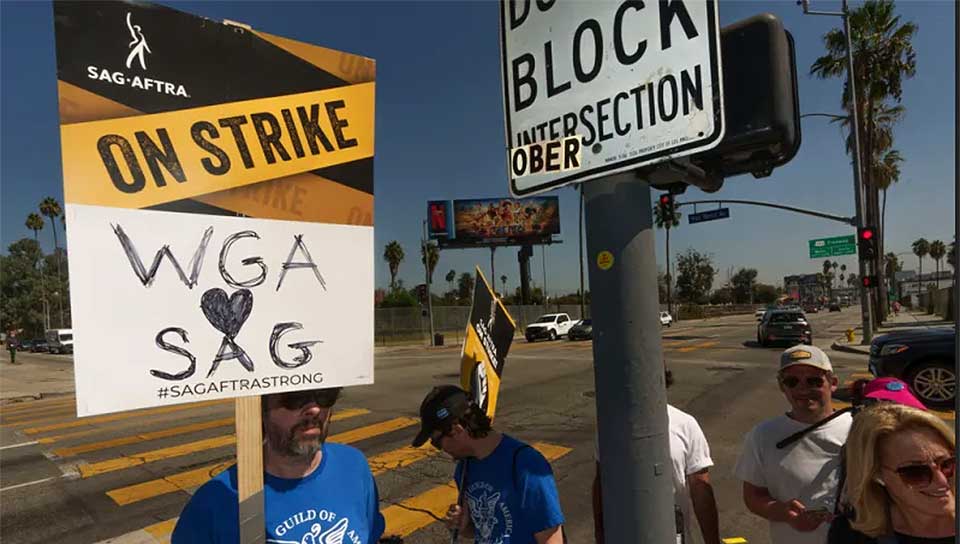 HOLLYWOOD and NEW YORK—Some 11,500 writers for movies, TV shows, streaming videos, Netflix, and Broadway stages, in New York, Los Angeles, and elsewhere, will vote from October 2-9 on a tentative three-year contract with their bosses, represented by the Alliance of Motion Picture and Television Producers.
Bargainers for the scribes' union, the Writers Guild of America-West, for the Hollywood studios, and WGA-East, for the Broadway stages, sent their members back to work at 12:01 a.m. Pacific Time/3:01 a.m. Eastern Time on September 27. They were out for 146 days. The new tentative agreement runs from Sept. 25, 2023, through May 1, 2026.
"This allows writers to return to work during the ratification process, but does not affect the membership's right to make a final determination on contract approval," bargainers said.
The writers' return does not mean Hollywood in particular is back open for business. That's because the 160,000 members of SAG-AFTRA, which represents performers in those same shows, are still on strike against the AMPTP and over almost all the same issues. Both strikes have drawn wide and deep public support.
Issues include low pay, lack of residuals, a high floor before workers are eligible for company-paid health care, and AMPTP's greed at taking workers' jobs away through the use of computer-replicated artificial intelligence to copy a performer's body, face, motions, and words in one-day sessions, and then use them, without pay, forever.
"We didn't take any old deal that was on the table," young African-American writer Kyra Jones told the Associated Press in a video it posted online. "The younger writers and minority writers were spearheading the strike this around and I feel really proud to be part of that group.
"We're going to have to keep fighting. There'll be new issues or issues that we didn't address, three years from now. One of the reasons the studios were able to get away with some of the s— that they do is that the unions weren't all speaking up and standing up for each other. Now they are and we can't let this die. We got to keep showing up for SAG, too."
Minimum pay for most writers will increase by 5% on ratification, and 4% and 3.5% on May 2 in each of the following two years. Some increases will be a straight 3%. The contract summary didn't specify which ones. There will be larger health and pension contributions for writing teams—a staple of TV shows—and there will be strong limits on the bosses' use of artificial intelligence. And shows will have writing teams of at least three writers.
The AI limits include: "AI can't write or rewrite literary material, and AI-generated material will not be considered source material…meaning AI-generated material can't be used to undermine a writer's credit or rights."
A writer can choose to use AI, but only if the film, stage, or video firm consents. "But the company can't require the writer to use AI software (e.g., ChatGPT) when performing writing services," the union's contract summary says. And the company must tell the writer if AI produced any material it gives the writer.
"The WGA reserves the right to assert that exploitation of writers' material to train AI is prohibited by" the contract or by law, it adds.
Payments for streaming videos and residuals—payments for reruns—will vastly increase, and, for the first time, the residuals will be based not just on U.S. viewership but foreign viewership, too.
"When a feature-length project is made for streaming with a budget of $30 million or more, the minimum initial compensation for a story and teleplay is $100,000, an 18% increase from the current rate and a 26% increase in the residual base," the contract summary says.
"Combined with the foreign residual improvements, this results in a 3-year residual of $216,000 for projects on the largest services, a 49% increase from $144,993 under the 2020" contract.
SAG-AFTRA congratulated the Writers Guild on its tentative agreement but made clear its own strike against the studios, networks, streaming video producers and the like continues.
"SAG-AFTRA congratulates the WGA on reaching a tentative agreement with the AMPTP after 146 days of incredible strength, resiliency, and solidarity on the picket lines. While we look forward to reviewing the WGA and AMPTP's tentative agreement, we remain committed to achieving the necessary terms for our members," its statement said.
"Since the day the WGA strike began, SAG-AFTRA members have stood alongside the writers on the picket lines. We remain on strike in our TV/Theatrical contract and continue to urge the studio and streamer CEOs and the AMPTP to return to the table and make the fair deal that our members deserve and demand."