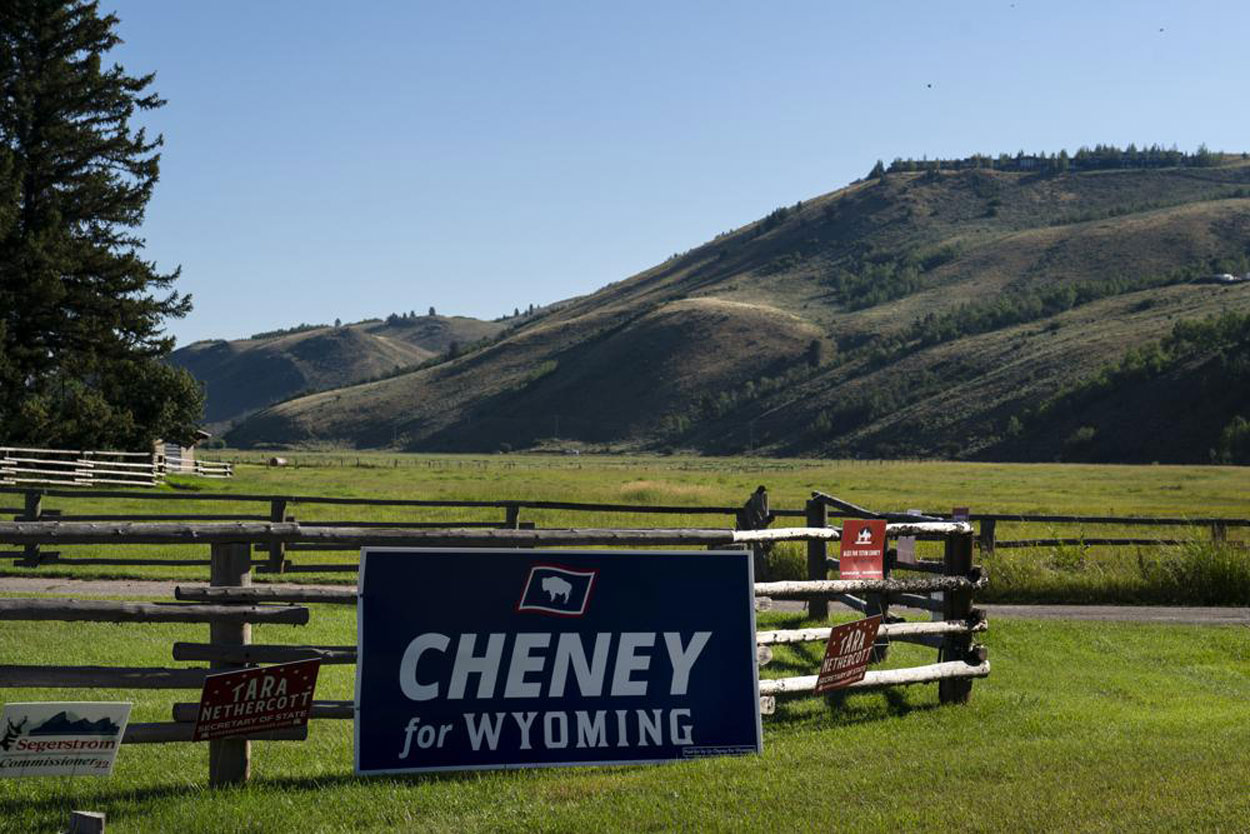 In the final ad of her campaign, right wing Republican Liz Cheney, despite her history of backing Trump to the hilt while he was in office, said the choice was between support for the constitution by voting for her or against the constitution by voting for her Trumpite opponent.
As Primary Day approached it looked like Trump's campaign to defeat her was going to succeed.
The final survey before Wyoming's August 16 primary gave Hageman, a 2020 election denier, a 57%-28% margin in a state Trump won 69.5%-26.4% over Democrat Joe Biden—his widest margin in the nation. That didn't faze Cheney, she said.
"Millions of Americans across our nation, Republicans, Democrats, and independents, stand united in the cause of freedom," she says in closing the 2-minute 21-second spot, entitled, "The Great Task."
"America cannot remain free if we abandon the truth," she declares at the start. "The lie that the 2020 election was stolen is insidious. It preys on those who love their country," Cheney says—a polite description of the Trumpite invaders of the U.S. Capitol on Jan. 6, 2021.
"It is a door Donald Trump opened to manipulate Americans to abandon their principles, to sacrifice their freedom, to justify violence, to ignore the rulings of our courts and the rule of law." Trump ignored the courts, too. He went 0-for-62 in courtroom challenges, state by state, to the 2020 results.
"This is Donald Trump's legacy, but it cannot be the future of our nation." If Trump and his worshipers, including Hageman, triumph, such chaos reminiscent of January 6, "will become the future of all elections. America will never be the same," Cheney warns.
"We are stronger, more dedicated, more determined than those who are trying to destroy our republic. This is our great task. I hope we will prevail. I hope you will join me in this fight."
Trump, irate over Cheney's apostasy—notably her vote to impeach him for ordering and inciting the U.S. Capitol Trumpite insurrection and coup d'état try–has vocally and often backed Hageman.
It should be remembered, however, that before the insurrection, Cheney was a down-the-line right-wing Republican during the Trump years and before. Generations of right -wing Republicans like her and her father, the Dick Cheney, who was vice president under George Bush, laid the groundwork of racism, anti-communism and attacks on the labor movement that opened the way for an autocrat like Donald Trump to succeed.
Backed Trump all the way
During Trump's term in the White House, Cheney backed his Mexican border wall, voted to criminalize abortion after 20 weeks of pregnancy, for the $1.7 trillion Trump-GOP tax cut for corporations and the rich, voted to weaken the Dodd-Frank financial reform law approved after the 2008 Wall Street-caused crash, and to kill the Republicans' bête noir, the Affordable Care Act, among other causes.  She has, since Trump's presidency, refused to speak out against GOP moves to attack the voting rights of Black and other minority voters.
And even after voting to impeach Trump, Cheney stuck with Republican opposition to everything Biden proposed: The American Rescue Act (the first anti-coronavirus aid bill), the new infrastructure law, the recent Inflation Reduction Act and its spending to combat climate change, the For The People Act of comprehensive election reform and on and on and on.
Her record with organized labor is similar. In the AFL-CIO's 2021 voting score, the latest year available, is zero on its 20 selected votes. Her score for her entire U.S. House career shows 14% support.
Nevertheless, she has displayed scorn for her Republican colleagues who live in fear of incurring the wrath of Trump.
Republicans have pushed her out of their ranks, just as they have for all but two of the other nine House Republicans who voted to impeach Trump for his ordering, urging and cheering on the Jan. 6, 2021 invasion, insurrection and coup d'état attempt.
First Cheney condemned Trump's coup. Then she voted to impeach him. Then sycophantic Trumpite House Republicans threw her out of a leadership post because she kept criticizing him. The Republican National Committee censured her.
The Wyoming Republican Party, captured by its extremist right wing, threw her out, too. Its chair, Frank Eathorne, is a member of the Oath Keepers, one of the two most prominent extremist/white nationalist groups that led the invasion. Eathorne attended Trump's pre-invasion January 6 speech. So far, he hasn't been indicted for going into the Capitol.
Then Cheney voted for and was named to the House Select Committee probing January 6, including its runup and its aftermath. As its vice-chair, she has played a leading role in presenting and analyzing the mountains of evidence it's uncovered—and in chastising her party colleagues for their simpering obedience to Trump. Now, the ad.
"I will work every day to ensure this exceptional nation long endures. My children and your children must grow up in an America where we have an honorable and a peaceful transition of power—not violent confrontations, intimidation and thuggery. Where we are ruled by laws and not by men," she says.
Besides Cheney, the other notable races on August 16 are in the nation's second-least-populous state, Alaska. But there, the primary will just winnow a big field for the U.S. House. And another Trump critic, Sen. Lisa Murkowski—one of the seven Senate Republicans who voted to convict Trump after the House impeached him—is expected to survive.
The big action
The big Alaska action will be in the dual races for the state's sole U.S. House seat: A special election among four hopefuls to finish the term of the "dean of the House," GOP Rep. Don Young, who died in March in his 48th year of service, and a 22-candidate stampede for four slots in this November's general election for the seat next year.
Former Republican Gov. Sarah Palin, a flagbearer for the radical right when she became John McCain's losing vice presidential choice in 2008 is among the candidates for that race.
Alaska has instituted ranked-choice voting for all its elections, with the top four primary finishers, regardless of party, advancing to November. Murkowski's virtually guaranteed a spot on that November ballot, but Palin's one of the 22. She's also in the special election, facing two other Republicans and Democratic former state legislator Mary Peltola. She too is in the 22-candidate stampede.
If elected, Peltola would be the first Native American Alaskan sent to Congress in its 63-year history as a state. "Our elected officials have not been representative of our state," she says on her campaign website. Alaska is 19.6% Native American, the highest proportion of any state.
If nobody gets a majority in either vote, the lowest-ranking hopeful is knocked out, one by one, and that candidate's voters' "second choices" are redistributed until somebody emerges with a majority. The latest polls show Palin running third in both, with nobody getting a majority. That means the ranked-choices will determine the outcome.
Win or lose in Wyoming, the 56-year-old daughter of a historically militarist vice president is vowing to remain in national politics as she considers 2024 presidential bid which could pose major challenges to progressives at that time.  Her policies, despite the hatred she is getting from Trump, would be likely to add fuel to the fires that helped usher in Trump's coming to power.
Tuesday's contests in Wyoming and Alaska offer one of the final tests for Trump and his brand of fascist politics ahead of the November general election. So far, the former president has largely dominated the fight to shape the GOP in his right-wing extremist image, having helped install loyalists in key general election matchups from Arizona to Georgia to Pennsylvania. If some of those loyalists, particularly in swing states, prevail in November, the fascist-leaning forces in those states could well control the machinery of the 2024 elections.
This week's contests are interesting too because they happen just just eight days after the FBI executed a search warrant at Trump's Florida estate, recovering 11 sets of classified records. Some were marked "sensitive compartmented information," a special category meant to protect the nation's most important secrets. The Republican Party initially rallied behind the former president, although the reaction turned somewhat more reserved as more details of Trump crimes emerged.
In Alaska, a recent change to state election law gives a part-time Trump critic, U.S. Sen. Lisa Murkowski, an opportunity to survive the former president's wrath, even after she voted to convict him in his second impeachment trial.
The top four primary Senate candidates in Alaska, regardless of party, will advance to the November general election, where voters will rank them in order of preference.
In all, seven Republican senators and 10 Republican House members joined every Democrat in supporting Trump's impeachment in the days after his supporters stormed the U.S. Capitol as Congress tried to certify President Joe Biden's victory.
Reflecting Trump's hold on the GOP, just two of those 10 House members have won their GOP primaries this year. The rest have lost or declined to seek reelection. Cheney would be just the third to return to Congress if she defies expectations today.
The only one
Murkowski is the only pro-impeachment senator running for reelection this year.
She is facing 18 opponents — the most prominent of which is Republican Kelly Tshibaka, who has been endorsed by Trump — in her push to preserve a seat she has held for nearly 20 years. Trump railed against Murkowski on social media and in her home state of Alaska, where he hosted a rally with Tshibaka last month in Anchorage.
In contrast to vulnerable Republican candidates who kissed up to Trump in other states, Murkowski, who is also basically a right winger, continues to promote her allegedly bipartisan credentials.
Sarah Palin, the former Alaska governor and vice-presidential nominee, backed by Trump, hopes to spark a political comeback on today.
Shes finished first among 48 candidates to qualify for a special election seeking to replace Rep. Don Young, who died in March at age 88, after 49 years as Alaska's lone House member. Palin is actually on Tuesday's ballot twice: once in a special election to complete Young's term and another for a full two-year House term starting in January. She's running against Republican Nick Begich and Democrat Mary Peltola in the special election and a larger field in the primary.
Palin, carrying water for Trump, has been attacking Murkowski, a fellow Republican, and those who instituted the open primary and ranked-choice voting system in 2020.
"I've said all along that ranked-choice voting was designed to benefit Democrats and RINOs, specifically Sen. Lisa Murkowski (who stood no chance of winning a Republican nomination) along with other political dynasty family members in Alaska," Palin wrote in a recent statement calling for the law's repeal.
In Wyoming Cheney is attempting to buck the predictions of her loss by persuading enough Democrats to cast ballots in her Republican primary election. By some estimates, however, even if all the Dems in the state did that there may not be enough votes to overcome the right wing deluge of Republican votes.
Biden won just 26% of Wyoming's vote in 2020.
Anti-Trump groups such as U.S. Rep. Adam Kinzinger's Country First PAC and the Republican Accountability Project have worked to encourage independents and Democrats to support Cheney in recent weeks.
The former Vice President Cheney uttered what might be the best statement he has ever made regarding politics in the U.S. recently when he said of his daughter, Liz Cheney: "There is nothing more important she will ever do than lead the effort to make sure Donald Trump is never again near the Oval Office."