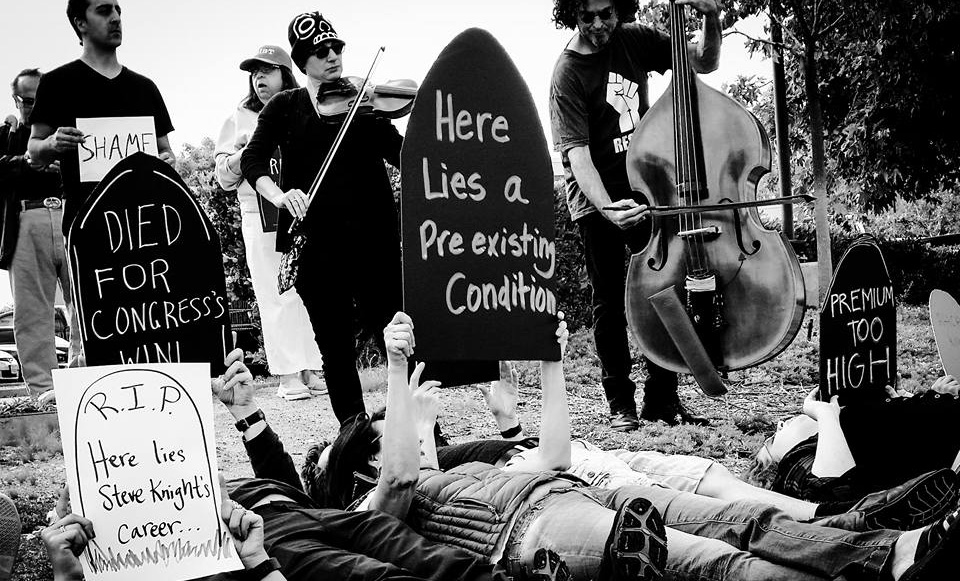 SANTA CLARITA, Calif. – Pressure on Representative Steve Knight (R-25th District) to be accountable for his vote to repeal the Affordable Care Act (ACA, or Obamacare) continues and appears to be growing in size and intensity. On Monday, May 8, another in a cluster of relatively new community organizations "hosted" a "You Suck Rally and Die-In" at Rep. Knight's office in Santa Clarita that began with rally participants chanting and lying down while holding placards and mock gravestones.
The "host" of the rally stated that they intend to let Knight know that his vote against the ACA was the "nail in the coffin" of his 2018 re-election campaign. Knight, a former California State representative who once voted to have the Confederate flag fly over the state capitol building, was one of 14 California Republican U.S. representatives who voted to repeal the ACA. Rally organizers pointed out that seniors, poor, and low-income working-class residents of Santa Clarita will lose medical coverage.
Other Santa Clarita Valley residents have also expressed concern about the impact on what are already sorely taxed Valley emergency care services. Knight has defensively pointed to his support for the creation of an $8 billion fund to float a pre-existing conditions pool. Community activists point out that American Medical Association President Andrew W. Gurman has already rejected this notion as being "woefully inadequate."
Activists present pointed to the size of the "You Suck" rally, estimated at over a hundred, which was larger than the previous demonstrations held on a weekday and during normal work hours. Also notable was the changing and more diverse composition, with more African Americans and Chicanos participating. A retired Chicana teacher, for example, handed out her own homemade leaflets saying that Knight only cared about "The Wealthy & Upper Middle Class, Large Employers, Tanning Bed Company Owners, (and) Steve Knight."
Present at the rally were both police and Homeland Security personnel. Using a bullhorn, they announced that rally participants were a bother to other tenants of the building where Knight's office is located, and that they had to leave the premises. Rather than dispersing, the crowd chose to march to a corner nearby that has heavy traffic, lying down on a grassy knoll while passing cars honked in approval.