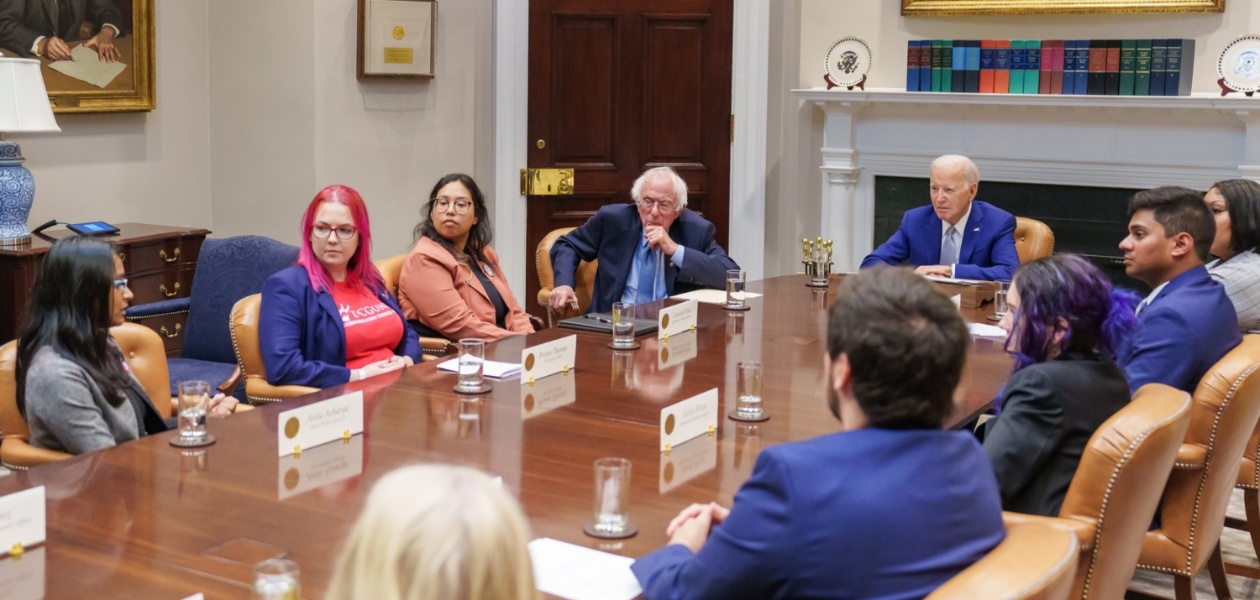 WASHINGTON—Ordinarily, Kumbar Nambiar, a young Yale grad, would be spending his Mondays off before relief pitching for the rest of the week for the Lansing Lugnuts, a Detroit Tigers minor league baseball farm club in outstate Michigan. Not on July 17, though.
Instead, Nambiar spent it at the White House telling Democratic President Joe Biden, Vice President Kamala Harris, and Senate Labor Committee Chairman Bernie Sanders, Ind-Vt., about why he helped minor league players unionize in one of the fastest organizing drives in history—two weeks.
And then he wrote about the meeting in The Payoff Pitch.
Nambiar was one of seven young organizers invited to meet the president, vice president, and the senator that day. Others at the session included Briana Thomas, an eBay shipping associate who organized her shop for TCGUnion-CWA, affiliated with Communications Workers Local 1123.
"In order to improve working conditions for everyone, we must not only win our union elections, we must secure union contracts!" Thomas tweeted later. She now sits on the bargaining committee.
But symbolic of the hurdles workers trying to unionize face was a third participant, Lexi Rizzo. Rizzo's the 25-year-old barista from Buffalo whose success at organizing the first-to-unionize Starbucks store there a year and a half ago touched off the nationwide campaign to bring collective bargaining to the coffee giant.
That drive has unionized more than 8,000 workers at 340 Starbucks stores from coast to coast. The latest, by a 14-7 vote, was at Bartonville, Texas, the same day Rizzo, Nambiar, Thomas, and the others met Biden and Sanders. Harris joined later.
But Rizzo's success also got her illegally fired by Starbucks, on a trumped-up charge of being late for work twice, for a total of four minutes. Such firings for little reason or none at all—save for the worker's union advocacy—are common during, and for Rizzo, after, union organizing drives.
"The presence of a union means there is democracy," Biden tweeted later. "And organizing or joining a union—that's democracy in action. Today, @SenSanders and I met with young worker leaders to discuss their fight for better pay and benefits. They are building the economy of the future."
Organizing is one thing, Thomas told Biden. Getting a first contract is another. That, the illegal firings, and absolute and illegal refusal to bargain, is where the Starbucks drive, an effort aided by Starbucks Workers United, a Service Employees offshoot, has run into company defiance.
The corporate coffee chain absolutely refuses to bargain with workers as a unified group from coast to coast. Management and their hired union buster walked out of two nationwide sessions after only five minutes of each. But it's much more than Starbucks, Thomas told the president.
"We were at the White House to discuss the ways they can support workers' struggle across the country not only to unionize but to bargain and win our first contract," Thomas said in a video interview CWA hosted with her after the White House session.
"It was important to have this conversation because we are part of a much wider labor movement right now where people are recognizing the need to unionize, to have job protections at work, to have livable wages and benefits that protect everybody. And it was great to see that they support that and that they support our rights to unionize."
The invitation to Nambiar came just two days before the meeting. He had barely enough time to prepare, call his parents, and catch a plane from Grand Rapids to get to D.C. First, Nambiar had to race across the street in Lansing to buy a suit since he didn't own one. A Kohl's department store had his size, which was lucky because "I didn't have a car" to go shopping anywhere else.
That alone tells you something about minor league pay—a condition that has now changed due to the new contract the minor leaguers, a big sector of the Major League Baseball Players Association, signed with baseball's major league teams.
In a warmup Zoom call, Nambiar was asked to discuss three topics, he wrote in The Payoff Pitch. "It was going to be a closed discussion in the Roosevelt Room located in the West Wing. They gave me three questions to think about before showing up: Why was it important to unionize, what are the benefits of our new contract, and why did I think it was important to be a leader?
"The first time I spoke was about why unionization for Minor League players was so important and life-changing: Salaries used to be low, housing was difficult to navigate, food insecurity was prevalent, and almost 20% of our jobs were cut during 2020 when Major League Baseball decided to unilaterally cut teams."
And then Biden walked in, asking "Mind if I join you guys?" and sat down two seats away. "My jaw dropped." Midway through, another participant, top Biden aide Tom Perez, got the president to ask Nambiar about why minor leaguers need the union.
"For the next few minutes, I spoke directly to President Biden about how life-changing our brand new Collective Bargaining Agreement has been and how I had been involved," Nambiar wrote.
After the rest of the discussion, Vice President Harris took Nambiar and a few others into her office for more one-on-one talk. Then they all adjourned to the Oval Office to shake hands with Biden and pose for a photo.
Once the session finished and the group left the Executive Mansion, Nambiar met up with his MLBPA contact outside and recounted the discussion to him over a beer or two. That night, he flew back to Detroit, and caught an Uber to Lansing, getting to bed at a typical late hour for a baseball player after a night game, 2:30 am, but after a most untypical off day.
We hope you appreciated this article. At 

People's World

, we believe news and information should be free and accessible to all, but we need your help. Our journalism is free of corporate influence and paywalls because we are totally reader-supported. Only you, our readers and supporters, make this possible. If you enjoy reading 

People's World

 and the stories we bring you, please 

support our work by donating or becoming a monthly sustainer today

. Thank you!