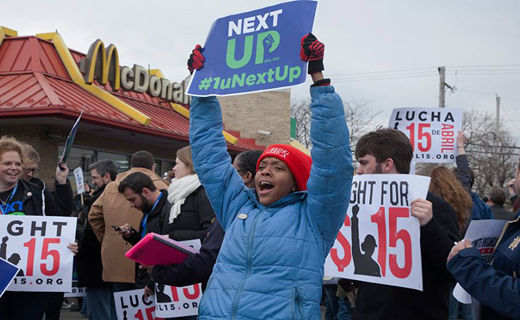 CHICAGO – The 2015 Next Up Young Workers Summit had all the hallmarks of a youthful presence, inspiring change and justice through activism and quashing notions that the labor movement is not drawing in young workers. Quite the contrary, they were at the forefront over the course of this four-day weekend event.
More than 1,000 young union activists gathered here March 19-22 for the summit, where participants drew on their experiences to map out strategies to fight for higher wages, immigration reform, student debt reform and an end to discrimination, among other things.
For too long, many naysayers have suggested there is a disconnect between young people and unions, but when young worker Caniesha Seldon spoke with the People's World, she showed that once people like her become aware of the struggle, they jump right in. Seldon, who resides in Washington, D.C., is a member of the Office and Professional Employees International Union (OPEIU) Local 2 and their international representative to the AFL-CIO Young Workers Advisory Council. She is also chief steward at the American Federation of Government Employees (AFGE) and staffperson at their young worker program (Y.O.U.N.G.).
Seldon remarked, "It was the benefit of joining a union that attracted me. Also, I had the skill set for the job, and the idea of social justice was very appealing." But prior to working for OPEIU, she did not realize what unionism entailed. "Working for a union is a little bit different," she said. "It's one thing to get paid. What I do for OPEIU is full-on union activism. I've taken on so much more responsibility, and the ability to do that comes from the education I got on the job."
She noted that the summit will be a huge step forward, establishing a new movement for young workers. "Since this event started, (this was the third annual AFL-CIO Young Worker Summit) so many young people are taking on responsibilities. There's definitely a change. People are seeing value in grassroots activism."
Prior to this, she said, one of the problems was merely that unions did not know how to reach out to millennials, but that is quickly changing. "Issues that were important to young people were never in the room. Their viewpoints weren't addressed. We didn't make young people vocal enough in labor spaces because we were not enough a part of those spaces."
In addition to many other things, the summit remedied that matter. Issues including LGBT rights, racial justice, young women's rights, and various plights including those of fast food workers, were placed under the spotlight, and AFL-CIO president Richard Trumka reached out to them during his speech to a mass gathering of summit participants on Friday.
"Your activism is compelling," said Trumka, "and, in fact, quite inspiring. Your politics are exactly right. And your energy is one of the most powerful things in the world. For those reasons and a whole lot more, I'm honored and excited. This summit is critical. America is begging for change on a grand scale. The kind of change that, quite frankly, has always been led by young people.
"Back in the 30s when unionism lifted up a nation and built the biggest middle class the world has known, young people led that fight. And in the 50s and 60s when the civil rights movement brought our nation closer to true equality, young people were the vanguard of that struggle. For movements for LGBT and gender equality, immigrant rights, fights for public workers in Wisconsin and Ohio, and the political victories that elected America's first African American president – all across this country, young people have led and are leading the organizing, and marching, and mobilizing. That's very essential, and that is you."
If some young people are apathetic or disenfranchised, said Seldon, it's because of corporations that see them as replaceable. "Corporations are being built that way. Making money on the backs of people that are desperate. They've capitalized on the very hostile environment that they've created." This event, she agreed, could turn that around. "This summit was built to give people the tools to fight back and join their voices together in a way where they will go home and still continue the struggle. People are forming regional and state-based relationships. We are joining people together, and that's part of the very design of this summit."
Erica Clemons, an organizer with the UFCW, Local 881 and representative on the Young Workers Advisory Council, said that unions are indeed speaking to young people's issues now. "I'm a young organizer," she said. "A person of color. A mother. These identities matter to me. It's important for the labor movement to understand unique struggles. It was good to see Trumka speak out about racism. He reminded us that if we let ourselves be divided, we will lose, every time. President Trumka knows about being a young person in the labor movement."
Trumka had nbeen elected to the leadership of his union, the United Mineworkers of America, by the time he was in his early 30's., Clemons noted.
For Trumka's part, he was enthusiastic and optimistic about the progress young workers are going to make going forward. "We're going to lift America up," he said. "And I count my lucky stars every day that I get to be a small part of it; that I get to participate in the fight that you're going to wage and the country that you're going to build. This is your day, this is your time, your voice, your power. America needs you and we're going to stand together and win together. Keep on marching, keep on organizing, keep on educating, keep on voting. Just keep on keepin' on, until we win."
Photo: A thousand participants at the Young Workers Summit left the event this weekend to take to the streets of Chicago and support the struggles of workers in the fast food industry. | Next Up Young Workers Summit Facebook page