Basketball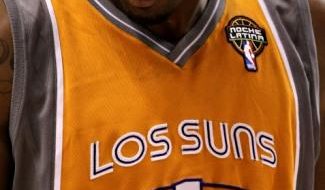 May 10, 2010
Maybe what the Phoenix Suns basketball team needed during their historic sweep over the San Antonio Spurs in the Western Conference semifinals was a little courage and teamwork to stand up for what's right.
Read more
March 28, 2009
The basketball and hip-hop culture fusion born in 1984 that is known now as The 'Dunkadelic-Era' In America, 1984-Present. The 'Dunkadelic-Era' is celebrating its 25th Anniversary during the year 2009 (1984-2009).
Read more
February 17, 2009
February 16 (Xinhua) Nate Robinson of the New York Knicks upset defending champion Dwight Howard to win the slam dunk competition Saturday at the NBA All-Star weekend.
Read more