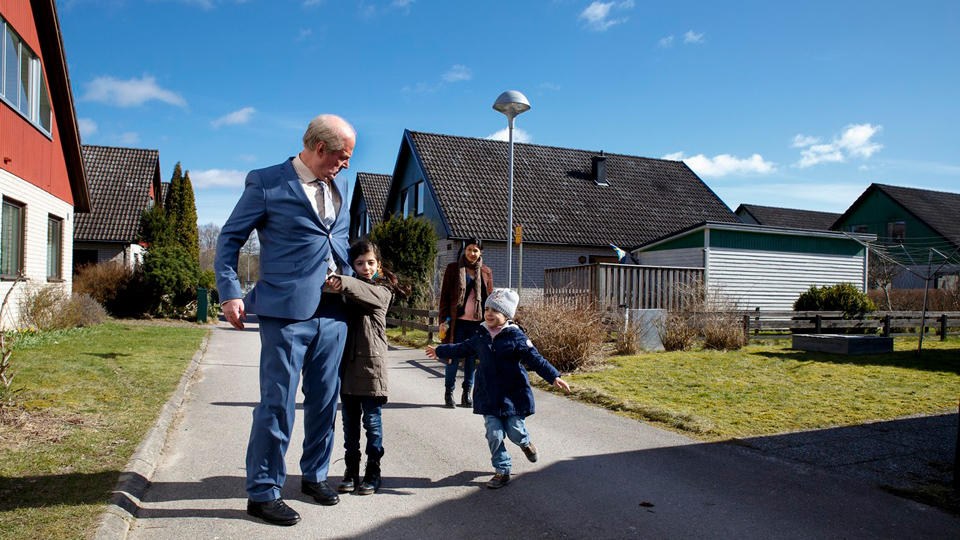 A Man Called Ove is a new Swedish film based on the 2012 eponymous novel by Fredrik Backman. It's feel-good story that recalls It's a Wonderful Life in showing that we often do not fully appreciate the positive effect we may have on our surroundings, or not until it's too late.
The protagonist Ove (pronounced Ooh-veh) Lindahl is a burly Swedish Gérard Depardieu type, played to the max by Rolf Lassgård, whose performance won him the Best Actor award at the 2016 Seattle International Film Festival. Filip Berg plays the younger diffident Ove in the poignant flashback scenes.
Ove is a working-class Swede who spent 43 years around railyards, force retired now at 59, living by himself, and lording it over everyone in the private housing complex he used to manage. He's offended by other people's every misstep and infraction of the rules, an extremely difficult man to please, a pedant, a grouch and crank.
But the times they are a-changing, as newer couples move into the neighborhood, including a native Swede, Patrik (the maladroit Tobias Almborg) and his Iranian immigrant wife Parvaneh (the saucy Bahar Pars), who have two adorable little girls with another child coming soon.
Who is the curmudgeon and where does he come from? Well, I'm a bit of a one myself, so let me try to explain: In a world with so many uncertainties, where things don't always fall our way and often seem to spin into chaos, the curmudgeon orders their life just so. In that way there is least some feeling of control and personal agency, something they own that no one can take away. Some folks apply their strict set of rules to lots of areas in their life and we all know them: They can be insufferable, blaming others and demanding that you always conform to their ways. I happen to be that way about grammar and spelling, and fortunately (but you'd have to ask my friends) not about too much else. (In my defense, even about grammar, I bend to the times — notice the use of "their" and "they" for a singular who could be male or female.)
Ove spends his days minding everybody else's business and visiting his wife's grave to bring flowers and unburden his troubled soul. He owes a great deal to Sonja (Ida Engvoll), as she is the only person who truly saw under his gruff surface to perceive the mentsh living within. She loved and encouraged him: At her urging he furthered his education with a degree in engineering, and improved his lot. And they created a comfortable, cultured home together.
But now, as of six months ago, she's gone. Cancer. His several well thought-out plans to end all his travail fail hilariously, although of course we know that suicide among working people who feel their productive lives are over is an all too common cause of death.
We see a great deal of Ove's antisocial conduct. He's a Saab loyalist in a fierce rivalry with Volvo lovers, and a martinet for regulations. His short fuse several times practically sends him into apoplectic fits. We begin to worry if he's going to explode and hope he's checking his blood pressure.
From the flashbacks that fill in his story we appreciate the deep pain he suffered early in life, which, according to his unarticulated code of manliness, he never properly grieved. Yet despite those losses, he also inherited — perhaps from his mother who died when he was only a boy — an angelic bent that brings saving grace to his world. If you overlook his crustiness, you can see this is a man kinder to others than to himself.
Gradually, Ove starts responding to his new world as a widower. He enjoys Parvaneh's container of homemade Persian chicken and rice. Kids like him. Even an abandoned cat likes him, and he takes it in. He offers driving lessons to Parvaneh, and performs almost miraculous favors for people as he remembers how kindly and supportive of other people Sonja was.
Surprisingly, when he hears that Mirsad, the young gay Iranian from the local kebab shop, has to leave home because his father would kill himself if he found out about his son, Ove is OK about Mirsad moving in with him. Our first impressions of Ove do not entirely define the man.
Sweden is a highly evolved social welfare state, but there is always some tension between government and the governed. Ove thinks recycling is the fault of the Commies. And he has a generally poor opinion about what he calls the "whiteshirts" — bureaucrats who tell citizens what to do and where to live. (Of course he would not agree that in his housing tract, he himself is quite the whiteshirt himself.)
And then there was that time when the state did not move quickly enough to erase the barriers blocking disabled access, and he singlehandedly took it upon himself to build a ramp to a school so that a wheelchair-bound teacher (Sonja, as it turns out) could pursue a fulfilling career.
This warm dramedy with a runtime of just under two hours gives us many unexpected rewards. Scoring 92 percent on Rotten Tomatoes, it's fine filmmaking that nicely balances the personal and the social. Hannes Holm helmed in one of Sweden's biggest box office hits ever. It was Sweden's Official Foreign Language Submission for the Academy Awards, in limited release now, and available on DVD on December 27th.
The trailer can be viewed here.