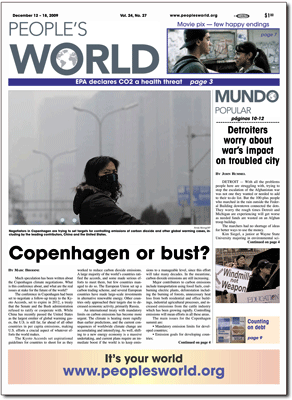 This issue marks the second-to-the-last 12-page newsprint edition of the People's World/Mundo Popular for 2009 – and for the immediate future. Next week's issue, dated Dec. 19, 2009 – Jan. 1, 2010, will be the last.
It's a bittersweet time, for there are a number of us still around who love the kind of feel and accessibility that a traditional newspaper offers. We like to turn the pages, skim the headlines, and flip to our favorite section. We like to roll it up and put it in our pocket, or leave it on the train in hopes that it will attract another person in the way it has attracted us.
But there is a whole other generation that has never fully utilized the newsprint delivery method. This under-40 generation gets its information from television (most notably Jon Stewart's cable comedy show), Facebook and the Internet – often via their cell phones. In other words, digital technology.
Imagine if this technology had been around in 1917. John Reed and Louise Bryant would have been writing about the Russian Revolution on a blog called: 10 Days That Shook the World. People around the world would have read their dispatches through their laptops, cell phones or even game systems. Reed's writings would have come with video, audio and photographic slideshows. The blog would have linked up with other blogs around the world, and with a few clicks you could have gone right to Vladimir Lenin's dispatches in Russian. Then with a few other clicks, you would have had an approximate translation in your mother tongue.
They didn't have this new technology, but we do. It presents all newspapers with many challenges. The challenge for the People's World/Mundo Popular is how to deploy our limited resources to fully take advantage of this new age and the potential it represents.
Since May 1, peoples world.org has been publishing daily, a tremendous breakthrough in re-establishing the Marxist, working-class daily press. In September, peoplesworld.org launched its new and highly improved website. And in January, when all of our modest human and financial resources will be focused on this new technology, peoples world.org will be in a position to make further breakthroughs and growth.
You can do three things to help:
Make peoplesworld.org or mundopopular.org your home page.
Circulate our content through Facebook, e-mail lists, social bookmark sites or with our downloadable weekly PDF edition.
New year, 2010, promises to be full of the good fight for economic and social justice, and the People's World/Mundo Popular will be right in the thick of things, as we have for the last 85-plus years.