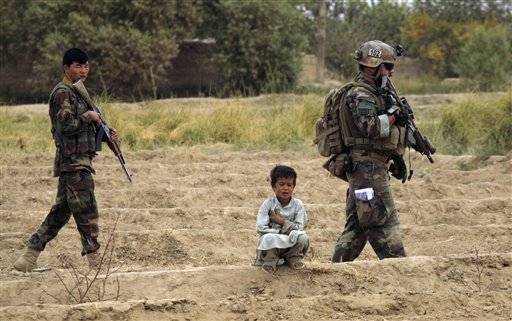 Afghanistan's fraud-scarred presidential election drama came to an apparent end Nov. 2 as Azizullah Ludin, chair of the country's Independent Election Commission, announced cancellation of the presidential runoff vote slated for Nov. 7 and declared the incumbent, Hamid Karzai, "the elected president of Afghanistan."
A day earlier, former foreign minister Abdullah Abdullah, who finished second in the Aug. 20 presidential election, withdrew from the runoff because his demands were not met for measures to cut down on widespread fraud experienced in the earlier vote. Ballots thrown out in a partial review of that election brought Karzai's total to less than 50 percent, triggering plans for the Nov. 7 runoff.
Asserting that the Afghan constitution did not require a runoff, Ludin said the commission wanted to avoid the security risks and high costs of another election.
Both the Obama administration and United Nations Secretary-General Ban Ki-moon congratulated Karzai. Secretary of State Hillary Rodham Clinton called Abdullah's withdrawal a "personal choice" that would not affect the validity of the outcome.
But foreign affairs commentator Simon Tisdall wrote in the UK Guardian, "This creative interpretation of the weekend's events ignored the fact that it was Hillary Clinton and Richard Holbrooke, the U.S. special Afghanistan-Pakistan representative, who only a few days ago strong-armed Karzai into accepting a second round" because the Aug. 20 vote was riddled with fraud.
Abdullah, a former eye surgeon, was once a top aide to Afghan mujahedin commander Ahmad Shah Massoud, who led the U.S.-backed fight against Afghanistan's People's Democratic Party government which had Soviet support in the 1980s. Abdullah was later associated with the notoriously corrupt Northern Alliance of warlords led by Massoud and Burhanuddin Rabbani, which opposed the Taliban in the late 1990s and was allied with the Bush administration in its October 2001 invasion of Afghanistan.
Speaking to his supporters Nov. 1, Abdullah urged them not to take to the streets in protest, and referred to his decision as "not the end of anything, but it is the beginning of something else," fueling speculation that he plans a future political role.
Meanwhile, at least 57 U.S. personnel died in Afghanistan last month, making it the deadliest month so far for the U.S. and bringing the overall total to a reported 831.
In a Nov. 1 posting, commentator Tom Engelhardt noted that insurgent attacks are rising and insurgent groups have made significant gains in eastern provinces. Attacks involving IEDs (improvised explosive devices) are three and a half times greater than in 2007, he said, while Taliban forces are increasingly able to conduct raids in the capital, Kabul.
As the Obama administration continues its in-depth review of U.S. policy in Afghanistan, including whether to accede to the request of Gen. Stanley McChrystal for tens of thousands more troops, a broad spectrum of antiwar organizations is urging that U.S. military involvement not be escalated, as a first step to the withdrawal of U.S. and NATO forces. Peace Action, United for Peace and Justice and others are calling for support of HR 3699 by Rep. Barbara Lee, D-Calif., which would bar funding for more troops, and HR 2404 by Rep. James McGovern, D-Mass., for a military exit strategy.
Photo: A member of the U.S. special operations forces and an Afghan soldier patrol in Afghanistan's Farah province. (AP/Maya Alleruzzo)