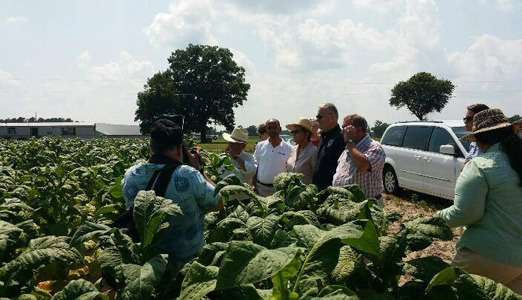 AFL-CIO Union Summer interns have joined members of the Farm Workers Organizing Committee (FLOC) in a drive to organize thousands of North Carolina tobacco farm workers as part of FLOC's "Respect, Recognition, Raise" campaign and fight for a fair day's pay for a fair day's work, respect in the workplace and union recognition.
Many farm workers who harvest and tend tobacco often live in labor camps with inadequate or nonfunctioning toilets and showers and other substandard conditions, suffer from illnesses resulting from nicotine poisoning and exposure to dangerous pesticides and work long hours for below-poverty wages.
Here are the stories of two Union Summer activists and the workers they met. Click on their names for more and click here for more from the "Respect, Recognition, Raise" blog.
"I have had some very good days with my team and some days that have not been so awesome. Already we have met so many workers who are demanding change. As we speak to them, we begin to understand that most of them know just how bad they are being treated and that they are workers who deserve dignity, respect and recognition for the hard work they do every day. The most common demand that workers ask for are higher wages. In North Carolina, minimum wage is $7.25, which is what undocumented workers and workers without a H-2A visa usually make. Those who do come with a H-2A contract should be making a minimum of $9.87 an hour. Yet, the workers we have spoken to agree that these wages are not appropriate for the amount of work they do.
"There have been other problems that have been mentioned. For example, at one of the camps we recently visited, the workers said they do not have access to bathrooms out in the fields while they work. I'm sure if more people knew about these conditions they would be shocked to find out that this is the way workers are treated in this country, particularly workers who help put food on our tables.
"I'd seen third world poverty before when I worked with a nonprofit organization in Honduras in the summer of 2012, but I still felt shocked when I went out to the camps of the trabajadores with whom FLOC organizers work to build community power. It was shocking, I think, because for the first time I was faced with the harsh realization that there is a widespread human trafficking operation of cheap labor thriving in my back yard.
"One of the ugliest things I've seen in the fields confronted me this past Tuesday night when my companeros y yo visited a worker camp in North Carolina that was surrounded by barbwire fence. For me, it looked like a prison. It made me think of a cage where the workers are contained until they are needed to work in the fields. There were approximately 60 people living in five to six trailers with worn out mattresses backed into a small space, allowing hardly enough room for people to move around.
"I realized that the poverty I witnessed in Honduras and the exploitation that the workers here in North Carolina experience are connected. Although, abstractly, I understood that they stem from the same roots of capitalism, imperialism, and racism, it was another thing altogether to witness the blatant disregard for even the most basic human rights that farmworkers are forced to endure every day. Wage theft, physical and verbal abuse, scorching heat and denial of water and/or lunch breaks and on and on."
Photo: FLOC President Baldemar Velasquez, AFL-CIO Executive VP Tefere Gebre, Representative Marcy Kaptur and UK MP's Ian Lavery and James Sheridan are currently touring tobacco fields in North Carolina, comparing the state of labor and human rights on union and non-union farms. The conditions vary considerably, but every tobacco field is hot in July! FLOC Facebook page.