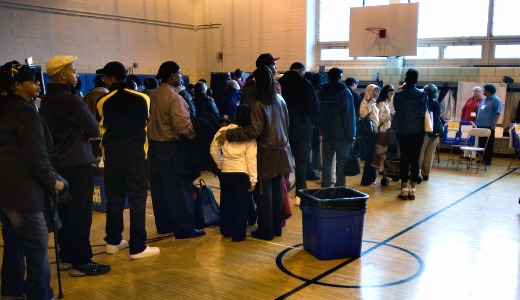 CHICAGO – African American community leaders have announced a drive to turn out 100,000 votes in Cook County for Gov. Pat Quinn, a Democrat running for re-election. The campaign will emphasize what's at stake for the African American community in an election that is expected to be very close.
Quinn's opponent is Republican State Sen. Bill Brady from Bloomington. Brady has called for repeal of minimum wage laws, outlawing abortion in all cases and deep cuts in aid to education. As voters have learned how extreme his positions are, Brady has been sinking in the polls.
The African American vote is a key block that must be turned out for a Quinn victory. There are some 875,000 voters alone in Cook County who didn't vote in 2006, but came out excitedly to vote for Barack Obama in 2008. The challenge, activists say, is to get as many of these voters to the polls as possible.
"We know participation in the upcoming elections is vital to address issues that are destabilizing our communities," said Jay Travis, an organizer for Kenwood Oaklawn Community Organization. "There are political and economic factors at every level of government that are drastically limiting the funding needed to address the problems. That's why we need a governor who will immediately and consistently fight on these issues."
"This election is about eradicating poverty, said Shantiel Simon. "We support Pat Quinn because to protect African American interests is to protect the poor, the middle class and working families who have become poor due to our economy."
The voter mobilization by the Coalition to Protect African American Interests is expected to help generate support for all the statewide Democratic candidates including U.S. Senate candidate Alexi Giannoulias, who is also in a very tight race. The coalition's efforts come amid an uproar over reports of a voter suppression plot being organized by Giannoulias' Republican opponent, Rep. Mark Kirk.
Kirk was caught on tape telling supporters, "I have now funded the largest voter integrity program in 15 years for the state of Illinois." Kirk boasted, "These are lawyers and other people that will be deployed in key, vulnerable precincts. For example, south and west side of Chicago, Rockford, Metro East, where the other side might be tempted to jigger the numbers somewhat."
The areas mentioned are predominantly African American and the plan is reminiscent of past voter intimidation efforts where Republican lawyers and operatives challenged votes in African American and Latino and other heavily Democratic voting communities.
The voter suppression tactics also come as right-wing outfits like FreedomWorks, led by Karl Rove, and the Chamber of Commerce are flooding Illinois with money in the Senate, governor and key congressional races. Kirk will spend $5.2 million in television ads over the final days of the campaign.
The coalition outlined four pressing issues facing the African American community: job creation and workforce development; criminal justice system reform; comprehensive education reform; and health care funding.
Simon said by mobilizing the African American vote, they were also standing in solidarity with the vast majority, including with immigrant workers, against "those whose concern is for the few and not the whole."
Photo: African American voters wait in line to vote in 2008. http://www.flickr.com/photos/carbonnyc/3002229361/ cc 2.0