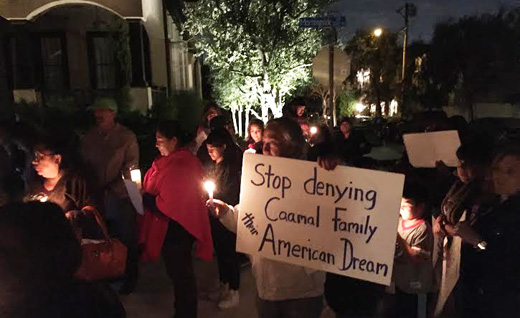 Mercedes and Pablo Caamal of Rialto, CA worked their entire adult lives to own their home, saving what they could and raising their five children. But now they are fighting the bank and another financial firm, who they say have improperly taken their home away. "It is hard to see all that my parents worked for slip out of their hands," said their 23-year old daughter Merari.
The Caamals say they were improperly foreclosed on in 2015, and are now being evicted by real estate investment firm Wedgewood Inc., a multi-billion dollar company that preys on victims of the foreclosure crisis.
Wells Fargo, the holder of the initial mortgage for the house, determined that the Caamal family did not qualify for a permanent loan modification and refused to accept their mortgage payments. Wells Fargo then foreclosed and sold the home to Wedgewood Inc. The Caamal family asked Wedgewood to allow them to buy back their home. Wedgwood agreed to sell them back their home if they could show they qualified, but upon showing loan approval Wedgewood asked for an additional $100,000. When the Caamal family returned with a new loan approval for the additional $100,000, Wedgwood still refused to sell them back their home.
During California's foreclosure crisis in 2010, the Caamals were laid off. Thinking they were going to have trouble making their payments, they applied for a loan modification but soon were able to find new jobs as cafeteria workers. Although they had never missed a payment in the three months that they were unemployed, at first the bank approved the modification, and their payments were lowered.
Then without warning, the Caamals say, Wells Fargo reversed course, informing them that they did not qualify for a permanent loan modification and suddenly refusing to take their payments. The bank then foreclosed on the Caamals' family home, even though they had never missed a payment.
Wedgewood then bought the house, at a lowered price of $284,000. The family asked the company to give them a chance to buy the property back. Wedgewood agreed, pending approval of a loan. The family was able to qualify in the agreed-upon amount of time. The Caamals say that the investment company then said it would require an additional $100,000 beyond the set price of the home. The family again qualified with for that extra $100,000 required by Wedgewood, but they still refused to sell them the house back.
"A representative of Wedgewood asked if they could come by and take pictures of the house. I said yes," said Pablo Caamal. "Once they saw the location of property and the addition, that is when they refused to sell it back to us, and I then made the decision to fight back".
The house is on a large corner lot across from an elementary school in a quiet community but close to freeway access, making it an ideal home for commuters and families with young children.
In its corporate promotional materials, Wedgewood claims to be the largest purchaser of foreclosed properties, buying up 250 properties per month in all the western states and in Florida. According to Peter Dreier writing for the Huffington Post: "Speaking at a real estate conference last September in Florida, Greg Geiser, CEO of Wedgewood Inc., an investment company headquartered in Redondo Beach, California, claimed that his firm is the biggest "fix and flip" company in the country… Geiser told the audience that the "distressed market" is "hot and sexy" and "new and trendy."
On March 25, the Caamals, along with family, friends, neighbors and members from Alliance of Californians for Community Empowerment (ACCE), a community-organizing group, occupied the property to demand that the eviction be stopped. On March 29, 2016 the Caamals filed a lawsuit against Wedgewood for fraud. The following morning, according to Mercedes Caamal, over a dozen Sheriff's deputies violently evicted and locked out the Caamal family. "They threated to kill our dogs, but I convinced them to let me put them in one of our cars," explained Mercedes Caamal. "They quickly handcuffed my two daughters and put them in a squad car." According to Mrs. Caamal, her husband refused to leave the property and was willing to get arrested; but "we felt that the safety of our two daughters was more important and we agreed to leave the property."
Later that evening approximately 30 supporters joined the family who visited the home of Greg Geiser, CEO of Wedgwood Inc. in the tony, exclusive community of Manhattan Beach, Calif., to ask that he accept their loan approval and sell them back their home. Although there was clearly someone home, no one came to the door.
"Neighbors came out asking why we were there and once we explained to them the Caamal family's situation, they were sympathetic," commented Martha Muñoz, a supporter who was present at the occupation of the home. There was singing of protest songs and chants referring to the greed of these investors that prey on families who attempt to achieve the American dream. Upon leaving, protestors informed the neighbors that Greg Geiser owed them an apology for any inconvenience caused, as he is the one who had refused an audience with the family.
The Caamals and ACCE are asking supporters to call Geiser at (310) 640-3070, or email him at greg@wedgewood-inc.com, to urge him to sell the home back to the family. Homeowners facing foreclosure can contact ACCE organizer Peter Kuhns at (213) 272-1141 to join the movement against predatory banks and investment firms.
Photo: Rossana Cambron/PW