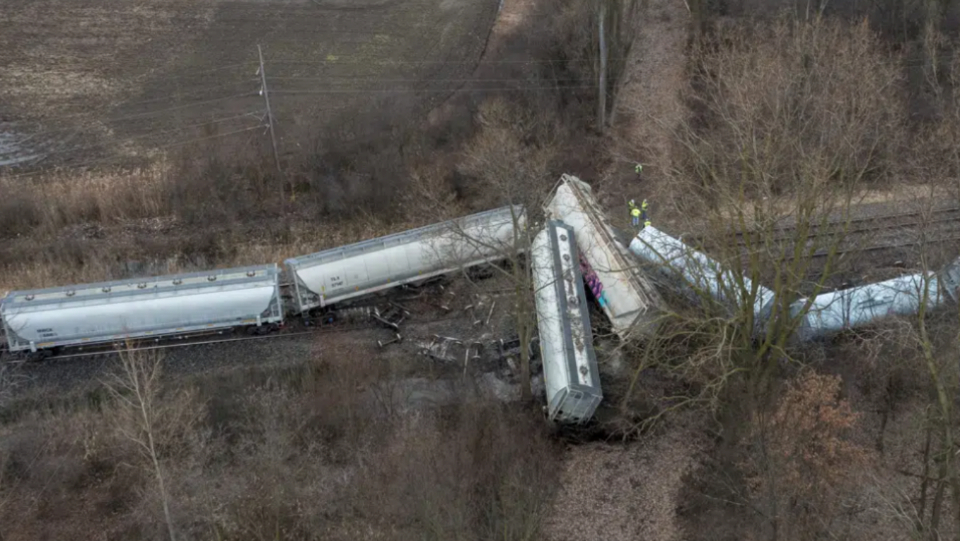 VAN BUREN TOWNSHIP, Mich.—A train operated by Norfolk Southern derailed just before 9 a.m. on Feb. 16 in an area west of the Detroit Metropolitan Airport. One of the train's cars contained hazardous materials. As of 7:30 p.m. on Thursday, police said no hazardous materials have been released as a result of the derailment.
U.S. Rep. Debbie Dingell said in a statement that the train car "carrying hazardous material has been put upright and is being removed from the area of the other derailed cars" and the EPA had sent a team to the scene of the derailment.
The Michigan derailment occurred just one day after Norfolk Southern representatives skipped a community meeting in East Palestine, Ohio, the village in which one of their trains derailed and released vinyl chloride, a carcinogen.
"Cowards. Absolute cowards. They don't want to answer our questions," one East Palestine resident told WSYX in relation to Norfolk Southern's absence. "They don't want to have to confront it. How can you look all these people in the face and tell them there is nothing wrong? How can you do that?"
On Feb. 16, the Railroad Workers Union issued a special report in which they listed six changes that should be implemented to counter railroad operators' cost-cutting initiatives:
Preserve the standard two-person crews.
Implement restrictions on train length.
Provide adequate time off for rail workers to mitigate fatigue.
Implement proper staffing levels to allow work to be done safely and efficiently.
Equip all railcars and trains with electrically controlled (ECP) brakes.
Implement safety programs that pinpoint hazards, not worker behaviors.
On Feb. 7, in response to the train derailment in East Palestine, the RWU issued a press release condemning cost-cutting initiatives by Class 1 railroads that have made trains less safe for workers and communities.
In the release, RWU said the root causes of the derailment in East Palestine and elsewhere were associated with the "hedge fund initiated operating model known as 'Precision Scheduled Railroading.'"
"The wreck of Train 32N [in East Palestine] has been years in the making," RWU said. "What other such train wrecks await us remains to be seen. But given the modus operandi of the Class One rail carriers, we can no doubt expect future disasters of this nature."
Last November, the RWU issued a press release in support of public ownership and control of the rail industry.
"The rail industry is alone as the sole means of conveyance that is held privately," said RWU Steering Committee member and freight locomotive engineer Paul Lindsey.
"Highways, inland waterways, seaports, and airports are all in public hands," Lindsey said. "Given the industry's inability to grow and expand and to adequately meet the needs of shippers, communities, passengers, commuters and workers, it is time that it too become a public entity."
The full press release calling for public ownership and control of the rail industry can be read here.
People's World has an enormous challenge ahead of it—to raise $200,000 from readers and supporters in 2023, including $125,000 during the Fund Drive, which runs from Feb. 1 to May 1.

Please donate to help People's World reach our $200,000 goal. We appreciate whatever you can donate: $5, $10, $25, $50, $100, or more.