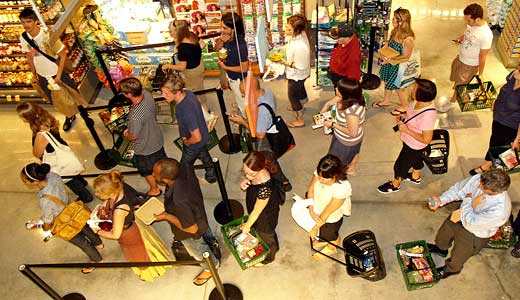 In the opening stages of a fight that continues to this day, more than 100 marchers in early 2002 felt that food stores without respect for unions could not be trusted with safe food. With signs reading "Shoppers Unite for Workers Rights and Safe Food," they marched to the British Consulate in Boston, calling for corporate responsibility from Shaw's Supermarket's U.K.-headquartered parent company, Sainsbury Corporation.
Shaw's had been aggressive in its goal of destroying support for the workers' union, the United Food and Commercial Workers Local 1445. They also threatened to raise workers' cost for health insurance all the way from $25 to $77 a week.
According to UNI Global Union, Cassie Watters, of Massachusetts Jobs with Justice, said that the marchers were "concerned about the lack of respect that Shaw's Supermarkets" showed "to their workers and customers," noting that the workers' rights to organize for better pay and working environments were being stepped on. "And," Watters added, "the customers are consuming products that contain genetically modified foods, without being given any warning."
GM foods are derived from genetically modified organisms, which have had their DNA changed by genetic engineering. GM foods risk both human health and that of the environment, and there is no law in the U.S. that requires genetically modified organisms to be labeled as such, according to How Stuff Works. Moreover, the USDA recently deregulated genetically engineered alfalfa, which is a big part of the diets of farm animals. As many of these animals will eventually be consumed by people, countries throughout the world are troubled by the potential health risks involved.
Organic foods filled with genetically modified organisms are a contradiction, reported Medical News Today, but it is becoming increasingly difficult to find health foods in the U.S. that have not been tampered with.
The New York Times reported in March that the FDA was moving forward on approval of the first genetically modified animal that will be available for human consumption. New England company AquaMarket Technologies have patented an AquAdvantage Salmon, which is a genetically engineered version of the fish, colloquially referred to by critics as "Frankenfish." The company said the GM fish would "grow to market size in half the time of conventional salmon."
In the U.S., says Metroactive, Whole Foods comes into this because of the fact that they are willing to sell GM foods and rack up the price to achieve maximum profit. And along the way, Whole Foods CEO John Mackey proved himself not only willing, but eager, to bust unions. He called them "parasites" that "feed on union dues." A 19-page treatise, in fact, called "Beyond Unions," was used by Mackey to declare his opposition toward unions, claiming unions were unnecessary because "the foundation of a market economy is mutual voluntary exchange" between an employee and employer. But Whole Foods went as far as to back up its anti-union stance with more than words, when they refused to respect the 1988 Farm Workers grape boycott and had union picketers at its Austin store arrested.
There is a clear similarity here between the anti-union attitudes of stores like Whole Foods and Shaw's and their willingness to sell unlabeled GM foods to consumers. Both are done with the intention of maximizing profits and minimizing respect for the health and wellbeing of both employees and customers.
"Profit is the lifeblood of every business," insisted Mackey. "It's like air."
In the midst of health risks and lack of respect for workers, Lisa Longerich, who ran a Whole Foods bakery, commented to Metroactive on the hypocrisy of Mackey and Whole Foods. "They try to pretend they're this really lovey-dovey company," she said, "when in fact the bottom line is the dollar. The bigger the company grows, the less it cares about the people who work for it."
Photo: Customers wait in line at the Whole Foods in New York City's East Village. Much of Whole Foods' "organic food" is genetically modified. David Shankbone, Wikipedia // CC