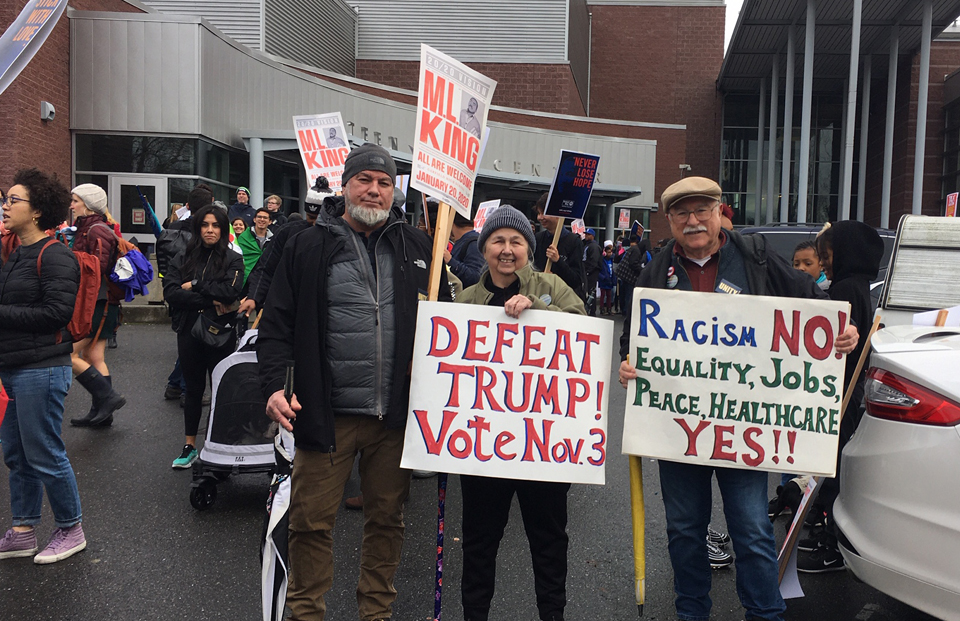 SEATTLE—A vast crowd, African American, Latino, Asian American, Native American, and white marched from Garfield High School to Seattle City Hall, Monday, honoring Dr. Martin Luther King, Jr. and upholding his struggle against racism, poverty and militarism.
A rainbow of all races, religions, women and men, Gay and straight, of all ages, the crowd marched under placards and handmade signs that proclaimed "Black Lives Matter" "Defeat Trump: Vote Nov. 3" and  "Tax Amazon: Affordable Housing for All."
Many unions marched: United Food and Commercial Workers Local 21, Service Employees International Union, International Association of Machinists. Puget Sound Advocates for Retirement Action (PSARA) marched with their banner, fifty or more strong, led by Robby Stern, Karen Richter, and other leaders of PSARA. It was a family affair with many young couples pushing their youngsters in strollers or carrying them on their shoulders on a fitful day with much sun and also a sprinkle of rain.
The theme this year was "2020 Vision" and the crowd was reminded earlier at a rally in the Garfield High School Gym that Dr. King fought all forms of oppression, against poverty, militarism and war. In her invocation, Pastor Angela Ying said Dr. King's message was "love and courage" adding, "You are the lover!" The crowd broke into a chant, "We have love."
Rev. Ying shouted back, "No Muslim ban! No Mexican war! No war with Iran!"
The crowd cheered.
Josephine Howell led the crowd in  singing "Lift Every Voice."
Aneelah Afzali, executive director  of the American Muslim Empowerment Association of Puget Sound said Dr. King proclaimed "Black lives matter." She pointed out that "people under age 40 are the largest potential voting bloc in history." United, and mobilized to cast their ballots, "We will win," in November she said.
Rapper, Logic Amen, said Seattle needs a "griot" to keep alive the history of the Central District of Seattle, the heart of the Black community. "Why are we here?…. Because we are concerned about poverty, an exit strategy to get out of this burning house. ….We can't pray ourselves out of this burning house…." The people need to build a "staircase out of this burning house," he said.
Seattle poet, Kabibi Monie, read her poem "Take A Knee" written after NFL quarterback, Colin Kapernick, started kneeling during the national anthem to protest police killing of unarmed Black men. "If the killing of Black people should not go on, take a knee! Take a knee! Take a knee!"
Many youth were in the crowd and a dance ensemble, "Kuttin up," brought the house down with a energetic dance that ends with all the dancers, all young women in black tights, pumped their fists like Gold Medal winners, Tommie Smith and John Carlos, at the Mexico City Olympics in 1968.
Greeted with a thunderous ovation was Larry Gossett, former King County Councilman. Eddie Rye, Jr. a close friend of Gossett told the crowd Gossett led the 21-year struggle to change the name of the county to "Martin Luther King Jr. County," finally won in 2005. "He was the stalwart. He did not back down. He delivered," said Rye, host of  Urban Forum Northwest, a popular talk show. He and Emile Pitre, who headed the UW's Office of Minority Affairs and Diversity, took turns praising Gossett for his leadership. Pitre said he arrived from Louisiana as a graduate student at the University of Washington in 1967. He and Gossett organized the Black Student Union protesting that only 70 African American students were enrolled. They staged a sit-in in the office of UW President Charles Odegaard in 1968. "Since then, more than 28,000 minority students have graduated from U.W." Pitre said. The crowd cheered.
This year's MLK Day celebration was dedicated to the memory of Jacquie Jones-Walsh who passed away recently from cancer. She was the Vice President of the Washington State Labor Council, State President of the Coalition of Labor Union Women, Vice President, Coalition of Black Trade Unionists, and a leader of the Seattle-King County NAACP. Her union was the American Federation of State County and Municipal Employees.