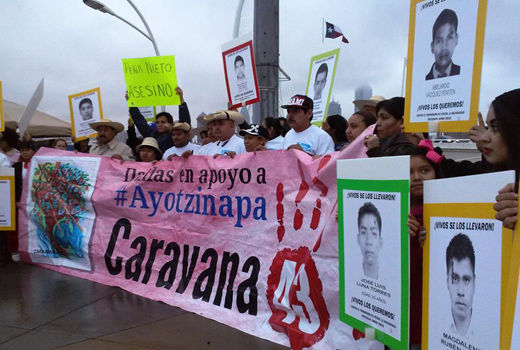 LOS ANGELES – Families and friends from Ayotzinapa in the state of Guerrero, Mexico, have expanded their call to the Mexican government to return their sons and fellow students to them, who have been missing since September 26, 2014, by participating in a 43-city "Caravana 43" across the U.S.
Blanca Luz Vélez Nava, mother of missing student Jorge Alvarez Nava, commented, "As I saw the students returning that day I sat by the curb waiting for my son to return, but he was not among them. I feel like I am dying a slow death not knowing where my son is."
Fifteen family members and students arrived in the U.S. to inform its citizens of the situation in Mexico and ask for their support. They have divided into three groups of five, covering the Pacific, Central and Eastern regions of the U.S., culminating in Washington, D.C.
The students from the Normal de Ayotzinapa, a teachers college, have been missing for nearly six months. As they were traveling by bus to Iguala, Mexico, the police shot at them, killing three and arresting 43. The police claimed they then handed them over to a group calling themselves Guerreros Unidos, who are known members of a cartel known for killing anyone the police hand over.
"Our government has attempted to close the case of the missing students, but due to the support we have received nationally and internationally they have not been able to and they won't be able to until our classmates are found," said Angel Neri de la Cruz, a student survivor of the police attack.
De la Cruz said, "We here because the Mexican government's response to our demand for answers is to continue threatening us, by sending the police to repress any form of actions we take." He also called for those who have suffered under police repression in the U.S., and throughout the world, to unite with them to stop such inhumane treatment and find the missing 43 students. "All of you who have suffered injustice by police brutality, where police shoot unarmed citizens, we invite you to join us," stated de la Cruz.
"We are asking for President Obama's full support to stop Plan Mérida, which is funding and supplying arms to the police that are oppressing and killing us. They are not being used to protect us but to repress us," said de la Cruz.
All the Caravana 43 participants put out a clear message: Help them by writing letters to your legislative bodies demanding an end to these funds.
"It does not matter the color of your skin. We are all human beings and we need to unite over this injustice," said the father of Miguel Angel Mendoza Zacarías, one of the missing students.
Angel Neri de la Cruz recounted how his classmate was shot right next to him. He described it as the most traumatic experience of his life, one that he does not wish on anyone.
A resident of Los Angeles, and passerby at the press conference at La Placita Olvera, spoke with tears running down her face, asking everyone to be sensitive to the plea of these family members: "I do not know the whereabouts of my own grandchildren and it tears me apart."
In response to ex-president Vicente Fox's comment that "the disappearance of the students was a tragedy the families need to accept," family members said Fox too has a family and should realize what an inhuman comment this was.
Photo: Caravana 43 Facebook page