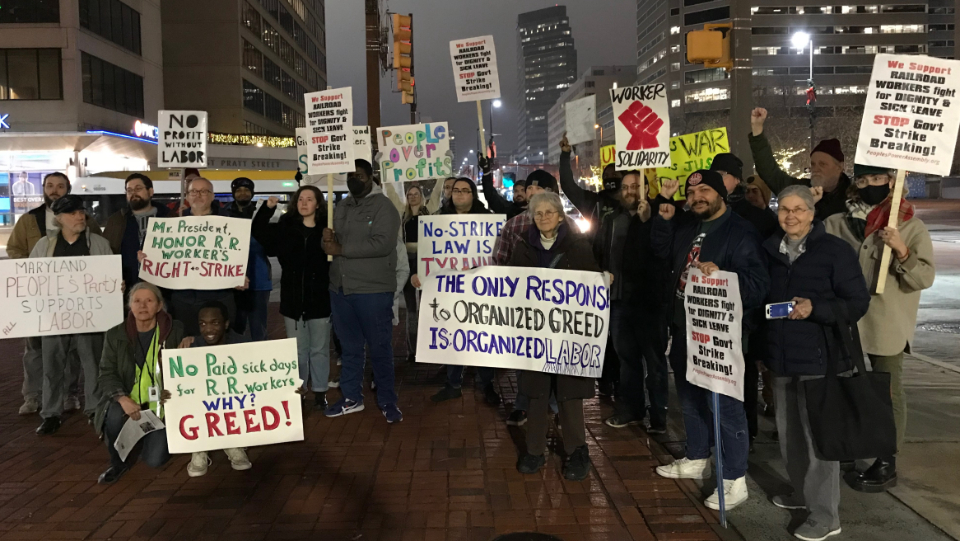 BALTIMORE—Holding signs that proclaimed "'No-Strike' Law is Tyranny," and "We Support Railroad Workers' Right to Paid Sick Leave," over 30 people joined a downtown rally here at rush hour Wednesday night.
The protesters, African American, Latino, and white, expressed sharp anger that Republican and Democratic lawmakers enacted President Joe Biden's "no-strike" law barring a walkout by railroad workers who were demanding paid sick leave.
Many were young, and two of them stood side-by-side, one holding a sign that declared, "Unionbusting is Disgusting," and the other, "The War Has Just Begun."
Cindy Farquhar, a local activist who initiated the protest, told the crowd that working people "know that railroad workers are hardworking and deserve a decent job" that includes paid sick leave and the right to strike.
"The railroad industry is the most profitable sector in the U.S. today," she added. "We in Baltimore are not going to roll over when they attack unions. We are going to stand up and fight back."
Farquhar added, "Baltimore is the city where the Great Railroad Strike basically exploded. Baltimore cannot be a silent city on this issue." She was referring to the Baltimore railroad workers strike in 1877 against the B&O railroad that the Maryland governor attempted to crush with armed troops. Several workers died, and the strike spread west to Chicago and beyond.
African American youth Lucy Cheriyuot, speaking on behalf of the Baltimore Ad Hoc Coalition to Support the Railroad Workers, blasted the Biden administration and Democrats on Capitol Hill for joining with the Republicans to strip rail workers of the right to strike. "We need to nationalize the railroads," he said.
Tim Wheeler, a People's World writer visiting his longtime home, Baltimore, told the crowd, "Every working person must stand tall for the right to strike. That is the most precious right that workers have."
He added, "It is outrageous that the railroad companies such as CSX right here in Baltimore deny paid sick leave for railroad workers doing the most dangerous work that can be done."
Bill Harvey, a veteran trade union activist, hailed the turnout on a chill, rainy December night. "This is the first of many actions we must take to defend worker rights," he said. "We must build the movement over the next two years until the next railroad contract negotiations."
In the crowd were many trade unionists wearing union jackets and caps—Baltimore Teachers Union, American Federation of State County and Municipal Employees (AFSCME), American Federation of Government Employees (AFGE), and the International Brotherhood of Electrical Workers (IBEW) Local 24.
Also joining in the march were members of the new union representing the Enoch Pratt Free Library workers. Sharon Black, an Amazon worker, said she was there to support "rail workers who have a union and to say: 'Stop government unionbusting.'"
Many passing motorists honked and waved in solidarity. Two young men crossed Light Street and shook hands with one of the protesters. "We are members of the Airline Pilots Association," said one of them. "Thank you for what you are doing. We know what the railroad workers are up against. So are we up against the same thing."