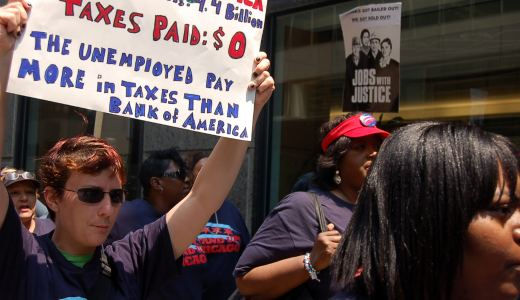 The unemployment rate rose to 9.1 percent in May, up from April's 9 percent rate, according to the latest government figures.
The economy added only 54,000 jobs last month, down dramatically from the average 220,000 in the previous three months.
The Labor Department's latest report also shows that government jobs are disappearing rapidly. In April, 29,000 government workers lost their jobs. Overall, local government employment has dropped by 446,000 since its peak in September 2008.
The figures, released this morning, follow Wednesday's announcement by the Labor Department that the week ending May 28 was the eighth straight week that more than 400,000 people filed for first-time unemployment benefits.
There were 5,000 manufacturing jobs lost during the month of May, after April's gain of 29,000. There is a net loss of more than 800,000 manufacturing jobs since January of 2009.
Some business analysts are pointing to a combination of culprits ranging from high gasoline prices that divert money that could otherwise be used to create jobs to the aftereffects of the Japanese earthquake and tsunami which reduced the flow of key manufacturing parts.
Labor economists note that despite those problems businesses are sitting on almost $2 trillion in cash, the highest amount in history, refusing to use the money to create jobs.
"The U.S. workforce needs the pace of job growth to accelerate dramatically in order to re-establish full employment within any reasonable time frame," said Heidi Shierholz, an economist with the Economic Policy Institute.
"Instead," she added, "the recovery is on pause."
Scott Paul, executive director of the Alliance for American Manufacturing, said the slowdown during May in creation of manufacturing jobs "shows we cannot take growth in manufacturing for granted. Our nation urgently needs a jobs and manufacturing strategy, yet it is nowhere on the agenda of this Congress. Now we hope Washington will start to listen. We will never rebuild our economy without strengthening manufacturing."
The figures show young people (24.2 percent), African Americans (16.2 percent) and Hispanics (11.9 percent) continue to suffer the highest official unemployment rates.
The Machinists union has said that when the number of unemployed, "underemployed," and those so discouraged that they have stopped seeking work altogether are added together, the real unemployment rate approaches 30 percent.
By industry, the highest jobless rates were in the building and construction trades. The Washington State Labor Council reports some of the highest rates with 60 percent of those workers unemployed in the state of Washington.
In Chicago, unemployed workers began a march on a jobless benefits office downtown just hours after the latest figures were released today.
At the demonstration was Janet Edburg, out of work for more than a year now after making stainless steel tanks at an Illinois plant for 32 years.
"The worst part is that you feel depressed about not making the kind of contribution to society that you were making when you were working," she said.
"That makes it very hard to do the kind of scraping and struggling you have to do to pay the bills and keep yourself and your family from drowning until things get better. More than anything else I want to do a better job of taking care of myself and my family."
The latest government figures show that 6.2 million of the officially unemployed, or 45 percent, have, like Edburg, been unemployed now for more than 27 weeks.
Those figures make even more callous, advocates for the unemployed say, GOP attempts in many states to limit unemployment benefits to 20 weeks.
Photo: Unemployed Chicago workers marched on a downtown jobless benefits office just hours after the latest government figures were announced.