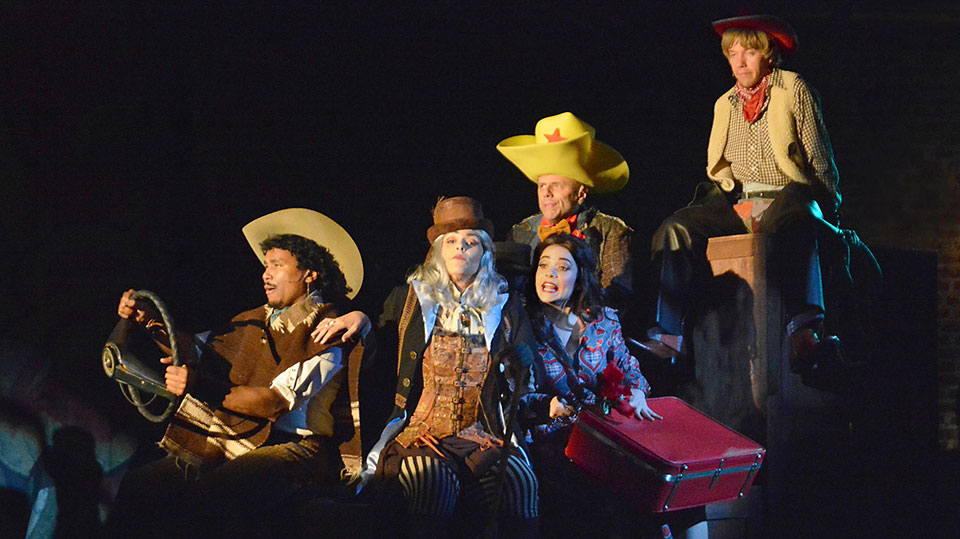 Something happened when I was "summoned" to review Bronco Billy, The Musical. First of all, since the notice was dispatched by Judith Borne, one of Los Angeles' best theater PR specialists who generally ballyhoos quality shows, I assumed that this play would be worth seeing. But more importantly, being a film historian, I instantaneously assumed that this was a musical production based on the life and career of G.M. Anderson, the silent screen star of serials, known as "Bronco Billy." His film career stretches back so far that Anderson appeared in Edwin S. Porter's 1903 cowboy classic The Great Train Robbery and he actually retired from the silver screen by 1916! In 1957 Anderson was awarded a special Oscar and most intriguing of all, the man who played Bronco Billy was actually Jewish.
Well, the musical mounted at the Skylight Theatre does indeed have a motion picture pedigree and tie-in — but to a completely different Bronco Billy: the 1980 movie of the same name, starring and directed by Clint Eastwood. However, for once, my recurring error of not completing reading releases paid off, because even if the silent cinema's first great Western hero isn't part of the play, Bronco Billy, The Musical is indeed, good fun and worth seeing, especially by aficionados of musical comedies.
The world premiere amiably ambled along before the proverbial curtain lifted, with costumed cast members greeting and kibitzing with ticket buyers. Bronco Billy, The Musical's daffy plot is — and here's yet another movie history reference — reminiscent of those Depression era screwball comedies (not to mention commedia dell'arte!): A traveling Wild West show somehow intersects with an heiress on the run from greedy bad guys. (How's that for "intersectionality" – when worlds collide!)
It's all largely played for fun, with heaps of gags, jokes, wisecracks and but of course songs along the way, with the possible exception being the romance between the title character (Eric B. Anthony, whose Broadway theater credits include Mary Poppins, Hairspray and The Lion King, with acting accolades including an NAACP award) and [PLOT SPOILER ALERT!] Antoinette/Lilly(Amanda Leigh Jerry). One can spot what happens to their love affair from a mile away — it's something like one of those scriptwriting gurus such as Syd Field would instruct wannabe scribes to insert as plot point number so-and-so before Act whutevah. This musical's book is by Dennis Hackin, the writer of the purple stage who also wrote the screenplay for the Eastwood movie version.
Indeed, much of this two-act play is full of clichés, such as traveling cross country to Tinseltown to become a TV star (this, in a playhouse located just a few blocks north of Hollywood Blvd., that fabled boulevard of broken dreams). The recurring motif of Bronco Billy's Wild West show being a surrogate family for misfits, where everyone is a "buckaroo" and a "pard" (partner) is hokey — I half expected the cast to croon the theme song from Cheers, "where everybody knows your name."
The rollicking, upbeat score is by Chip Rosenbloom and John Torres, who also penned the lyrics. The live music is performed by a five piece band, which is exuberantly sung by the dozen-plus thesps, who also dance up a storm, with choreography by Janet Roston. Some standouts in the large cast include Michelle Azar, who quite hysterically projects a Chita Rivera-meets-Joan Collins vibe as the conniving Constance, with a stage presence that's a constant source of delight in whatever scene she's stealing. Azar's sneaky crony, Sinclair St. Clair, is drolly played by roly-poly Pat Towne (TV credits include Mad Men, Boston Legal, Desperate Housewives) — this hilarious hitman is a hit, who plays his dastardly part to the hilt!
Fatima El-Bashir is beautiful to behold as the tap dancing Lorraine. Anthony is a gifted, talented singer and dancer as the cowboy who grew up in an orphanage in New York –maybe Bronco Billy is from the Bronx? The multi-culti casting works well and enhances the underlying theme of togetherness. Hunter Bird adeptly directs his cast, including in scenes where the mise-en-scène incorporates inspired insanity and frenetic slapstick like in early silent cinema. Bird is ably assisted by fight coordinator Matt Franta and onstage special effects are skillfully executed (projection design by David Murakami). Ann Closs Farley's costumes enhance the visual ambiance, from that bandolero garter to Two Gun Lefty Lebow's (the affable, laughable Randy Charleville) clownish outfit.
The sold out opening night audience enthusiastically enjoyed Bronco Billy. Is Bronco Billy Broadway bound? Time will tell if the trail from Los Feliz leads to the Great White Way. In the meantime, cowpokes, if musicals are your thing, head on over Los Feliz way and ride with them thar singin' and dancin' varmints at Vermont Avenue.
Skylight Theatre Company presents Bronco Billy, The Musical Fridays and Saturdays at 8:30 p.m. and Saturdays and Sundays at 2:00 p.m. through June 30 at Skylight Theatre, 1816½ N. Vermont Ave., L.A., CA 90027. Tickets may be purchased online at: http://www.SkylightTix.com or via phone at: (213) 761-7061, (866) 811-4111.