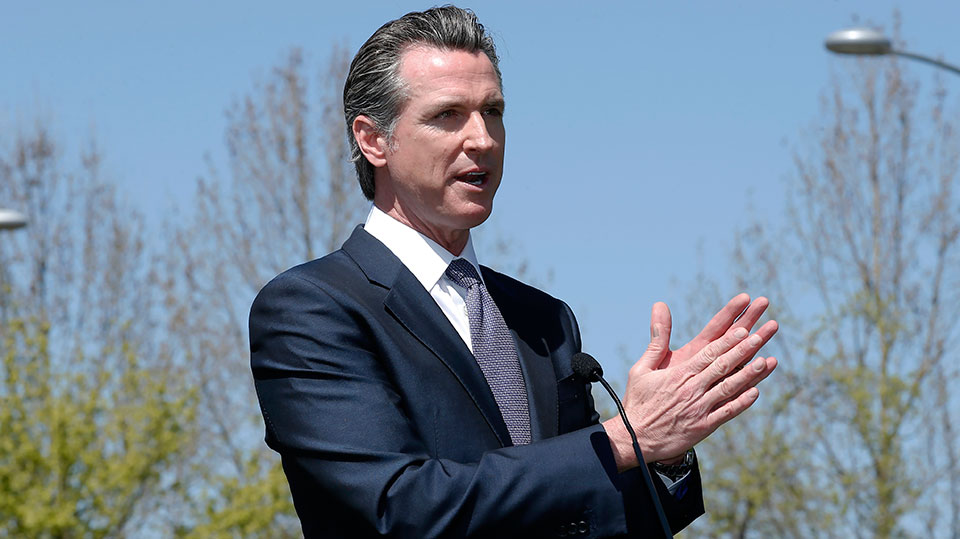 As COVID-19 makes its way into California prisons, efforts are intensifying to secure the release of inmates nearing the end of their sentences, serving terms for nonviolent offenses, or at high risk for the virus because of age and/or health status.
As of April 6, 17 people incarcerated in the state's prison system, and 53 prison workers, had been diagnosed with COVID-19. The prison medical system says over one-third of California's 123,000 incarcerated people have at least one health risk specific to COVID-19, including nearly 15,000 with asthma. One-third live in open dorms where bunks are just two feet apart.
In a legal filing March 31, the state Department of Corrections and Rehabilitation said it was ordering the early release of nearly 3,500 incarcerated people to reduce crowding and lower the pandemic's impact.
National Public Radio station KQED quoted the department's head, Ralph Diaz, as writing in the filing, "These nonviolent inmates will either be released on parole, released to community supervision or directly discharged." Releases were to start "as soon as practicable," possibly within days or weeks.
The Corrections and Rehabilitation Department's action followed Governor Gavin Newsom's March 24 executive order suspending the entry of new prisoners into state prisons and juvenile facilities – an action expected to affect some 3,000 people now being held in county jails. Newsom said in a video that the order was issued so new procedures could be put in place to protect both staff and incarcerated people from COVID-19.
Advocates for the inmates, including the Berkeley-based Prison Law Office, are pressing for much stronger measures to cut the population density in the prisons to a level that allows for social distancing, by "releasing to parole or post-release community supervision" all people whom CDCR categorizes as "low risk," who are serving a sentence for a nonviolent offense or are paroling within the year.
Attorneys from the Prison Law Office and the law firm of Rosen, Bien, Galvan, and Grunfeld filed an emergency motion to that effect March 25 with a special panel of three federal judges charged with considering the humanitarian consequences of prison overcrowding – a long-time issue in California.
Though the federal judges ruled April 4 that the motion was outside the panel's mission, they invited the attorneys to file a new motion with either or both of the two panel members who individually oversee class-action suits over mental and physical health care for incarcerated people, and Donald Specter, the Prison Law Office's executive director, said the attorneys will do so "as soon as possible."
The original motion also called for release or relocation of all incarcerated people at high risk for COVID-19, including people 65 and older, those with chronic lung disease or moderate to severe asthma, those with severe heart conditions or who are immunocompromised, uncontrolled diabetics, people with renal failure or liver disease, or who are pregnant.
"In the alternative," the attorneys said, "CDCR should be ordered to release to parole or post-release community supervision as many people as necessary to achieve safe social distancing and sufficient space for quarantines and isolation." They also asked that the State of California submit a plan to implement the changes "on or before April 1, 2020."
Sara Norman, managing attorney at the Prison Law Office, said, "The CDCR prison system is far too crowded. The prisons house tens of thousands of people in crowded dormitories where they live, sleep and bathe within feet – sometimes inches – of each other. The prisons also house tens of thousands of the people most vulnerable to death or severe complications from COVID-19 … These conditions pose an unacceptable risk of harm not only for people who live and work in CDCR, but also as well to the general public."
Among other efforts on behalf of the incarcerated: letters the American Civil Liberties Union and 14 affiliates including the ACLU of Northern California sent March 18 to the federal government and state and local officials across the U.S., calling for immediate release from prisons and jails of people vulnerable to COVID-19, as well as people in pretrial detention. The ACLU of Northern California addressed its letter to Gov. Newsom, CDCR's Ralph Diaz, California Police Chiefs, Probation Chiefs, District Attorneys, and Sheriffs, among others.
In the Bay Area, KQED reported late last month that San Francisco District Attorney Chesa Boudin had called on Gov. Newsom to use his executive powers to shut down federal immigration detention centers in the state. Boudin also asked the governor to order state prisons to stop handing inmates over to Immigration and Customs Enforcement (ICE), noting that the state's prisons currently hold about 11,000 people who are slated to be turned over to ICE after completing criminal sentences.
Boudin's actions came after the ACLU, the San Francisco Defenders Office and other organizations filed suit in federal court, calling on ICE to release 13 detained immigrants because of their risk for COVID-19, including advanced age as well as medical conditions.
Also in late March, over 50 service, legal and community organizations including Critical Resistance, sent a letter to San Francisco Mayor London Breed, all nine San Francisco county supervisors, the county sheriff, and other county officials, demanding the release of incarcerated people who are 50 years or older, and/or have medical conditions putting them at increased risk during the pandemic, as well as people with no more than 90 days left in their sentences, pretrial detainees, and youth being held in Juvenile Hall.
Across the Bay, after an incarcerated man tested positive for COVID-19 over the weekend, justice advocates including the Ella Baker Center for Human Rights are urging supporters to call Alameda County District Attorney Nancy O'Malley, demanding that vulnerable people be released from prison and that health care be prioritized over punishment.
In late March, after a nurse at the jail had tested positive, they called on the Alameda County Board of Supervisors, and the Sheriff's and District Attorney's offices, to stop taking adults and youth into county correctional facilities, give priority to immediate release of pretrial detainees and people most vulnerable to COVID-19, and provide protective equipment to both inmates and staff. They also urged that funds the sheriff requested to hire new jail staff should go instead toward resources to improve health.
Alameda County authorities had already released nearly 250 people incarcerated at Santa Rita who were considered to be low threat, had been convicted of non-violent/non-sexual offenses, and had served most of their sentences.