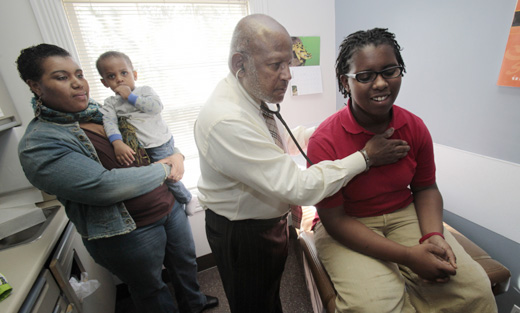 The contrast could not be starker.
In the nation's capital, Congressional Republicans move to cripple, if not kill, health care reform.
In California, state public officials and health care advocates move aggressively to pump life into the landmark federal Affordable Care Act and to clamp down on insurers out to circumvent the law or gouge the state's consumers. California Democrats are a majority in the legislature and control all statewide offices.
California was the first state in the nation to approve legislation to authorize a health care exchange under the new federal law last year. Republican former Gov. Arnold Schwarzenegger signed it in the waning days of his administration after initially expressing reservations about the federal measure.
Whatever political reasons the former governor may have had for the change-of- heart, he was reflecting the strong public backing fundamental health reform enjoys in the state. The California legislature has approved single payer health legislation (which would knock out private insurers altogether) three times in the last few years only to be vetoed by him.
Then Schwarzenegger went on to appoint two strong health care law supporters. They will join three Democratic appointees in the five member oversight board of the California Health Benefits Exchange. This augurs well for consumers since insurance plans, in order to be sold in the exchange, would have to meet criteria established by the law and the consumer-friendly governing board.
Peter Harbage, a consultant with wide experience in the health care field in California and supporter of the health law, said of the federal law "In California people are focused on finding ways to make it work," according to the San Jose Mercury News.
In response to the provision in the federal law mandating insurance companies to extend coverage to children with pre-existing conditions, some insurers initially refused to sell child-only health care plans altogether.
California responded forcefully when it approved a law barring any insurance firm with a child-exclusionary practice from selling any individual policies for five years. With their bottom-line now threatened, insurers made a quick turnaround.
Last week, new Democratic State Insurance Commissioner Dave Jones expanded his inquiry into rate hikes by major insurers. The week before he raised questions about Blue Shield of California's plan to raise premiums for individual policyholders by as much as 59 percent.
Jones is now focusing on Aetna Inc., Anthem Blue Cross and PacifiCare in addition to Blue Shield. The newly-installed commissioner is calling on them to delay pending increases for 60 days while he looks over materials submitted to his office.
"I am very concerned about the impact these increases will have on policyholders," Jones said. "I have an obligation to California policy holders and to the law to closely scrutinize any rate filings, and that is what I intend to do."
No doubt Jones went before the media to expose the rate hikes so as to exert public pressure on insurers.
Jones' powers to review rate increases are limited because he can block them only if insurers spend less than 70 percent of their premiums on health care expenses.
However, Jones has called for legislation to "regulate health insurance premiums" and extend California's "authority to reject excessive rate hikes."
Assembly member Mike Feuer, D-Los Angeles introduced a measure in the current legislative session that would require health care service plans and insurers to provide justification for increases of premiums, co-payments and deductibles. Increases would have to be reviewed by the state Department of Insurance or the Department of Managed Health Care. Once the review process is completed, the designated department would be authorized to accept or reject the rate increase requested.
But, the state could be facing some tough future problems.
If Republican efforts to withhold funding provisions that depend on federal aid succeed, California's health reform initiatives would be severely impacted.
In addition, newly installed Democratic Gov. Jerry Brown – in the face of a huge state budget deficit – last week proposed $1.7 billion in Medi-Cal (Medicaid in California) cuts, along with reductions to other social programs.
To close the budget gap, as an emergency measure Brown called for carrying over last year's temporary (mostly regressive) tax increases to the current year.
If the tax increases are approved by voters in the special June election Brown is proposing, these would only keep state government from making more severe cuts, including to Medi-Cal.
While talk of progressive taxation is circulating among some progressive state legislators and public advocate groups, nothing concrete is expected to emerge until after the June special election.
However, recent polls indicate a solid majority of the public favors an alternative: increasing taxes on the rich and on commercial property, and an oil severance tax in California, the only oil producing state without one.
Photo: Getting a checkup at doctor's office in Oakland, Calif. Marcio Jose Sanchez/AP