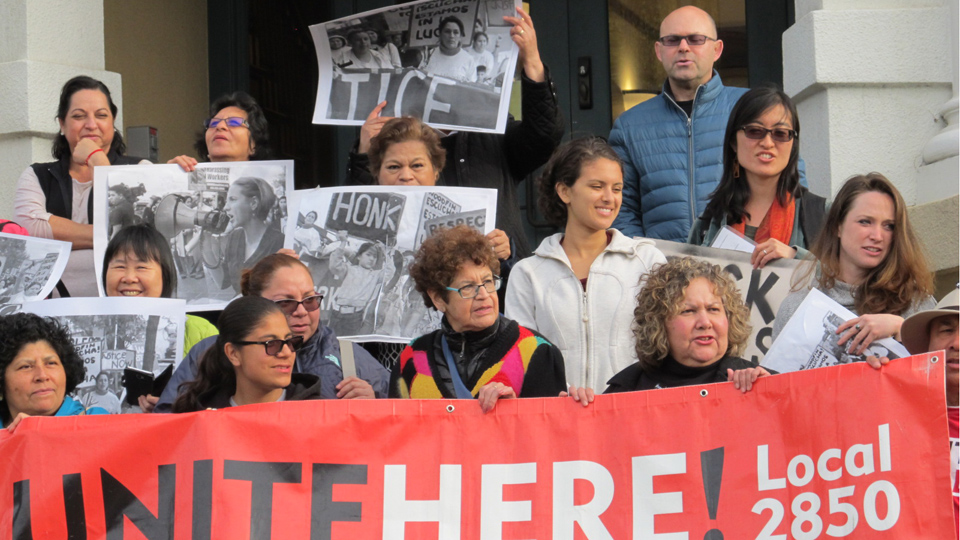 EMERYVILLE, Calif. – Hotel workers and union and community supporters rallied on the steps of City Hall April 4, marking the 10th anniversary of a historic struggle in which hospitality workers – many of them immigrants – won a living wage with workload standards and an overtime pay requirement, and overcame an anti-immigrant challenge by one local employer, the Woodfin Suites hotel.
They recalled the long road to their victory and urged a renewed campaign for immigrant rights now threatened under the Trump Administration.
The gathering was also a call to action. As honored guests of the City Council, the workers heard Mayor Scott Donahue issue a proclamation repeating Emeryville's declaration that it is a "welcoming city," and calling on employers "to establish sanctuary workplaces where immigrant workers are respected and not threatened or discriminated against based on their immigration status."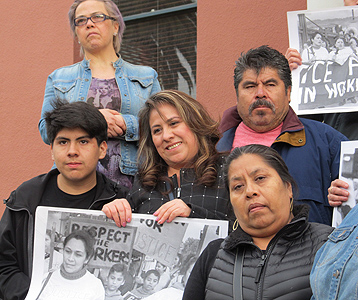 At the rally, conducted in both Spanish and English, longtime Woodfin worker María Martínez told how before city voters approved a hospitality industry living wage ordinance, she and her co-workers had to clean 16 suites in eight hours. "Each suite was like a small apartment," she told the crowd.
The Woodfin was finally forced to accept the ordinance's requirements. But when workers sued to get the back pay they were owed for overtime work, management brought in ICE agents and fired a dozen workers over their alleged immigration status.
The hotel workers won their back pay, beat back the anti-immigrant attack, and won the right to belong to their union, UNITE HERE Local 2850.
Meanwhile, the City of Emeryville – a small city with lots of retail across the bay from San Francisco – has taken other pro-worker actions including passing a Fair Workweek Policy and instituting one of the country's highest hourly wages.
"Fast forward 10 years: at the national level it's now more important than ever to stand with immigrant workers who face hate and retaliation," Jennifer Lin, deputy director of the East Bay Alliance for a Sustainable Economy (EBASE), told the rally. "But here, in Emeryville, at the local level, a lot has changed for the better." EBASE, together with UNITE HERE Local 2850, backed the workers in their struggle, with help from other community and labor organizations.
"We look forward to supporting workplaces where workers are respected with dignity and aren't threatened or discriminated against based on immigration status," Lin said.
Local 2850's president, Wei-Ling Huber, described how Emeryville's city leadership later told a would-be developer the city wanted to make sure workers at the new hotel would be treated fairly. The union and the developers made an agreement that workers at the hotel "will have the right to join the union without having to go through threats and intimidation."
Huber pointed to a different situation in neighboring Oakland, where the developer of a new hotel is refusing to commit to a fair process for the workers to join the union. She urged rally participants to join a gathering at Oakland City Hall on April 18.
Meanwhile, California State Senate Bill 54, the California Values Act, passed in a 27-12 party-line vote April 3 and will now be considered by the Assembly. The bill, introduced by Senate President Pro Tem Kevin De León, D-Los Angeles, will go to Governor Jerry Brown for signature if it is approved by the Assembly.
The measure, often called the "sanctuary state" bill, has several co-authors in both Senate and Assembly. It would bar state and local law enforcement officials from using their resources to help federal immigration enforcement.
Before the vote, De León said the Trump administration's actions have many of his constituents living in fear of sending their children to school, reporting crimes against them, or seeking medical care. "This is contrary to our values as a nation and those of our state," he said.
SB 54 "does not cut off cooperation with ICE," he said. "We will comply with judicial warrants. We will give federal authorities a 60-day notification prior to the release of violent and serious felons from state prisons. And state and local law enforcement agencies will be able to respond to ICE notification requests for serious and violent felons."
De León said some 3 million Californians, and one in ten people in the state workforce, are undocumented, and mass deportation would cost the national GDP some $434 billion per year.
"We should not have to squander our precious local law enforcement dollars to support a federal immigration program that will deport the very folks who keep our economy humming, and at the same time, make our communities less safe," he said.