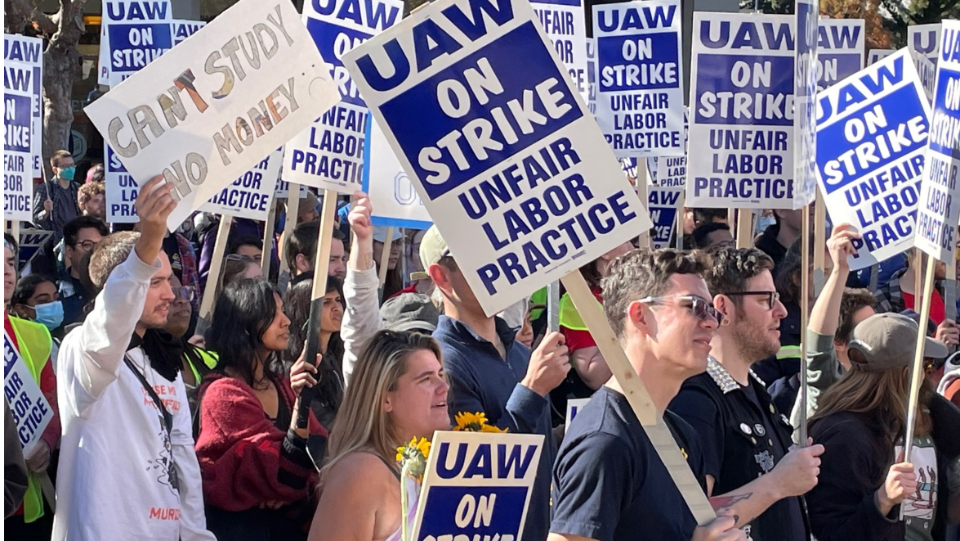 BERKELEY, Calif.—As some 48,000 student academic workers represented by three United Auto Workers locals launched an open-ended strike across the University of California's 10 campuses on Nov. 14, unions throughout the state were declaring their solidarity.
After more than a year of bargaining over issues including low wages and other compensation, lack of job security, and the university's repeated violations of labor law, the instructors, teaching assistants, researchers, tutors, and readers voted to strike by 98% earlier this month.
In a statement issued as the system-wide action began, the California Labor Federation announced it had granted the academic workers statewide strike sanction, with the support of all its 1,200 affiliate unions and two million members.
"California Labor is united," the federation's Executive Secretary-Treasurer Lorena Gonzalez Fletcher declared. "We stand alongside the dedicated academic workers who are so critical to the teaching and learning environment at the UC. It is outrageous that these workers make poverty wages at some of the wealthiest institutions in our state. We call on the University of California to do the right thing and agree to a fair contract and we will be out on the picket lines until that happens."
The Labor Federation said all the unions at the University of California, including the State Building and Construction Trades Council, supported the strike, and Teamsters Joint Councils 7 and 42 have issued strike sanction so their members can honor the academic workers' picket lines.
That labor solidarity was on full display as upwards of 2,000 student workers and their supporters, holding their signs high, packed into the UC Berkeley campus' Sproul Plaza for a rally on the first morning of the strike.
Bargaining committee member Jess Banks, a graduate student researcher at UC Berkeley's mathematics department, set the stage.
"A fair contract means living wages, real fair wages that address the cost of housing here in the Bay and across California," he told the crowd. "A fair contract means employment security – no one has to wonder whether they're going to have a job next term, next year, next summer. A fair contract means childcare benefits for our working parents."
Alameda Labor Council President Keith Brown, who is also president of the Oakland Education Association, told the strikers the labor council and the OEA "have your back. We know what it means to go on strike, to fight for workers' rights. UC must come to the table and meet all the demands of this strike."
Brown was joined by Liz Ortega, executive secretary-treasurer of the Alameda Labor Council and newly-elected California Assemblymember, who declared that in her new role as a legislator, she will "have the power to represent you and to hold UC accountable."
Jason Rabinowitz, president of Teamsters Joint Council 7, which represents 100,000 Teamsters in northern California and northern Nevada, told the strikers, "Seeing you stand together and demonstrate this strength is inspiring to all of us." Rabinowitz, who is also secretary-treasurer of Teamsters Local 2010, added, "This university is built on a model of exploiting the work, underpaying for your work, and it warms my heart to see you coming together across the state, saying, 'We're not going to take it anymore. We're going to demand to be paid what we're worth.'"
Rosie Rodriguez of AFSCME Local 3299, which represents some 27,000 service, patient care technical and skilled craft workers at UC, declared, "I'm so proud of you guys, because I know how it feels to be a worker and not to be considered. Thank you very much for this fight." Rodriguez, a senior custodian at UC Berkeley, led rally participants in the chant, "When we strike, We win!"
Dan Russell, an information technology worker at UC Berkeley and president of University Professional and Technical Employees-CWA, which represents some 18,000 UC research and technical workers and part-time faculty, thanked the academic workers for "building the kind of democratic union that can shut down UC, organize new workers, and build the kind of life we all deserve as UC workers."
The day's final speaker, bargaining committee member Tanzil Chowdhury, a third-year graduate research assistant at Lawrence Berkeley National Laboratory, told the academic workers their action is "historic, because for the first time, all of us literally are the ones making history. We are taking the reins of our own destiny and taking control of our lives and our workplace."
With that, the strikers hoisted their signs high again, as they joined in singing the labor movement anthem, "Solidarity Forever."
The 48,000 strikers are represented by UAW Locals 2865, 5810 and UC Student Researchers United-UAW. Among their specific demands:
Minimum salaries of $54,000/year for all graduate student workers, $70,000 for post-doctoral workers, a 14% pay hike for academic researchers.
Affordable housing, transportation benefits to aid affordable commuting, and no out-of-state tuition fees for academic workers from outside California.
Greater support for workers who are parents, including childcare subsidies, free participation in UC childcare programs, and family health coverage.
As the week progresses, picket lines are continuing at UC campuses throughout the state.
Readers can sign the California Labor Federation's petition to UC President Michael Drake in support of the strikers here.