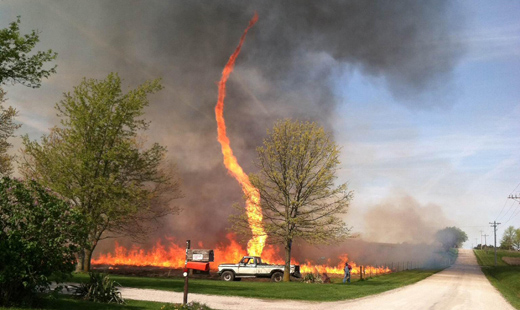 The Golden State is being blackened by the most menacing brushfires in nearly two decades. As climate change continues to rear its ugly head, thousands of places including homes, a university campus, a nuclear plant, and parts of military bases have been evacuated in southern California.
Nine fires have already burned more than 10,000 acres, and unfortunately, the blazes have merely gotten off to an early start. Experts believe the fires will worsen and spread more quickly as summer approaches.
The fires broke out on May 13, prompting Gov. Jerry Brown to declare a state of emergency for San Diego County. Paul Mendes, police captain of Carlsbad, Calif., remarked, "This is May. This is unbelievable. This is extreme. This has gone from dry conditions to volatile conditions."
So far there is one reported fatality, and at least 20 buildings were destroyed in Carlsbad alone, with one burning house visibly exploding from an unknown cause. Santa Ana winds were whipping up and fanning the flames, making the situation direr. Several firenados were observed – devastating flaming cyclones that develop during very intense wildfires. Though those winds have begun to die down now, Mayor Matt Hall warned, "That does not mean they may not pick up again."
"A heat wave and tinder-dry brush have created a dynamic, dangerous situation," California fire captain Mike Mohler said. "It's just unfortunately a recipe for a large fire and that's what we're seeing right now."
Something of a reprieve, at least, was expected today, according to meteorologist Jon Erdman. He said, "Santa Ana winds, record heat, and low humidity will persist in southern California through Thursday. Beginning Friday, winds will begin to turn onshore, with much cooler 60s and 70s returning to the coast this weekend."
In Carlsbad today, however, it is currently still almost 90 degrees. On a more positive note, firefighters are reporting that the fire there is about 50 percent contained – a large uptick from the mere 10 percent two days ago. Some evacuation orders have been lifted. Officials estimated the Carlsbad wildfire alone has caused $18.5 million in damage so far.
Another fire near San Marcos is only five percent contained and has produced smoke plumes so large they can be seen from space. Seven more fires are still being fought in other areas. Meanwhile, some 2,300 people across San Diego County are dealing with power outages, according to San Diego Gas and Electric.
Gov. Brown stated, "The heat is terrible. The last few years have been the driest in recorded California history. They think they've got this [Carlsbad fire] contained, or are about to have it contained. But they've got other fires all over the place, and most serious of all, California has a fire season that is getting longer. And the most serious fires have occurred in the last decade, so things are getting worse."
He said the blazes were undeniably tied to global warming, adding, "Despite what you hear in Washington, climate change is a factor here. It's not about theory. It's not about politics. This is about fires on the ground, people's homes, firefighters. And yes, these conditions are definitely caused by climate change; global warming induced by human activity. So we've got to make changes. But right now in California we are dealing with it and handling it as best we can."
San Diego fire chief Javier Mainar said, "It is pretty amazing to see these fires in May. We certainly have seen climate change and the impact of climate change. My understanding is we've seen twice the number of wildfire starts in the state of California as we typically see this time of year."
On Thursday, some Carlsbad residents returned to find their homes gone. The fires, and in particular the firenadoes, in many cases demolished and flattened entire houses. "We walked up to our place, and it was like a bomb went off," said resident Anya Bannasch. "I can't even explain just how horrific it was." The fires are an ongoing disaster, and far from over, she said. There are "other families out there that are going through this right now," she added. "There's fires everywhere."
Photo: A firenado, fueled by a larger brushfire, tears through a neighborhood near the town of Chillicothe, Calif. Janae Copelin/Instagram