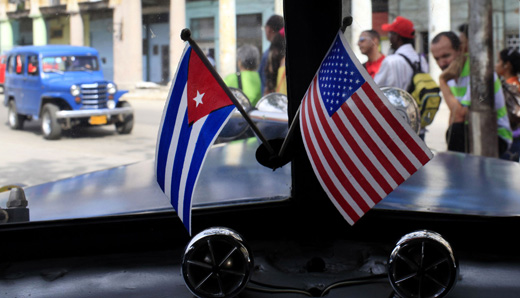 Ending restrictions on U.S. tourist travel and expanding U.S. exports to Cuba are both current legislative topics that are not likely to survive the rigors of a Republican-dominated Congress. President Obama's remarks on reopening diplomatic relations with Cuba were warmly received at the September 28, 2015, meeting of the UN General Assembly. However, statements from Pres. Obama officially supporting the elimination of economic sanctions have as yet to be matched by action. Instead, present U.S. law prohibits the use of U.S. dollars by foreign businesses to conduct transactions with Cuban entities including the government.
Crédit Agricole (CA), a French bank, has just recently been fined 694 million euros by the U.S. for processing transactions in dollars for Cuba. French academician Salim Lamrani adds that "Facing the threat of having all activity within U.S. territory closed off, the French bank had no alternative but to accept the sanction." His article appeared in Cuba's Granma newspaper on November 20, 2015.
Lamrani reports that "In 2014, the French bank BNP Paribas was [also] obliged to pay the U.S. an astronomic fine of $6.5 billion for maintaining financial relations with Cuba."
He emphasizes that "These institutions committed absolutely no illegal acts." And "It is President Obama, not Congress, who is responsible for this decision, clearly contradicting his UN speech where he promoted a policy based on dialog, understanding and respect for international law."
The use of economic blackmail to target legitimate commercial relations between France and Cuba through application of extraterritorial sanctions under the 1996 Helms-Burton law is a violation of international law. Washington's arbitrary attack on French interests represented interference in the internal affairs of a sovereign, independent nation.
It is certainly true that, according to the U.S. Constitution, the U.S. president is able to recommend for consideration by Congress "such measures as he shall judge necessary and expedient." Thus Obama is on sound, legal ground in continuing to recommend to Congress that it end the blockade. The general assumption, of course, is that, under the Helms-Burton law, the power for such lies exclusively with Congress.
Lamrani, however, believes that "[A]s head of the executive branch of government," Obama himself actually has the power to "dismantle the blockade, practically in its entirety." In fact, "there are only 3 areas Obama cannot touch without Congressional authorization." He may not open up Cuba to regular U.S. tourism. And the Trade Sanctions Reform and Export Enhancement Act of 2000 stipulates that Cuba may not use credit for importing U.S. agricultural products; cash payment is required in advance. Thirdly, Obama "cannot authorize affiliates of U.S. companies in other countries to maintain commercial relations with Cuba."
Lamrani has suggestions for how to get past even these obstacles. In the first place, Obama could broaden "the definition of categories which establish the type of travel to Cuba". A visit to a museum in Cuba, for example, would fit the U.S. visitor into the category of cultural travel.
And while the congressional prohibition on credit for Cuban purchase of agricultural goods must stand, "the president could allow Cuba to buy any other type of item on credit." Examples would include medical devices, pharmaceuticals and educational supplies.
Lastly, Lamrani claims the U.S. president can make the prohibition on trade with "third country affiliates" irrelevant. He would do so by "simply authoriz[ing] U.S. companies [not their affiliates] to maintain regular commercial relations with Cuba." The proposal is consistent with measures already taken to allow banking, air travel, communications and postal services to take root in Cuba.
At present, though, according to Lamrani, "the punitive sanction [Obama's] administration has imposed on international companies and the meager steps he has taken to dismantle blockade regulation contradict his statement of principles." Meanwhile, the U.S. economic, commercial and financial blockade remains as hypocritical, brutal and anachronistic as ever.
Photo: AP