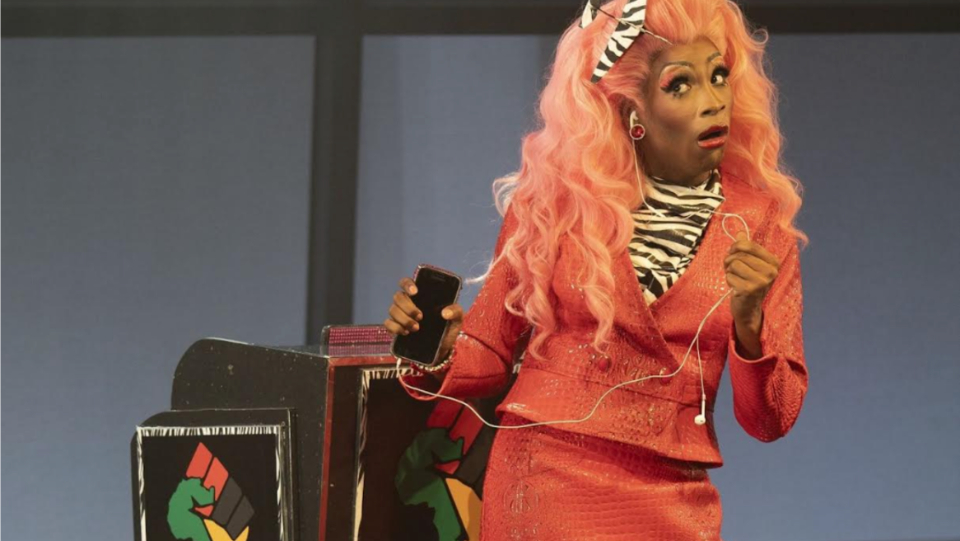 A provocative new play, Ain't No Mo', has emerged on Broadway, taking on topics of racism and history in a biting, comedic way. Yet, the lights may be dimming far too soon on this theatrical production. After only a few dozen performances, ticket sales are low, despite the satisfied audiences and critical buzz.
With the last show day of Dec. 18 fast approaching, playwright and star Jordan E. Cooper has taken to social media to let the world know that the impactful new play is in need of help. Highlighting the cultural significance of clashing with the world of "The Great White Way" known as Broadway, Cooper stated on his Twitter post: "Ain't No Mo' needs your help! It's a new original play that is BLACK AF [as f*ck], which are both things that make it hard to sell on Broadway. Now they've posted an 'eviction notice' that we must close on December 18. But thank goodness that Black people are immune to eviction notices."
Ain't No Mo' is a 90-minute play consisting of a number of vignettes taking place in a world where the United States government has offered Black Americans one-way plane tickets to Africa. The play takes the audience on a satirical odyssey portraying the great exodus of Black people out of a country plagued with injustice. Playwright Cooper's new work aims to explore the value of Black lives in a country hurtling away from the promise of a Black president. The tone is described as a blend of sketch comedy, satire, and avant-garde theater.
Produced by Lee Daniels, with Lena Waithe as co-producer, the show debuted off-Broadway in 2019 at the Public Theatre. It then began Broadway performances in November of this year ahead of a Dec. 1 opening. The Black-led play is being shuttered alongside the new original Asian-led musical K-Pop (which had its last show on Dec.11). Ain't No Mo' grossed just over $120,000 during the first week of December, which is considered far below operating costs to be sustainable.
In an interview with the Daily Beast, Cooper spoke of the need to reach out to the right audiences for shows highlighting different kinds of communities. The playwright explained, "When it's a Black show, or a show with a Korean cast, you have a very specific audience to reach who is going to come. While audiences who've seen Ain't No Mo' appreciate what it's doing, the show hasn't had enough time or resources to communicate what that is…. The tools that a lot of these marketing agencies use are the traditional tools, the same old tools that built the master's house and have been used for every single show."
Cooper's point is one connected to the theater world's long history of triumphs and transgressions when it comes to Black and other people-of-color-led projects. The first all-Black show, a one-act musical called Clorindy: The Origin of the Cake Walk, was performed on the roof garden of the Casino Theatre, a Broadway venue, in front of an exclusively white audience in 1898. Since that time, there have been a number of historic moments when it comes to Black representation in theatre, from the record-breaking first full-fledged Broadway musical with an all-Black cast (Shuffle Along, 1921) to highlights of the works by groundbreaking Black playwrights such as August Wilson and Lorraine Hansberry. But, as performers of color have pointed out in the recent past, there is still a reckoning to be had when it comes to racism on Broadway.
In the aftermath of the George Floyd and Breonna Taylor protests in 2020, a number of Black talent spoke out on the way racism affected their daily lives and careers. Award-winning stage manager Cody Renard Richard explained in a social media post addressed to the Broadway and theatre community at the time: "I've had to tone myself and sometimes my Blackness down for you to accept me. I've had to remove myself from situations because it made you feel uncomfortable, when in fact I was the one feeling the most out of place…. I'm tired of laughing awkwardly when your racist jokes aren't funny. I'm tired of having to defend MY skin color, just to make YOU feel better."
Cooper himself stated to the press that his inspiration when creating Ain't No Mo' came out of his frustration with violence faced by Black Americans. He is now fighting for this story to be told. Yet, it would appear that high-priced Broadway tickets and old-school Broadway marketing methods are standing in the way of that. Fortunately, the playwright's call for support has not gone unheard.
Hashtags #AintNoMo and #SaveAintNoMo are being used across social media platforms by those who have seen the play. Black celebrities have also contributed their star power and money to the effort of filling seats at the Belasco Theatre, where Ain't No Mo' is currently playing. Will Smith and Jada Pinkett Smith bought out a performance of the play while television personality—and perhaps the world's most famous drag queen—RuPaul will be hosting a special performance of Ain't No Mo' this week. Gabrielle Union and Dwayne Wade (who are part of the co-producing team of the play) have also bought out a performance.
Broadway shows in general already involve great risks, as statistics show only an average 20% make back their original investment. Couple these odds with marginalized voices attempting to gain traction in a white-dominated industry, and it would appear that saving Ain't No Mo' will be a challenge.
Fortunately, Black stories on Broadway have faced adversity before and prevailed. Citing a historic Black musical, Cooper noted in his social media post, "The Wiz got one [an eviction notice] on opening night in 1974, but audiences turned that around and it ended up running for four years… We're doing something new on Broadway but is Broadway ready?"
Time will tell, and hopefully the show will go on.
Tickets to Ain't No Mo' can be purchased online here.