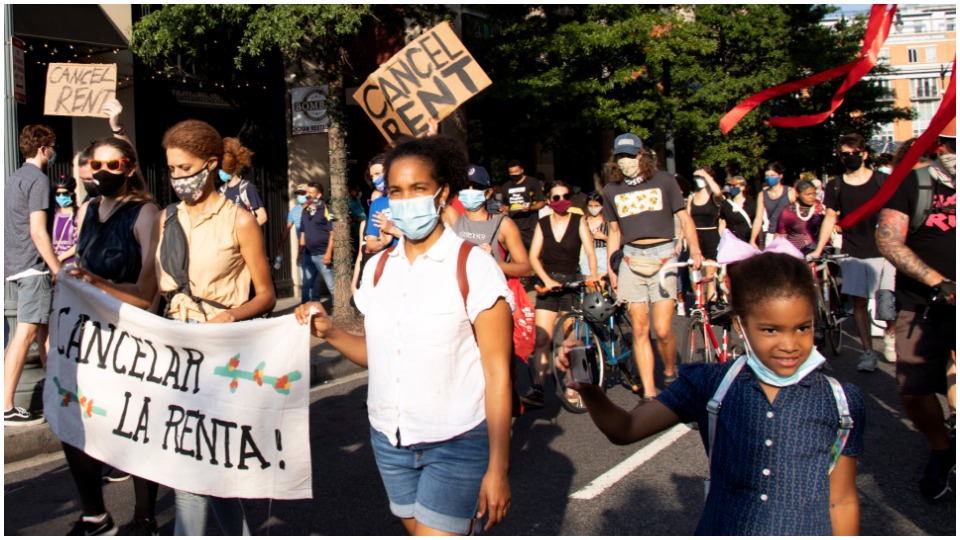 WASHINGTON—On Saturday, July 25, a major rally hosted by D.C. Jobs With Justice, Reclaim Rent Control D.C., and the D.C. Tenants Union was held at Columbia Heights Plaza with hundreds of organizers and tenants from the D.C. metropolitan area who are struggling to pay rent amidst the economic fallout from the pandemic, an expiration of unemployment benefits and moratorium on rent, and the stalling of the U.S. Congress to pass the HEROES Act.
Thousands of residents in the nation's capital are on the brink of eviction and want the District to respond to the housing crisis in a humane way without throwing thousands out into the streets, which would only risk worsening the spread COVID-19.
Labor organizers from UNITE HERE Local 23, D.C. Tenants Union, and other local tenants spoke about the economic crisis and conditions in the units they rent. Crowds chanted "Food! Not Rent!" in response.
The Tenants Union is demanding the D.C. City Council:
Cancel rent and mortgage payments for the duration of the state of emergency plus one month.

Impose a two-year freeze on rent increases while the city recovers.

Guarantee a right to counsel in eviction cases.

Vastly expand the Emergency Rental Assistance Program with tripled funding, expanded eligibility, and no more annual limits on frequency and amount.

And enact into law the Reclaim Rent Control platform in its entirety.
Over ten properties in the D.C. area are currently under some form of rent resistance or on rent strike. This means a majority of tenants are withholding their monthly rent from landlords and are trying to get their rents completely canceled or forgiven during the pandemic since many have lost their jobs.
After the speeches, demonstrators from the rally marched down to Woodner Apartment complex, one of the major complexes on strike and the largest apartment building in D.C. Tenants who live there spoke about the conditions within Woodner and the total lack of a response from the management to rent cancellation demands.
This housing crisis did not start with the pandemic and will not end with it. Extreme gentrification has displaced many families, and skyrocketing rents have made D.C. and the broader metropolitan area difficult to afford. Reclaim Rent Control D.C. aims to expand rent control throughout the district while other groups, like ONE D.C., are looking into alternatives, such as community land trusts and housing cooperatives.
For example, on July 28, D.C. Council finalized the Budget Support Act, which included a 10-year extension on the broken rent control system in D.C. that has led to unaffordable rent increases and loopholes leading to displacement (which was in direct opposition to the residents calling for an improvement of rent control laws).
But on Aug. 3, Councilmembers Brianne Nadeau of Ward 1 and Trayon White of Ward 8 introduced the "Rent Stabilization Program Reform and Expansion Amendment Act of 2020," which would expand rent control to include buildings 15 or more years-old and those buildings which have only four units. It's estimated this would immediately add 25,000 apartments to the rent control list, with more added each subsequent year. The proposal would also reform the "housing provider petitions" that landlords have used as a tool of displacement to better balance the needs of renters and property owners. It would block the 10% or 20% rent increases that are typical when apartments become vacant and eliminate the extra 2% per year increases on top of inflation that are currently allowed.
Councilmember Anita Bonds, the chair of the Housing Committee, also introduced a bill to reform substantial rehabilitation and capital improvements petitions and another that places a two-year moratorium on voluntary agreements. She has publicly committed to introducing additional legislation to strengthen rent control following the summer recess.
If you are struggling to pay rent in D.C. or the DMV area, contact organizers at D.C. Tenants Union, Tenants and Workers United, Reclaim Rent Control D.C., and/or Jobs With Justice.