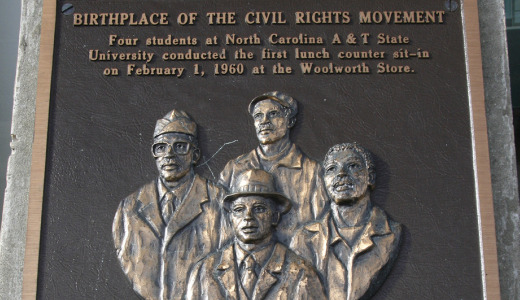 RALEIGH, N.C. – William Barber II, state chairman of the National Association for the Advancement of Colored People, this week called for actions of mass civil disobedience July 20 to protest moves to "resegregate" public education in Wake County.
Barber, an African American, is pastor of the Greenleaf Christian Church in Goldsboro, some 50 miles southeast of Raleigh.
In a Monday rally whose slogan was "It's movement time!" his call was joined by Nancy Petty, pastor of Raleigh's Pullen Memorial Baptist Church, by Duke University historian Tim Tyson, author of "Blood Done Sign My Name," and by Mary D. Williams, a gospel singer and parent of students who attend the Raleigh schools.
Among those attending the Monday rally in Pullen Church was North Carolina Secretary of State Elaine Marshall, whom Democratic primary voters Tuesday chose to oppose Republican Sen. Richard Burr in general elections this November.
Barber, Petty, Tyson and Williams have become known as the Raleigh 4, following their June 15 arrests at a Wake school board meeting.
Their call for civil disobedience comes out of a months-long struggle to contest decisions of school board members elected in November 2008. That nonpartisan election produced a 5-4 majority pledged to repeal the county's nationally heralded diversity policies.
In 1976, the Raleigh school district combined with prospering Wake suburban schools to create a tax base that would guarantee funding for then-declining inner-city schools. The amalgamated district converted nearly 40 percent of its more than 120 campuses into magnet schools and adopted a policy of "economic balancing" aimed at repopulating "high-poverty" schools.
Under its terms, poor children were bused away from, and students from prosperous families were bused into, those schools where more than 40 percent of students had qualified for subsidized lunches. Largely as a result of these measures, student test scores showed gains that attracted national attention.
The district's success was hailed in a 2009 book, "Hope and Despair in the American City: Why there are no bad schools in Raleigh," written by Syracuse University professor Gerald Grant and published by Harvard University Press.
But achieving balance required an expansion of busing, which the present board's majority vowed to minimize.
In challenging the board's move to turn back economic balancing, Barber earlier this month won the support of the region's A.M. E. Zion denomination, which claims some 40,000 members.
Petty's church, located near the campus of North Carolina State University, draws most of its membership from whites. But its congregation joined with demonstrators from two historically black campuses, Shaw University and St. Augustine's College, in campaigns to integrate public facilities in Raleigh 50 years ago.
That era's fight against segregation took on national significance when Greensboro sit-ins spread to Raleigh and across the South, leading to the founding of the Student Nonviolent Coordinating Committee in a 1960 conference at Shaw.
Barber and Petty, in a statement issued Tuesday, expressed hopes that their July 20 actions will ignite a similar national movement. "What is happening in Wake County is a national issue," they declared. "The shadow of re-segregation is falling across the state of North Carolina and the nation."
Photo: A plaque marks the "birthplace of the civil rights movement," commemorating the first lunch counter sit-in, Feb. 1, 1960, at the Woolworth's store in Greensboro, N.C. http://www.flickr.com/photos/bootbearwdc/3069248769/in/set-72057594080338007 cc 2.0