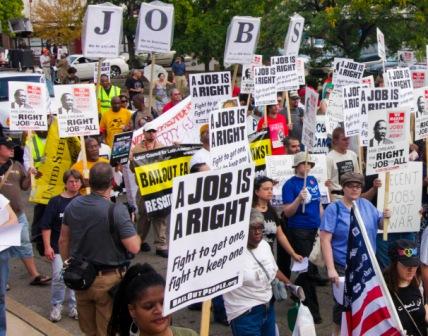 Under the banner of "Good Jobs Now! Make Wall Street Pay" Chicago labor and allies will be marching on LaSalle Street, Chicago's version of Wall Street. The march on Wednesday, April 28th (11am, Willis Tower, 233 S. Wacker Dr.) is part of a series of demonstrations aimed at the banks and big investment houses. Chicago's action is aimed at Goldman Sachs, headquartered in the Willis Tower, formally the Sears Tower. The Chicago action is the day before Richard Trumka, president of the AFL-CIO, will lead a demonstration on Wall Street. Other major actions are also being planned around the country. You can look for an event in your area here.
Reflecting the rising tide of struggle, April 28th will be a very busy day in action for jobs in Chicago. Chicago Jobs w/ Justice, also a big mobilizer for the march on LaSalle Street, is hosting a Worker's Rights Board on the jobs crisis. These Jobs w/ Justice forums have been very effective around the country. This one will feature the voices of workers from every sector of the economy and what needs to be done to put people back to work.
Meanwhile momentum is still building for Congressman George Miller's Local Jobs for America Act (HR 4812). At latest count 150 members of Congress have enlisted as co-sponsors. You can check to see if your representative has signed on at this website. If not get your friends, co-workers and neighbors to call, email and write letters asking them to co-sponsor.
Another critical jobs bill was introduced last week by Senator Tom Harkin of Iowa. Titled the Keep Our Educators Working Act of 2010 (S. 3206). Estimates are that between 100,000 and 300,000 public education jobs are in danger of being cut before the beginning of next year's school year. The Harkin Bill is an emergency piece of legislation that will help save those jobs. Read the bill here.
Photo: Scott Marshall/PW