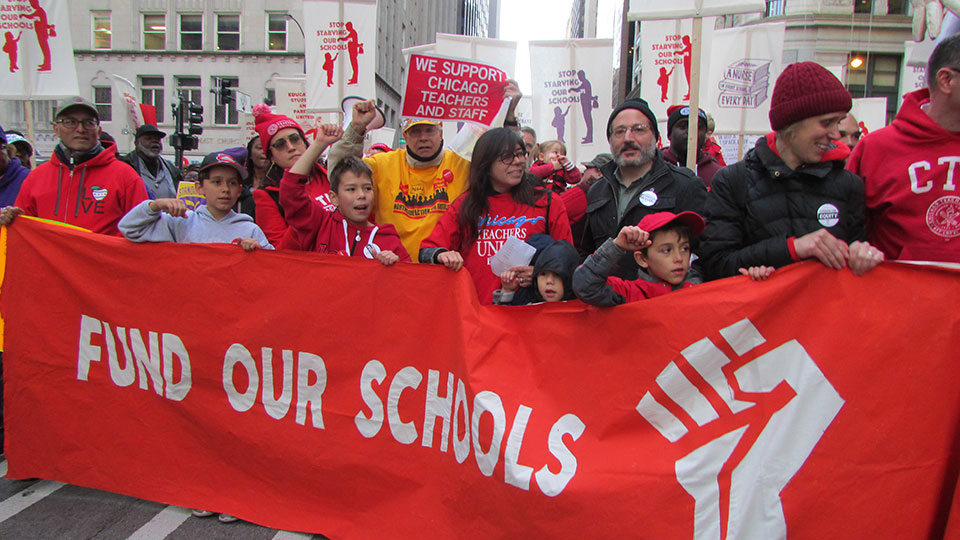 CHICAGO—Thousands of teachers and support staff are on strike this morning, Oct. 17, after the city failed to reach an agreement with them. Despite ten months of bargaining, the sides remain far apart on restoring staffing levels decimated over the past few decades.
Chicago Public Schools yesterday announced the cancellation of classes for today.
The Chicago Teachers Union (CTU) has joined in solidarity with Service Employees International Union (SEIU) Local 73 vowing to create quality schools and parks for all. SEIU represents about 80% of Park District employees, school custodians, special education aides, and security guards. Without an agreement, the unions, representing over 30,000 workers, have gone out on strike together.
On Wednesday, SEIU Local 73 and the city reached agreement on contracts covering landscape laborers, special recreation workers, attendants, instructors, recreational leaders, supervisors, and other workers in city parks. However, negotiations were still underway for the 7,000 public school employees.
The CTU struck for ten days in 2012 and received widespread support from labor, parents, and students, forcing significant concessions from then-Mayor Rahm Emanuel. Since then, public school educators and support staff have struck across the country for higher wages and to restore state funding, often cut to the bone by Republican-dominated state legislatures.
The city has made some concessions on wages, offering a 16% raise over five years. However, crucial sticking points are what CTU calls ensuring necessities, like reducing class sizes and guaranteeing librarians, social workers, and nurses in every school.
According to CTU, what's at stake is creating an environment conducive to teaching and learning. "I was born to teach, but I wasn't born to be a teacher, a nurse, and a social worker all put together. It is impossible," said teacher Michelle Gunderson. "We are at a critical juncture. We want schools filled with possibilities for children, not places of impossibility for the work of adults and children alike."
By state law, teachers are only permitted to negotiate on economic issues. However, the CTU's strategy is to force the city to bargain on restoring staffing of librarians, social workers, and nurses. Besides, custodial services have been privatized, often leaving schools filthy.
Mayor Lori Lightfoot, Chicago Public Schools CEO Janice Jackson, and Board of Education President Miguel del Valle all acknowledge the school system is under-resourced and understaffed.
Lightfoot ran for mayor on a platform of equity and education justice. She won the election in April without the backing of the CTU. In one of her first acts as mayor, Lightfoot replaced Emanuel's corporate-dominated board with one that included a greater diversity of community and education advocates, including del Valle.
Thousands of CTU and SEIU Local 73 members, elected officials, religious and community activists, parents, and students rallied and marched in the Loop on Oct. 14.
"I'm here to let CPS know, you can respect our assistance, or you can expect our resistance," declared Evelyn Davis West, a special education classroom assistant and member of SEIU Local 73. "I want to let (Chicago Mayor) Lori Lightfoot know, get on the right foot! I work with diverse learners, the children who are most vulnerable in our schools, and they need us. The city needs to help these babies as well."
Additional staffing is desperately needed, especially in communities experiencing trauma from social and economic violence. Presently, there is one social worker for almost 900 students. The National Association of Social Workers recommends one social worker for every 250 students and in schools experiencing high levels of trauma, one social worker for every 50 students.
However, even though CPS made a commitment to employ an additional 160 social workers, only 35 were hired last year. This track record underscores why CTU is determined to have any increase in staffing levels in writing.
"The impact of violence on our kids in our neighborhoods and what that does to our students—and the need for us to be able to work with our students and provide the services that will help deal with that trauma—this is something that should have been dealt with decades ago," del Valle told the Chicago Sun-Times.
"And I give CTU part of the credit for that… When you talk about the whole child, you've got to talk about not just arithmetic and reading. You have to talk about a child's social and emotional well-being. And that's something that, as far as I'm concerned, was well overdue."
Describing the routine of one school nurse, Erica McIntosh said her co-worker "goes to another school, then another school five days a week. And some nurses we call area nurses, they carry eight to twelve schools. And that's not right."
Between 2014 and 2018, CPS eliminated 300 librarians. Research shows the presence of librarians means higher reading scores.
In a sign of the national importance of this struggle, AFT President Randi Weingarten and SEIU President Mary Kay Henry spoke at the rally.
"This is a righteous path for justice," said Weingarten. "Look what the Illinois legislature did in 1995—they took away collective bargaining. And then when we got it back, there were all sorts of problems and obstacles which you have tried to overcome. Why is it when kids face gun violence, hate, fear, the threat of ICE, or asthma, the powers that be don't understand schools need a nurse in every school?"
A property tax hike and a change in the state funding formula have led to an improvement in education finances in Chicago. However, with a state pension crisis absorbing a substantial amount of money, much more funding is needed. Many residents, and CTU and SEIU members, are demanding the elimination of Tax Increment Financing (TIF) accounts that divert billions of dollars of property taxes for schools and parks to powerful real estate interests. This money could instead fund smaller class sizes, more staffing, and wrap-around services.
Editor's Note: This article was originally published on 10/16 before the strike began. It has been updated to reflect that CTU and SEIU 73 workers are now on strike.
Like free stuff? So do we. Here at People's World, we believe strongly in the mission of keeping the labor and democratic movements informed so they are prepared for the struggle. But we need your help. While our content is free for readers (something we are proud of) it takes money — a lot of it — to produce and cover the stories you see in our pages. Only you, our readers and supporters, can keep us going. Only you can make sure we keep the news that matters free of paywalls and advertisements. If you enjoy reading People's World and the stories we bring you, support our work by becoming a $5 monthly sustainer today.