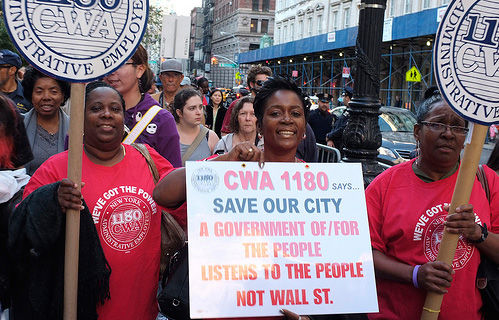 WASHINGTON (PAI) — The Communications Workers of America (CWA) are taking on Wall Street, inaugurating a major and long campaign to cut and curb the outsize clout of the sector that trashed the U.S. economy and workers' jobs, homes and pensions.
Union President Chris Shelton announced the decision by the union's executive board in a Feb. 2 conference call, explaining the campaign both in union terms and national terms.
"Why do we want to take on Wall Street? Because every time we go to the bargaining table," the opposing company "has a partner — and probably the managing partner — Wall Street," he said.
Wall Street demands on firms for high profits, low costs and short-term gains, he explained, drive company demands in contract bargaining for pay cuts, outsourcing of U.S. jobs, and obliteration of pensions and health care. They also lead companies to trash unions.
And Wall Street obliterated the economy, too, as its excesses and financial gambling directly caused the Great Recession, Shelton said.
"The out-of-control moguls and Wall Street hucksters…took over our politics. They fund anti-worker initiatives and legislation. They're pushing the Trans-Pacific Partnership" trade pact and are the force behind other anti-worker moves, Shelton explained.
"The more wealth goes to the big companies, the hedge fund managers and Wall Street, the more the deck is stacked" against workers and the rest of the country, added former Labor Secretary Robert Reich, who joined the call.
CWA Legislative Director Shane Larson said the multi-year campaign began with the union's first "train the trainer" session, held in the Northeast, for activists. The next session will be in Austin, Texas, in early April. CWA aims to train 900 top activists who will in turn train colleagues nationwide in the aims and mechanics of the campaign, providing materials to convince the rest of the country that it is time to rein in the financiers.
State-level campaigns against Wall Street are also already occurring, union leaders said. And CWA has set up a website for its drive: www.takeonwallstreet.org.
And CWA, the AFL-CIO, Americans for Financial Reform, environmental groups and consumer groups will gather soon in D.C. to build "a major coalition" to take on Wall Street, Larson said.
Washington won't move against Wall Street's power without huge grass-roots pressure from the outside, added two other speakers, Reich and Sen. Elizabeth Warren, D-Mass.
The most immediate objective of the anti-Wall Street campaign is to convince Congress to pass a Financial Transactions Tax of 50 cents per $100 value of every transaction. The tax would help curb the speculative high-frequency trading that helped lead to the crash.
That tax, long pushed by National Nurses United, would raise $130 billion yearly, CWA leaders estimated. Legislation in Congress pushing it would dedicate $60 billion of it to making public colleges and universities tuition-free, with the rest for funding infrastructure and other national needs.
Other legislative goals of the campaign are:
Restoring the Glass-Steagall Act, which a GOP-run Congress and Democratic President Bill Clinton repealed in 1999. That law set up a firewall separating regular consumer and commercial banking from speculation, investment banking and hedge fund trading. When that firewall fell, Warren said, financiers ran amok "using Grandma's checking account."
Ending two big loopholes in tax law that benefit financiers and the rich and nobody else. One lets traders pay low capital gains tax rates on so-called "carried interest" income of millions of dollars each. "Twenty-five hedge fund managers collected $11.6 billion combined last year," Reich said. "They got a 50-percent-off coupon on their taxes."
The other gives companies huge tax breaks for high executive compensation. CWA backs legislation ending those tax breaks at $1 million apiece.
Enact — and enforce — "too big to fail" legislation to break up the big banks before a crash by one of them trashes the economy again. In 2000, Reich said, the five largest banks had 25 percent of all U.S. bank assets. "Today, it's almost 45 percent," he added.
Warren added another item to the agenda, though it's not part of CWA's campaign: Lobbying the Justice Department and the Internal Revenue Service to bring criminal charges against, and convict and send to jail, the financiers who caused the 2008 crash.
Numerous polls show voters are angry that Congress and the GOP Bush administration "bailed out" the big banks after the 2008 crash while their customers were left with underwater mortgages, blasted pensions and fewer — or, later, lower-paying — jobs.
And the union's campaign dovetails with CWA's endorsement of Sen. Bernie Sanders, Ind.-Vt., for the Democratic presidential nomination, Political Director Rafael Navar said. Sanders' crusade against financiers is part of his theme targeting the "one percent" who gained more and more of the nation's wealth while workers have lost wealth, jobs, homes and pay.
CWA will face huge opposition from the financiers, Shelton warned. He noted they spent $1 million a day in lobbying to try to kill the Dodd-Frank financial reform and regulation law, which Congress passed after the 2008 crash. Wall Street is still trying to destroy Dodd-Frank, both through political puppets who agitate to cut funding for regulatory agencies and by lobbying to delay or destroy federal rules designed to curb the financiers, Warren said.
Photo: CWA website