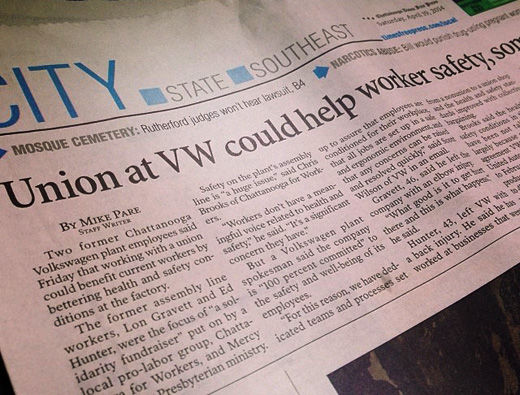 CHATTANOOGA, Tenn. — On April 18, Chattanooga for Workers hosted a potluck fundraiser to help send some Volkswagen workers to Washington DC for a national speak out on the truth about working at Volkswagen, their experiences at the plant and the situations that lead up to their injuries. Also their experiences in the UAW organizing drive, and where they are now –unemployed because of their injuries. The fundraiser was held at St. Marks United Methodist Church, in North Chattanooga.
SEIU local 205 organizer Kate Sheets opened up for the event, and introduced the speakers. Guest speakers included two former employees who were fired after both men were injured on the job, labor journalist Mike Elk, Brian Merrit of Mercy Junction, Jared Story of Concerned Citizens for Justice and United Campus Workers, and Michael Gilliland of Chattanooga Organized for Action.
As part of this event, attendees broke out into groups to brainstorm on ways to advance their communities and work forces. After everyone got back together, Chris Brooks of Chattanooga for Workers and a Tennessee Education Association organizer collected and put into shape the ideas for further discussion and action.
The fundraiser was an idea created by Chattanooga for Workers and other thoughtful individuals who stand behind the unionization of Chattanooga Volkswagen workers, and the organization of communities and work places everywhere, something the group believes will help advance the everyday lives for working class people.
Some of the guests at the event included local labor organizers, union members, students and other fellow Chattanoogans, along with TV coverage by News Channel 9. The event was judges a success and brought in $800!
After the speeches, guests socialized, listened to labor songs, and got their pictures taken with personalized messages for Chattanooga for Workers (to be posted soon). A lot of great food was brought to the event as well!
Everyone was very happy with the turn out and this event made the front page of the City section of the Times Free Press. The money raised will go toward the travel expenses for two workers to go to Washington. and also to help with some of their finances.
The Volkswagen workers have not given up! They and their friends and community organizations are very appreciative of all the support nationwide, and even international solidarity.
Photo: A.J. Sorenson/PW