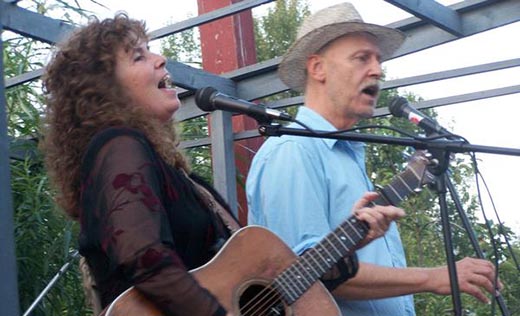 NEW YORK – The auditorium at Local 1199/SEIU here on May 13 was filled with enthusiastic folk music lovers, political activists, trade unionists, family and friends, all gathered to pay tribute to an extraordinary working-class folk singer and song writer Anne Feeney.
Over 300 people came out to express their thanks and appreciation to a wonderful artist and a friend who for years has given so much of herself to the causes that progressive folks hold so dear. The concert was organized to help raise funds for Ms. Feeney's mounting medical expenses.
Feeney despite her battle with cancer was present and upbeat and energetic as ever.
She spoke and sang beautifully several times throughout the evening.
Feeney, a political activist, is a talented composer and singer. Known for her militant fighting songs she has been a popular cultural figure in the working-class, trade union, and peace and freedom movements both in the U.S. and abroad for many years.
Performers included an all-star line up of some of folk music's top artists starting with the legendary Pete Seeger and Peter Yarrow.
Bev Grant and George Mann organized the event and put together an unforgettable evening.
In addition to Seeger and Yarrow, the line up included Dave Lippman, Bev Grant & the Dissident Daughters, Chris Owens, Judy Gorman, George Mann, The Brooklyn Women's Chorus, working-class rapper and professor Louie and of course the guest of honor.
The New York City Labor Chorus under the direction of Jana Ballard kicked off the evening. The night ended with a real hootenanny finale as everyone joining in on a jazzed up version of the tune "Solidarity Forever" and a spirited rendition of Feeney's "There's a War on the Workers."
Elise Bryant, who is a well-known singer and leader in the labor song movement, emceed the concert. She is also a professor at the AFL-CIO's Labor College.
If you would like to contribute to Ann Feeney's health fund or just get in touch visit her website.
Photo: Julie Leonardsson, via Feeney's MySpace page.