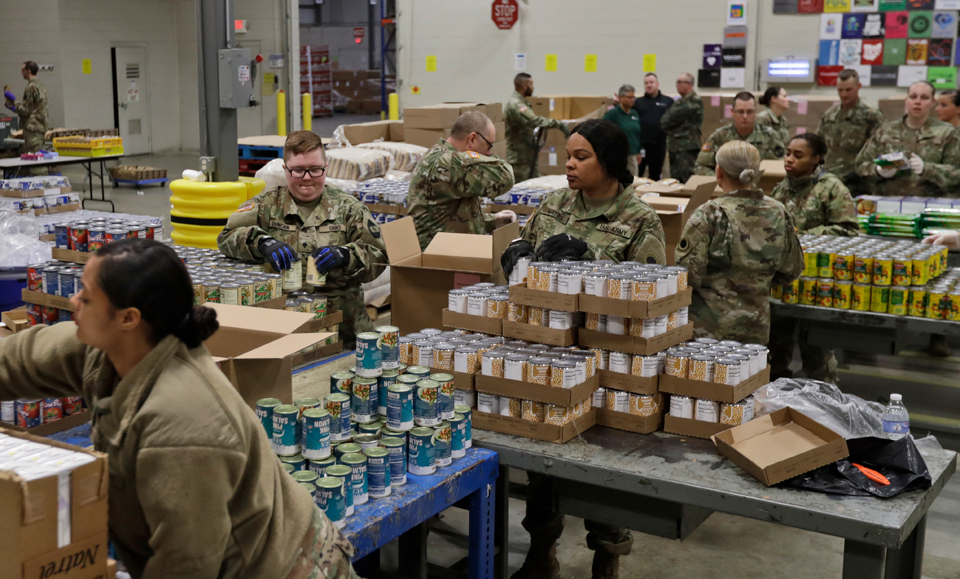 Vehicles stretched for miles leading up to the Greater Cleveland Food Bank. The line was so long that many people left their cars and walked the distance to pick up a share of food.
"It's amazing and heartbreaking all at the same time," said Karen Pozna, director of communications at the GCFB, describing the flood of 4,000 people seeking emergency food on March 24. "We've done these distributions monthly and never seen anything like this."
The distribution set a record; two-thirds of the people who showed up that day were coming to the food bank for the first time. "We're trying to assist anyone in need of food right now," Pozna said. "So many people have been laid off and don't know where to turn."
There is no food shortage in the U.S.; warehouses and federal stockpiles are bursting. Bare shelves at local grocery stores reflect panic buying, but each night, workers restock them. However, the pandemic and resulting economic crisis have created an emergency demand for food on top of the already existing food insecurity millions struggle with each day.
The scene in Cleveland is happening across the country in the wake of record job loss. In Cleveland, Pittsburgh, Dayton, and other cities and states, National Guard troops are helping pack and distribute the food. In San Diego, the San Diego and Imperial Counties Labor Council is helping distribute food.
Many of those picking up emergency food will begin getting unemployment insurance as a result of the $2.2 trillion Coronavirus Aid, Relief, and Economic Security (CARES) Act passed March 27. Others, including millions of undocumented immigrant workers who are not eligible for unemployment insurance and SNAP benefits, are enduring an acute crisis.
The Families First Coronavirus Response Act passed March 18 contained $1 billion in emergency funding for the Supplemental Nutrition Assistance Program (SNAP, formerly known as food stamps), food banks, and reduced-price lunch programs students receive at school. The CARES Act adds another $15 billion to SNAP but doesn't expand benefits or eligibility. Another $200 million will go to U.S. colonies, including Puerto Rico, Virgin Islands, American Samoa, and Guam, and $450 million for food banks.
Before the coronavirus pandemic, the Trump administration proposed to cut SNAP benefits by 30% over the next ten years as part of the 2021 Federal Budget. The cuts would have eliminated benefits for many adults and people with disabilities and curtailed eligibility for free and reduced lunch programs for children.
Those cuts, which anti-hunger advocates blasted as cruel and inhumane, would have come on top of changes the Trump administration adopted through regulatory processes after those same changes were blocked by House Democrats legislatively. Federal rules already cut off SNAP benefits to anyone not meeting a "work requirement" of 20 hours a week. But many states have bypassed these rules through federal waivers.
A new regulation adopted by the Trump administration would have tightened the restrictions and denied benefits to 700,000 people. Citing the impact of the pandemic, a federal judge blocked the regulation from taking effect March 13 after U.S. Agriculture Secretary Sonny Purdue refused to suspend it.
In the meantime, food banks are being overwhelmed with demand. A rise in food costs (in part due to price gouging), a decline in donations, and evaporation of volunteers as people stay home are threatening food banks with collapse just when they are needed most.
New York City food banks are running out of funds and in danger of closing. NYC Council president Corey Johnson urged Gov. Andrew Cuomo and Mayor Bill de Blasio to give $50 million in emergency funding to nonprofits handling the food distribution.
"I'm like a guy who shows up in the ER and hopes the doctors are going to do the right thing," David Greenfield, CEO of Met Council, told the New York Post. "I'm in the ER, we've shown up at the ER, we're saying we're dying over here, we need help. It's up to the government to help us or leave us to die."
New Orleans is experiencing a food emergency. The Crescent City is a coronavirus hotspot and reeling from the collapse of the tourism and hospitality industries after an outbreak that public health officials trace to Mardi Gras celebrations. The U.S. Agricultural Department opened its federally managed food stockpile to local food banks after pressure, including from Democratic and Republican elected officials.
Food insecurity already affects 37 million Americans, including 11 million children. Many are working-class families with both parents working at low-wage jobs. They struggle to put food on the table and often have to decide between paying rent or eating.
"Low-income families certainly cannot stockpile food," said Rachel Cahill, an anti-hunger advocate and SNAP policy expert from Ohio. "Even if we're keeping their SNAP benefits and making sure schools distribute free breakfasts and lunches, that still won't get them to a place of having excess."
School closures are putting severe stresses on the operation of federally funded school lunch programs serving 30 million children. The Trump administration told states they are on their own when it comes to finding essential personal protective equipment and delivering the food to the students.
But food distribution continues because of the heroic work of principals, food service staff, custodians, bus drivers, and volunteers. "Today, I wept twice," wrote Heather Smith Yutzy, a Chicago Public Schools principal on Facebook. "I watched a number of fathers of my students coming for food for their families. Strong, hard-working men, great fathers, humbled to ask for bags of food for their children. I'm so glad we have food, but this is hard. This pandemic is hitting families hard, and even families at my school, whom I didn't realize were financially vulnerable."
"I feel the stress of my custodians and food service staff who are serving hundreds of meals a day and are on the 'front lines' interacting with so many opportunities to transmit a virus. They are being EXTREMELY careful… but it's stressful for these beloved workers who don't want to compromise their families, including new babies and elderly parents. It's been a long week. Be safe," wrote Yutzy.
The Seattle school district is offering food pick-up at 22 sites across the city. Similarly, the New York City public school system is providing "grab and go" breakfast and lunches to any student in need. In Chicago, meals can be picked up at any school regardless of whether a student is enrolled there or not.
The city of Philadelphia is also offering free food to any resident in need. The food is available for everyone at designated pick-up sites, in addition to the free lunch pick-up locations for students. The Philadelphia 76ers NBA team donated funds for 20,000 boxes of food to feed 160,000 people.
The pandemic and economic crisis have laid bare the massive class, racial, and gender inequality in U.S. society as well as the abundance of wealth hoarded by so few. It has also exposed capitalism's inability to meet basic human needs. The reality faced by millions who struggle daily with hunger, homelessness, and lack of health care—including undocumented immigrants—can become a reality for tens of millions more in the blink of an eye.
But the crisis also demonstrates the power of human solidarity and the necessity of people-centered government, committed elected officials, public workers, and neighbors who don't hesitate to move mountains for each other.