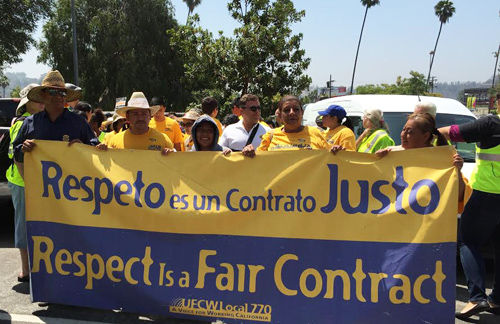 LOS ANGELES – On Jan. 8 El Super fired Fermin Rodriguez who was active with his union and a member of the El Super worker negotiating committee. He was also willing to speak regarding worker's concerns to the community and the press.
After more than a year of operating without a union contract, El Super employees and the United Food and Commercial Workers (UFCW) launched a boycott in December, 2014 to protest poverty pay, widespread violations of workers' rights-including the termination of El Super cashier and union leader, Fermín Rodriguez and the company's refusal to meet its legal obligation to bargain with the unions.
At one picket line on July 29, a supervisor attempted to stop a picket line by blocking workers with shopping carts and pallets of bottled water. See video:
On Thurs., July 30, Chief United States District Court Judge George H. King, issued a rare "10j" injunction against El Super supermarkets to immediately remedy their unlawful treatment of workers who are represented by the UFCW, to ensure that their rights under federal labor law – to join and be represented by the union – are protected.
The 10j injunctive relief orders El Super to immediately reinstate Fermin Rodriguez, who had been unlawfully terminated for his union activity.
"I want to thank the Board for their decision to hold El Super accountable for violating my rights," Mr. Rodriguez said. "I am incredibly excited to be returning to my job where I can continue to fight for dignity and respect for all El Super workers."
The Court also ordered El Super to reverse the changes to the vacation policy, and: (a) ensure employees accrue one week of vacation time during their first year of employment, and (b) accrued time is calculated on a yearly basis upon the completion of each full year worked. Because El Super workers have a union contract, the company cannot change their vacation policy at the company's discetion.
A third outcome of the latest set of rulings is the statement by the company to the court that it recognizes it has a legal obligation to bargain with the UFCW. Bargaining with the union will resume Aug. 14.
In addition to unfair labor practices, many community and elected leaders have raised concerns about the staggering number of health code violations at southern California El Super stores-over 720 documented violations since Feb., 2014.
According to the UFCW press release "The NLRB's decision to go to court against El Super is significant. In 2014, 144 requests for "10j" injunctive relief were made by the NLRB's regions across the country and only 39 cases were authorized by the Board for Court action. In this case the Board not only sought but succeeded in obtaining this extraordinary relief. El Super's workers and their union, the United Food and Commercial Workers (UFCW) won a significant legal victory in their nearly two year struggle for respect and a fair union contract from their Paramount, CA based employer."
"The United States District Court's ruling against El Super's illegal suppression of its unionized workers rights is a tremendous victory," said Rick Icaza, president of UFCW Local 770. "We hope that El Super will finally, after two years of stalling and flouting labor laws, get serious about negotiating a fair contract that addresses our members longstanding concerns."
Photo: Rossana Cambron/PW